Overview of Pocket and Hive
PaperCut Pocket and Hive let you print from any device to any printer, with minimal fuss.
The cloud-based architecture, combined with Edge Mesh technology* means that you get easy administration and configuration thanks to the cloud technology, and the ability to keep your printed documents within your local network through the use of the Edge Mesh. The best of the cloud and the best of the ground.
No print server? No problem. With the Edge-Mesh technology on-site, coupled with the smarts in the cloud - you get a serverless setup that's simple to use and easy to administer.
* Interesting meteorological fact - application technology which connects to the cloud, but runs 'on the ground' (on your local network) is often referred to as 'fog' computing. It's the cloud, on the ground!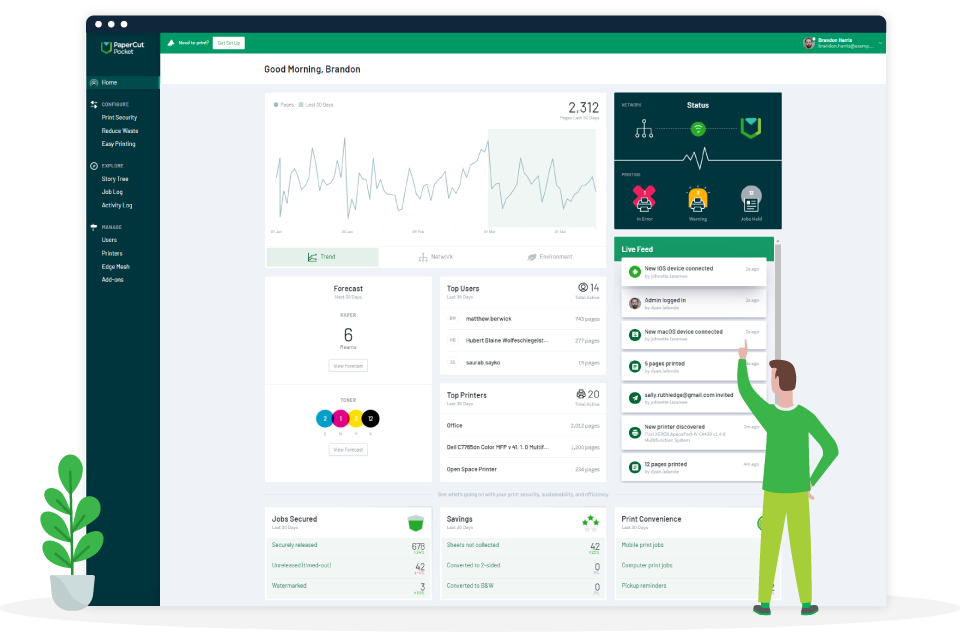 PaperCut Pocket and PaperCut Hive have a set of core features to help admins and users alike:
Easy Printing
PaperCut Pocket and Hive both use an easy setup and onboarding process that doesn't involve desk visits or complex group-policy wrangling - they are built around simply letting your users print from any device (Chromebooks, Android, macOS, iOS, and Windows devices) to any printer.
Read more on Easy Printing
Secure Printing
Features like access control, secure print release (including mobile-app release methods) and watermarking with digital signatures come as standard. PaperCut Hive adds the ability to release your jobs or track copying and scanning from your MFDs too.
Read more on Secure Printing
Waste Reduction
Optional reminders to print 2 sided or convert documents to black and white, timely warnings if you're about to mistakenly print a 172,000 page document, and configurable job timeouts to make sure you don't accidentally print that document that you sent before you went on vacation last week.
Read more on Reducing Waste
PaperCut Pocket and Hive FAQs
What's the difference between PaperCut Pocket and PaperCut Hive?
PaperCut Pocket lets you enable and track printing to all your printers with minimal installation - all you need is the Pocket client on your laptop, and your Mobile App to release your print job. Hive goes a step further and lets you install a small app onto the MFD or copier itself - you can then track copying and scanning - as well as using the MFD panel to release your print jobs.
What's the difference between PaperCut Pocket and PaperCut Views?
PaperCut Views is our free cloud product that lets you monitor your printing volumes and habits, and also receive toner and error notifications about printers on your network. However, it won't manage the 'how' of printing - you'll still need to set up your network printers and print queues yourself.
Pocket and Hive take that to a whole new level by providing the simple and secure printing mechanism, on top of all the other print management features - enabling your users to print from their Chromebooks, Windows or macOS, iOS or Android devices without breaking a sweat!
Can I move from PaperCut Pocket to PaperCut Hive?
Yes! As you can see from the screenshots throughout the manual, Pocket and Hive are both built on the same cloud platform, and you'll feel right at home configuring Hive as you did with Pocket - they have an identical look-and-feel.
What if (in hushed tones) I just need more functionality than Pocket or Hive provides?
That's ok. We're constantly adding features to PaperCut Pocket and Hive as they mature - but if you're looking for advanced features like project code assignment and client billing, the ability to perform print charging and enforce print quotas, and robust reporting - it sounds like our PaperCut NG or PaperCut MF products might be more of a fit.
Also if you're specifically looking for support across almost all printer brands, an integrated scanning solution including scan to cloud and document processing, and advanced charging and integrations with payment gateways, then again - PaperCut MF is probably more your thing!
I thought this was free. Can I get it for free?
While we wish everyone could use PaperCut Pocket and Hive for free, we also have to pay for the things in the cloud, and the things that perform the magic to make it so simple. If you're looking for a free product which is similar, check out PaperCut Views - it has much less functionality compared to Pocket or Hive, but comes with the attractive lack-of-a-price-tag (it's free!).
What languages do PaperCut Pocket and Hive support?
At the moment, only English - but we're working on it. We'll hopefully have support for additional languages in the future.