Guest and anonymous user management
PaperCut NG/MF tracks print activity against individual users. In most cases, these users belong to your organization, and user information is synchronized against an external user directory source such as Active Directory, Open Directory, eDirectory or LDAP. If you are able to synchronize your users against an external directory source - this should be your first choice.
There are a number of scenarios where it is not practical to synchronize all users from an external directory. They typically involve visitors and guest users printing from BYOD mobile devices who might not even have access to the corporate wired or wireless networks.
Guest Printing for Business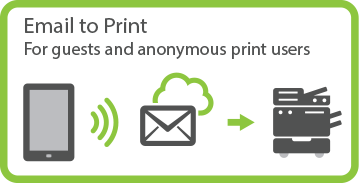 Guest Printing for K-12 Schools

Guest Printing for Higher Education / Library Pay-for-Print

To address these varied requirements, PaperCut NG/MF offers multiple solutions for guest and anonymous printing: