Shared accounts
PaperCut NG/MF has two types of accounts - personal accounts and shared accounts. Each user has a personal account. This is the default account charged under normal operation. In some organizations and businesses you might want to provide users, or selected users, with the option to charge printing to a shared account. Some uses of shared accounts include:
In business:
Allocate and budget printing by business areas (e.g. cost center)

Track printing by project, phase, client or account

Track printing by client/matter - popular in legal and accounting firms
In a school or university:
Budget staff use via shared faculty or department accounts

Provide share accounts for classes or subjects

Track printing costs by subject areas
These recommendations improve:
account selection lookup and search speed on the popup client software

client popup speed after print

account selection speed on the copier/MFD embedded software

server load (using a scalable database)
Shared account scenario
East Beach High School has implemented PaperCut NG/MF to control their printing. Students are allocated a $5.00 a month budget. Pre-paid cards are sold at the library for students who need extra credit above this allowance.
Teachers and staff are given a small personal budget to cover casual printing with curriculum material to be allocated to share accounts. Shared accounts exist for each faculty. The network administrator has granted staff members access to the share account popup. Access to faculty accounts is controlled via Active Directory group membership.
Sarah is a Science and English teacher at the school. When she prints she is able to allocate the print job to either her personal account or either the Science or English shared account via a drop down list. She can also view the shared accounts balances from the User web pages.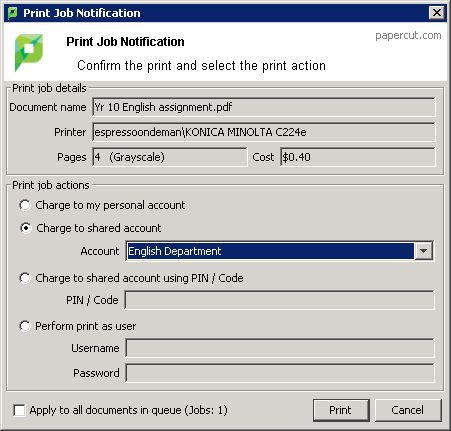 What's in this section?