PaperCut NG
The print management application trusted by tens of thousands of schools and businesses.
Get it up and running in minutes.
Buy Online
Get a Quote
How much was printed yesterday?
Used by more than 60,000 organizations around the world,
PaperCut NG has 5 key ways to tame printing:
Optional tools to empower your users
Customizable web interface to help educate end-users. Ideal for students to monitor their spending, or staff to keep track of their paper usage and budgets.

Enable the option environmental impact end-user view. Encourage user behavior change through awareness. Deploy as a web link, or via an updating Windows Live Tile.

Configure popup alerts around printing. It may be a simple dialog prompting to allocate costs to a department or project, or a more active "confirm" message to discourage printing emails!
Installs in minutes
Scales from 5 to 500,000 users
Works on any platform: Win, Mac, Linux, Novell
Automatically imports users from Active Directory, LDAP and more
Try for Free!
Pricing
Licensing is a one-time fee, based on the number of users with no limit on the number of servers, workstations, or printers. One single license can be used across multiple sites, and there are no mandatory yearly contracts or fees.
Got a question?
Check out the purchasing FAQs.
Looking to upgrade?
Minor upgrades (e.g. 19.0 to 19.1) are always free. Check out the upgrade pricing for more information.
A solution that grows with you
When you want to extend the power of print management to copying, scanning and faxing upgrade to PaperCut MF anytime.
Upgrade to PaperCut MF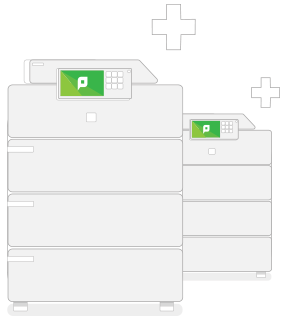 Organizations of all shapes and sizes rely on PaperCut
"By implementing scripts for color saving and assigning print jobs to central accounts we reached £50k in savings in just thirteen months! Papercut just keeps getting better with every release."

"With well designed interfaces and an excellent support service, we have implemented PaperCut University-wide and have been tracking student printing and saving on costs since 2008."

"We were looking for a cost-effective product that would cut our printing and consumables costs... and here it is! PaperCut does a great job and the easy installation and configurations makes it even more attractive."

"We need to make intelligent decisions about our print management as well implement a solution for accurate recharging and to raise awareness of the financial and environmental cost of printing. PaperCut ticked every box and then some and slotted perfectly into our network environment."

"PaperCut is a huge time-saver - with easy access straight from the desktop, it maintains all of our print management accounting for us and provides excellent print security."