PRINT DEPLOY
Print queues
made easy
Get the right print driver and right print queue to the right person in the right location, every single time.
TRY FOR FREE
VIEW BROCHURE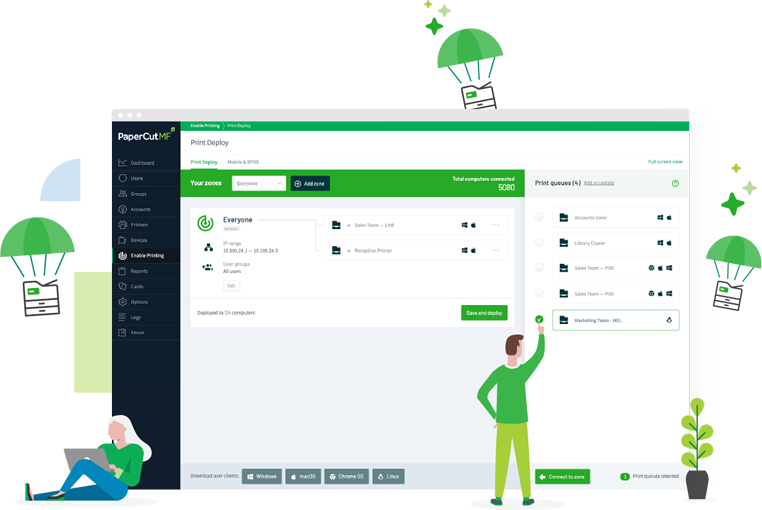 Life's too short to set up print queues
With Print Deploy for PaperCut MF and NG, installing print queues and drivers goes from time-consuming and tedious to lightning-fast and fully automated. Your users can easily find and choose print queues to install for themselves (self-service) whilst having the flexibility to move around offices and have their printing, simply work.
That means more time for you to focus on the important stuff.
Plus, because it's a PaperCut innovation, everything happens in the user-friendliest way imaginable - for your IT support staff and your end users.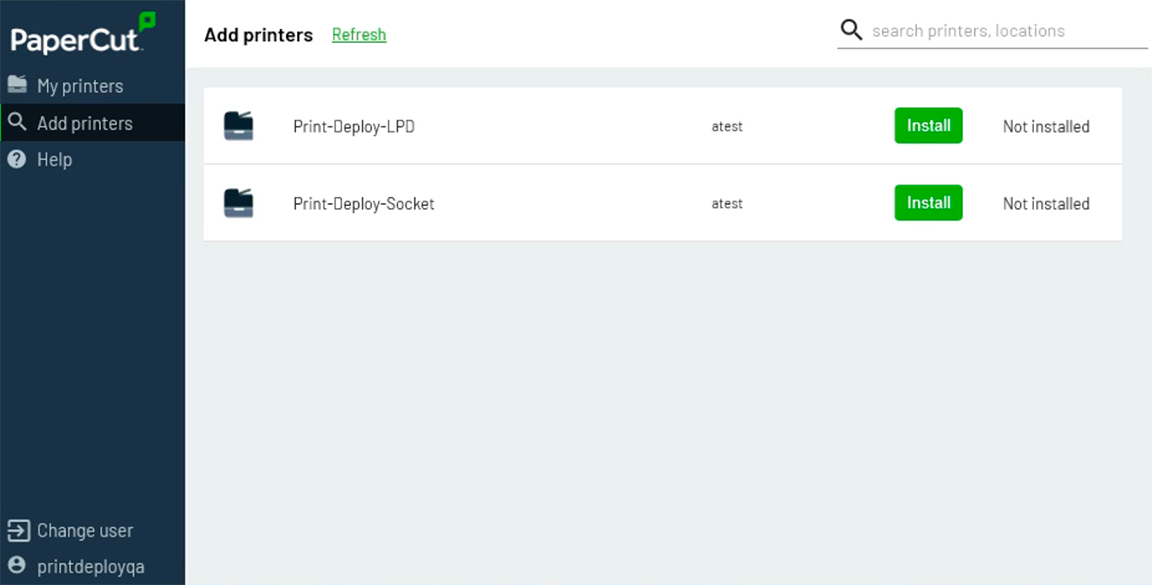 SELF-SERVICE PRINTER INSTALLATION
Ease IT help desk load, save time and cut costs by deploying print queues out to users.
Your users can then easily find, select and install printers whenever and wherever they are, with an intuitive and fresh UI.
View printers already installed
See what's installed on computers and uninstall them once printing is no longer required from them.
Search for available printers
Search, select and install available printers based on where you are.
Customizable help
Customize help content for end users. This can be a link to an intranet page or other content for users to find more info and help.
Easier queues, better business
Piece-of-cake print queues for all
The ultimate time saver and productivity booster, Print Deploy is a must-have for print environments with any of the following features:
Multiple locations like branch offices and campuses with limited IT resources.
Mobile users who move between locations and need on-demand access to printers.
Serverless (direct) printing and you want an easy way to deploy print drivers and queues to users.
Mixed fleets of managed PCs and you want an easy way to make them print-ready, no matter the OS or user permission level.
PCs not connected to a local domain like G Suite or Microsoft Azure Active Directory.
What our customers are saying
For one of our government customers, Print Deploy suppressed a need to distribute drivers and printers to remote offices that print via direct IP and represent 60% of the print environment. It proved to be very effective... the feature greatly streamlined the rollout and improved print queue management.
Marcelo Sanches Carvalho
Solutions Coordinator for Simpress (Brazil)
Print Deploy has been incredibly useful so far, I met a bit of a dead end attempting to create a GPO to deploy printers, and with almost 200 PCs on our main site it would have been a time consuming task to manually install or explain to my end users how to set up a printer!
Rob Hughes
Lymington Precision Engineers Co Limited (UK)
Your next Print Deploy move
More information? Print Deploy in your hands yesterday? No matter what you're after, we've got you covered.
No problem. To use Print Deploy, you need version 19.1 (or later) of PaperCut MF or NG.
To upgrade to PaperCut NG 19.1 or later
Visit the 'About' page in the PaperCut NG Admin interface, hit 'Check for updates,' and follow the instructions that pop up.
To upgrade to PaperCut MF 19.1 or later
Ask your reseller. Their details are on the 'About' page in the PaperCut MF Admin interface under 'Support.'
New to PaperCut?
You can take Print Deploy for a spin with a free 40-day trial of PaperCut NG.
Technical difficulties?
Email sales@papercut.com to get help with any of the above.