Easy scanning and capture
Digitize not photocopy — we're PaperCut after all! By making MFD scanning simple and easy to use, people embrace it. By enhancing it, we make it powerful.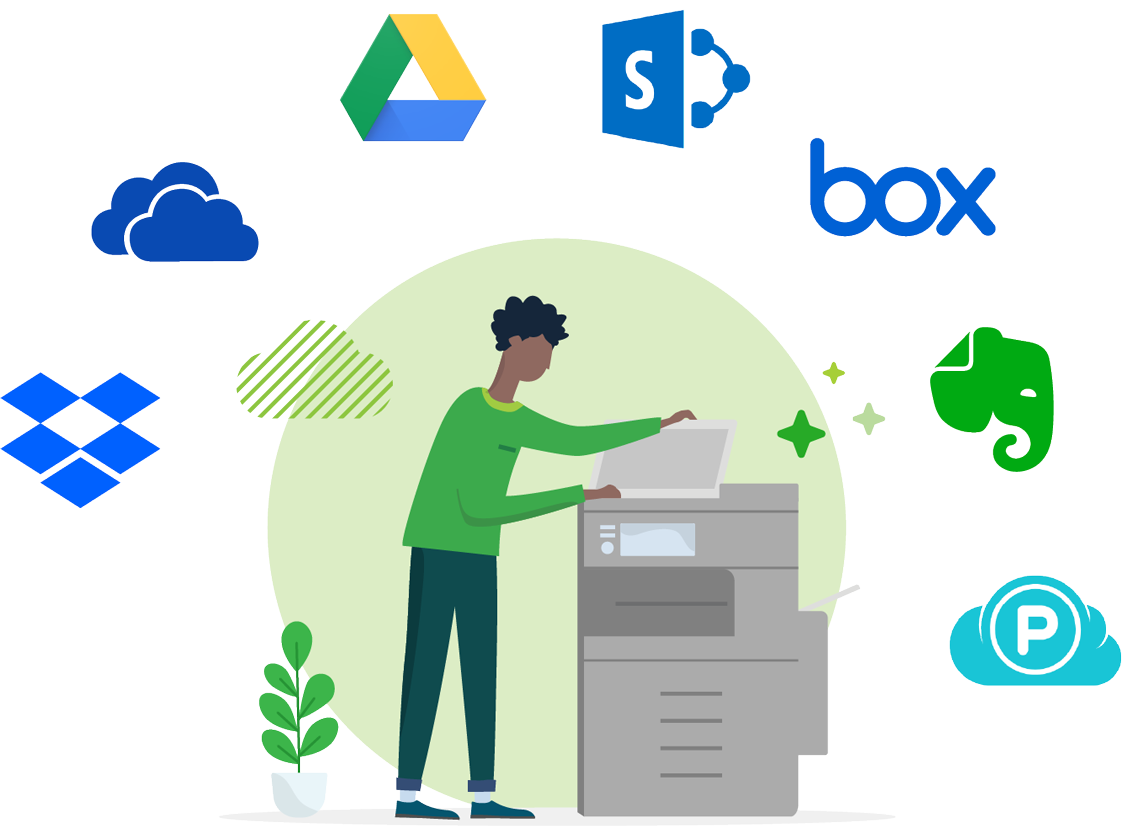 PaperCut is well known for making super cool print management software right… so why scanning software?
Well, we were already providing embedded software in MFDs (when you walk up to your favorite MFD you see a PaperCut screen) that millions of customers use and love — and we knew that documents were screaming to be digitized as well as managed. So we put the brightest PaperCutters to work on creating a simple and effective scanning solution.
Just like our print management software, our scanning software works on all MFD makes and models — out of the box, with a consistent, super slick touch-screen interface. And we've designed it with features like one-click scanning actions so people spend less time at the printer/copier.
Leveling up your scanning
Scanning has always been a notorious 'security gap', so we make sure we secure the MFDs, the users, and the scans so you can make scanning part of your secure business processes. It doesn't matter if you're scanning invoices, contracts, resumes, payslips, prescriptions, or your kid's artwork, we have your security covered.
In fact the only thing we have yet to do is make scanning as exciting as the Playstation, but we are working on that. (We all have aspirations.)
Scan and capture 101
Today, documents beg to be digitized, and for good reason. By handling information digitally, you unlock faster, easier, and altogether better ways to store, access, and use information day to day.
It's why we've put our best foot forward in the scan and document capture game. Not only do PaperCut products work with major document workflow tools, they set the bar for how simple and secure scanning can be — from tap-and-go scans to the cloud, to end-to-end encryption over the network.
Here are some of the benefits of using PaperCut's scanning solution.
| Benefits | More info |
| --- | --- |
| Simplify on-device scanning with embedded software | Users get an all-in-one consistent interface for printing, scanning, and copying at the MFD. They authenticate and set up once, and can preconfigure scan actions to improve workflows.With a couple of clicks at the device, users can scan documents to predefined folders, email addresses, or cloud storage. It's all there so everyone spends less time at the MFD and more time doing the real important things…like having a coffee and a muffin! |
| Make scanning and OCR simple and secure | If you've got PaperCut MF, you've got OCR superpowers as well.We make it easy for every PaperCut customer to have smarter documents.OCR (Optical Character Recognition) is part of PaperCut MF's Integrated Scanning suite and works with multiple platforms, brands, and devices.With regional data centers in America, Europe, and Australia, you can meet more of your security compliance obligations in more corners of the world. In fact that goes for all our cloud services. |
| Scan to cloud storage | Empowered users have the ability to scan to their choice of cloud destinations like Dropbox, Google drive, Sharepoint Online, and many more.If they're also scanning to email or a local network, we've got you covered.The first question we always get from curious SysAdmins is, "But is it secure?". And our answer is always yes!All scan jobs and data are encrypted and transmitted over HTTPS following industry security best practices. |
The above table isn't exhaustive, so be sure to check out the following sections for more information on features like:
Pre-configured scan destinations
User-based setup
Centralized scanning deployment and security management
Scanning interface at the MFD touchscreen
Easy scanning and capture in detail