Print Room workflows
At PaperCut we are passionate about all things print. That's why we make software that helps with more than the run-of-the-mill office printing. Our Print Room management software is adding value across education, commercial and publishing sectors.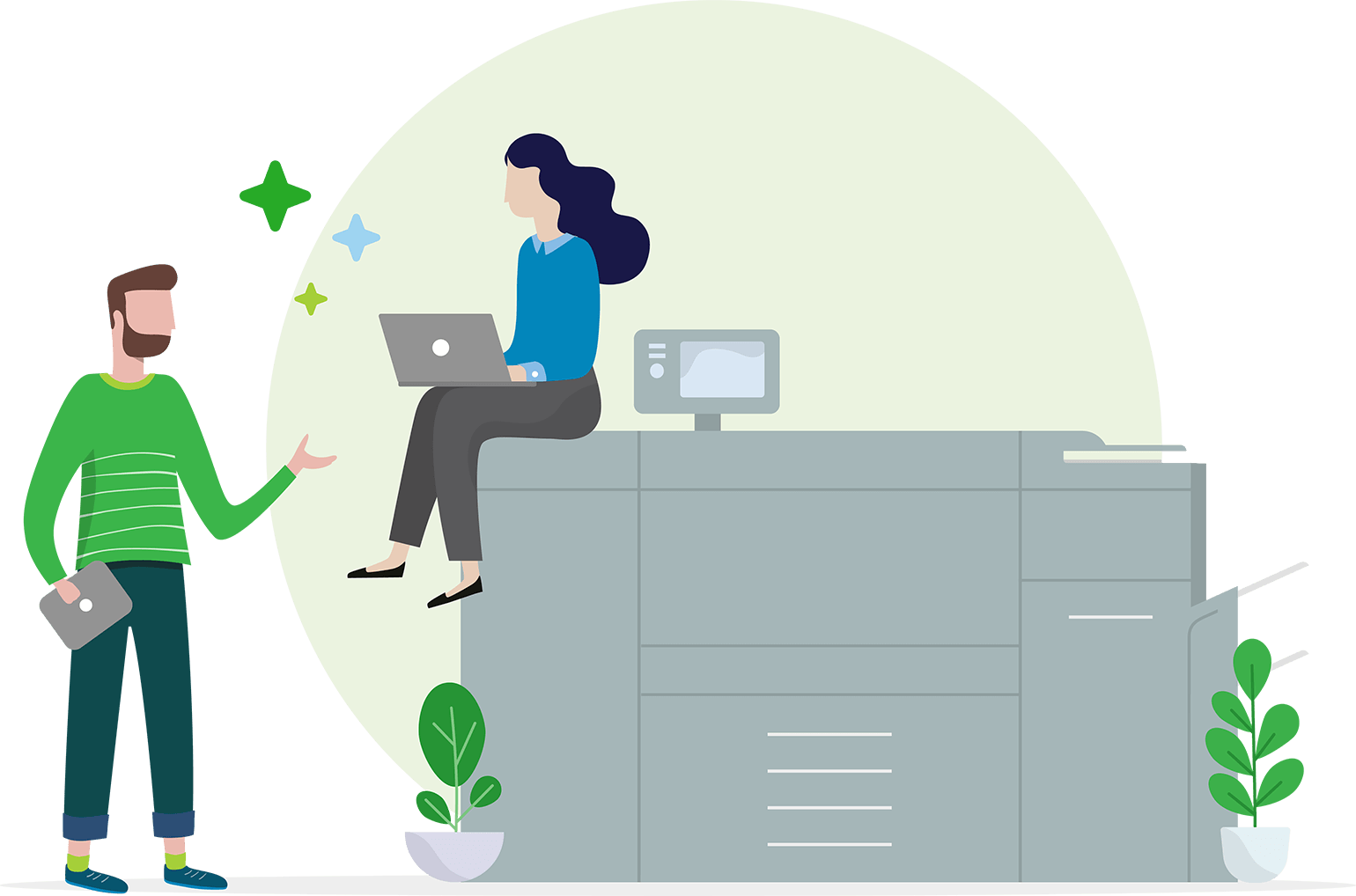 Take schools for example…most educational facilities like large secondary and universities/colleges have dedicated print rooms. Print rooms (sometimes referred to as Reprographic Services) have a range of printing equipment to facilitate specialty printing requirements. Printing is essentially outsourced to central Print Rooms to help reduce costs and facilitate the custom printing needs of students and teachers.
The Print Room facility is a powerful resource for users who require either large print runs like bulk printing, and more customised materials such as booklets, posters and brochures to name a few. Users may have mission critical printing needs that your facility must cater for, which means you'll need the capability to quickly and easily receive submissions and manage these jobs through their lifecycle.
Considerations and drivers to running an effective Print Room
Running a Print Room can be challenging and in many ways, it's just like running a business. So there's many factors you need to consider to take advantage of your investment? It can be tricky to get the right balance between acquiring and driving more traffic through the print room, and not overloading your print room staff?
There's 6 key reasons you need to be considering when running your print room. They are:
| Reason | Description |
| --- | --- |
| Cost Control and Savings | Performing larger print job runs can deliver reduced costs for your students or customers. To achieve these reduced discounts offering minimum amounts on print runs can be an effective way to keep costs in check and pass on the savings. Product materials like student yearbooks or prospectus documents can be costly, but offering it in-house means you can produce these materials on demand, helping to reduce waste, delivering more control overall. |
| Customisation | Being able to offer high quality professional materials for jobs provides opportunities to customise the final product. Being creative will provide high-value, personalised communications materials. This may include letter, reports and prospectuses, and so much more. |
| Flexibility | Offering a larger range of materials will give you a potential competitive edge over other print rooms. Management of your devices is also a key factor in being flexible. Prioritising workload and being flexible to take on more at peak times is important when trying to respond quickly to requests coming in. |
| Bulk Printing | Large print production printers used in print rooms are designed to run bulk print jobs at a much faster and cheaper rates than the smaller office multifunction printers. This also saves time and money to free up and free up the multifunction printers for smaller print work. |
| Consistency | Offering your students and customers a consistent, quality product by using the right equipment for every print job can help ensure final materials are presented in a more consistent way. Items like logos and specific brand colours can be reproduced over and over again without a reduction in quality. |
| Quality and Control | Using print room management software provides a way for users to see the progress of their printing jobs, and in some cases providing them with a way to control and alter jobs, which helps to maintain a high quality final result. |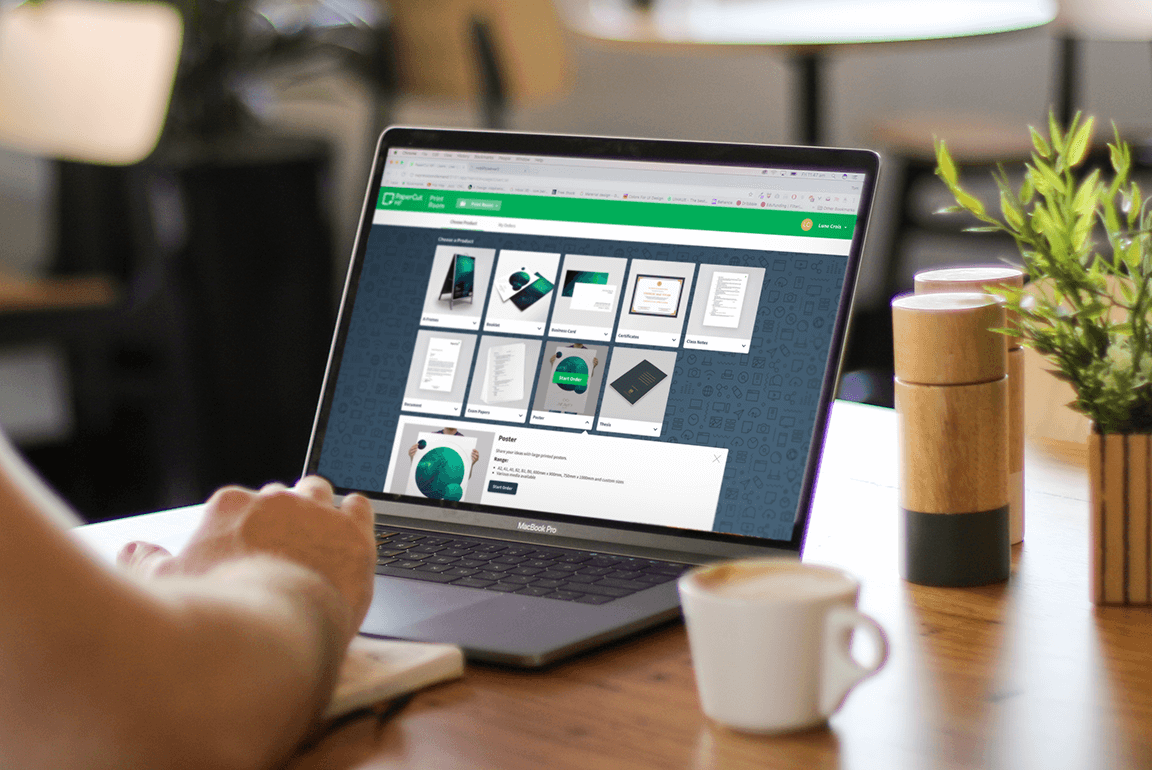 Not all print rooms are created equal
Print Rooms do come in many shapes and sizes, but at the core of it, they are central printing facilities, usually staffed by specialised staff operating sophisticated equipment.
Some facilities are very sophisticated providing print automation, where print jobs can be submitted through a digital storefront, helping to streamline and improve workflows. Other facilities provide the basics like bulk printing and binding operations. Whichever way you look at it, a Print Room that is equipped with a way to receive print jobs and manage the process from start to end, means students/teachers and other users have far-reaching benefits.
Designing an effective print room
Let's dive even deeper. There's a few things you might want to cover off on when considering better ways of working in your print room, or even if you're starting fresh. Below is the four key areas we suggest you start with:
Determine a way of working that'll make things easy to manage for print room staff
Make it easy to get users to submit work with an easy to use storefront.
Setting up to match your goals, whether it be billing users or simply monitoring use
Get the news out there and make sure people start using your system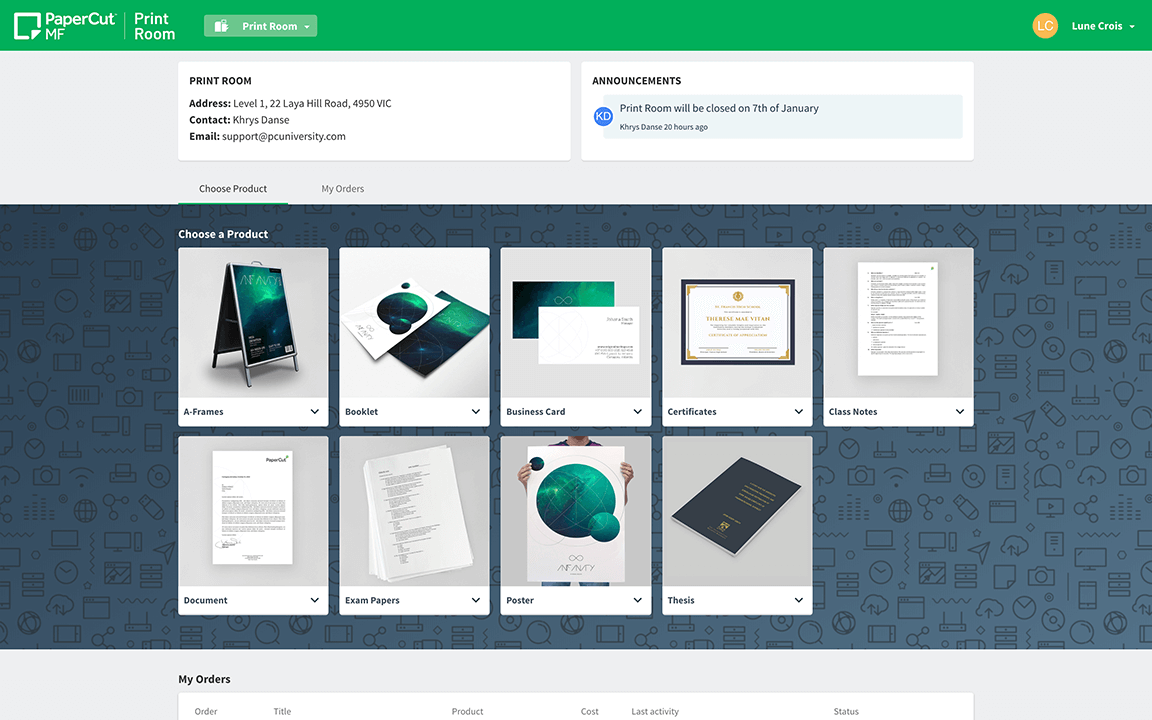 Print Room management software the PaperCut way
PaperCut's print room solution is packaged with our award winning print management software, used by thousands of universities and organisations globally. Organisations running a print room facility are usually very conscious about reducing costs and waste in printing, therefore offering a print room management solution seemed like a perfect add on.
Before we look at the considerations of customising, or creating an effective print room, let's quickly talk about the different areas PaperCut can help with:
| Area | Description |
| --- | --- |
| Web submission | A digital storefront used by your end users to select, configure and track their orders. |
| Operator workflow | A job ticketing system that lets you move a ticket from left to right, start to finish. It acts as the link between digital activities and human interactions. |
| Cost management | A way to quote for and bill users. The billing platform is also the main link with your regular printers' billing systems |
| Print Room printers | The print room operator interacts with the production print equipment |
The simple to use interface allows you to easily track and manage your specialty print job through its complete job lifecycle, helping the print room staff to monitor and prioritise works being submitted.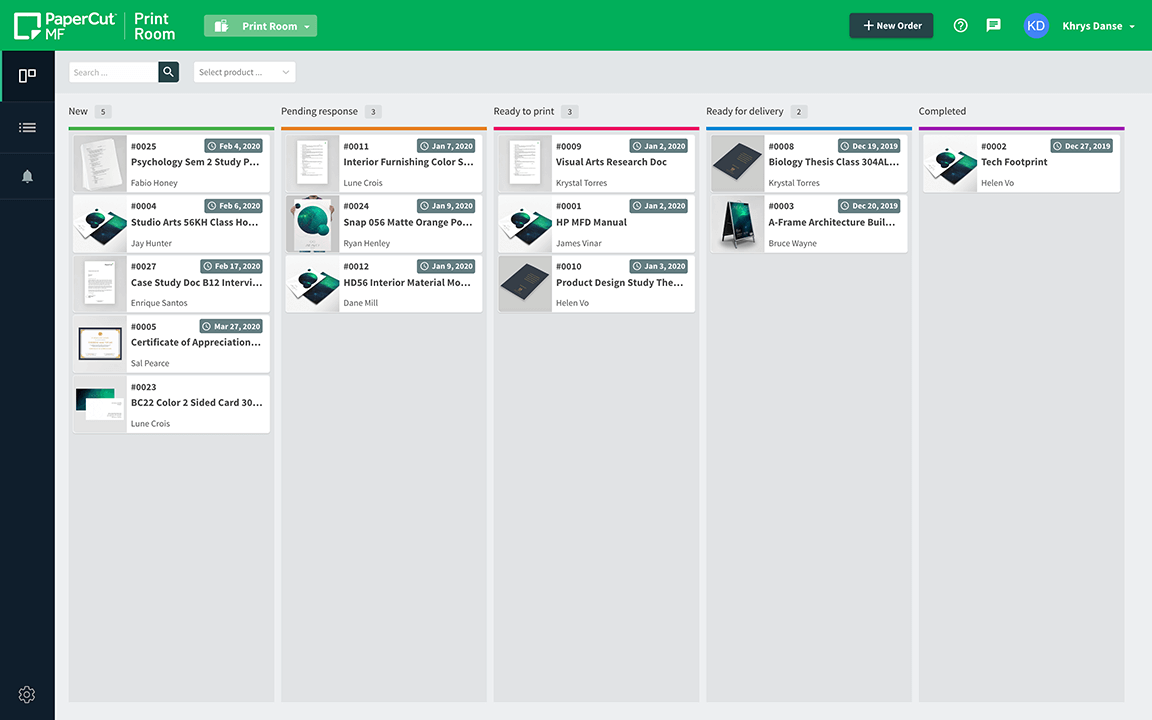 Real world application
You receive emails or verbal requests from people in the organization, and place that order to an external 3rd party print room. You need to stay on top of progress and follow up on delivery dates. You're looking to get rid of a few manual interactions in the process and reduce errors caused by them.
We've built print management software that when extended into your specialty printing requirements, will meet the needs of print rooms and specialty printing needs. These might include materials like a thesis, booklets, posters, 3D printing, laser cutting and even T-shirts!
You may also offer collating, packaging and some stapling or binding services. No problem, we have you covered!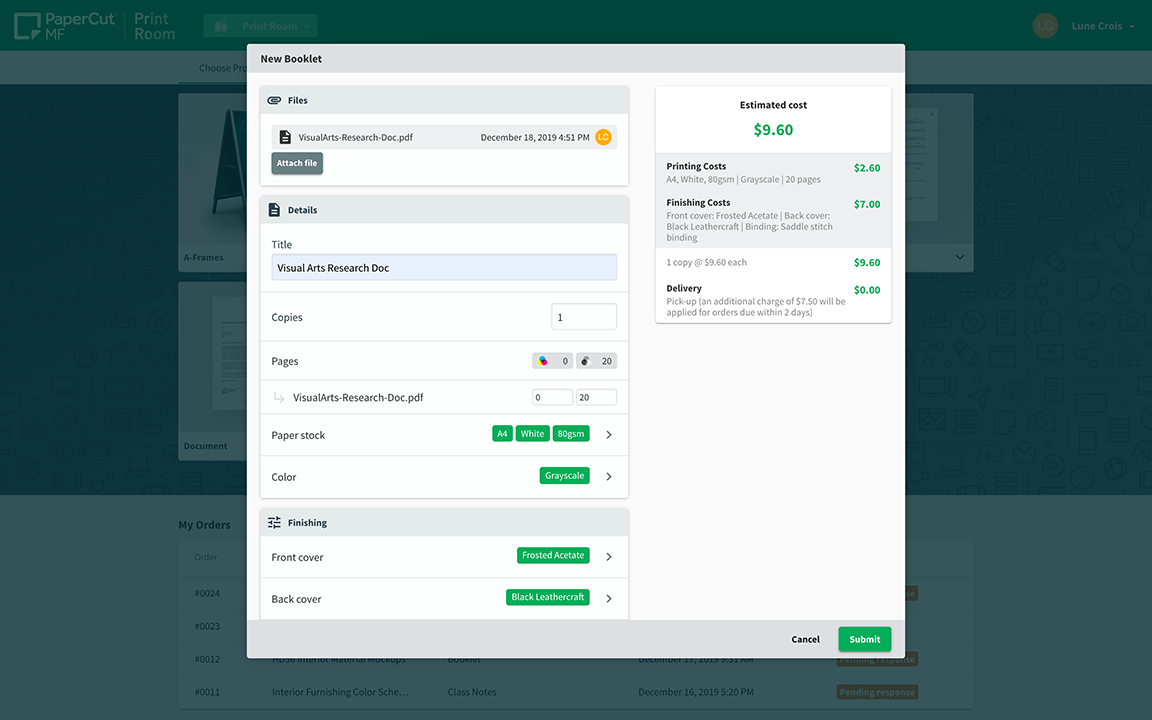 Print room workflows in detail
Jump into any of these in depth topics:
On the PaperCut Blog