The benefits of cloud print management
Cloud services are nothing new. Lots of modern business infrastructure lives in the cloud, especially for small and medium-sized businesses (SMB).  
Print management is just another technology that can be provided as a service thanks to cloud computing. The goal is simple enough: reduce the need for on-premise print servers by leveraging a cloud service.
Print's relationship with the cloud is unique. There will always be an on-premise element with printing, that's an undeniable fact. Something needs to exist on-premise to facilitate the coordination of print jobs between the printer and the cloud service. Yes, your print server can be swapped for a service in the cloud, but your printer cannot. 
That being said, there's more than one cloud solution for print, and there are many cloud-based hosting models available. Depending on your business requirements, these solutions and hosting models can be single-tenant (private hosted) or multi-tenant (public) cloud services.
When it comes to true multi-tenant public cloud solutions for print, there's a balance between reducing infrastructure and maintaining reliable and quick printing.  What route you take to print management in the cloud all depends on what problems you seek to solve, and what benefits you hope to leverage.
Four things to consider before moving to print management in the cloud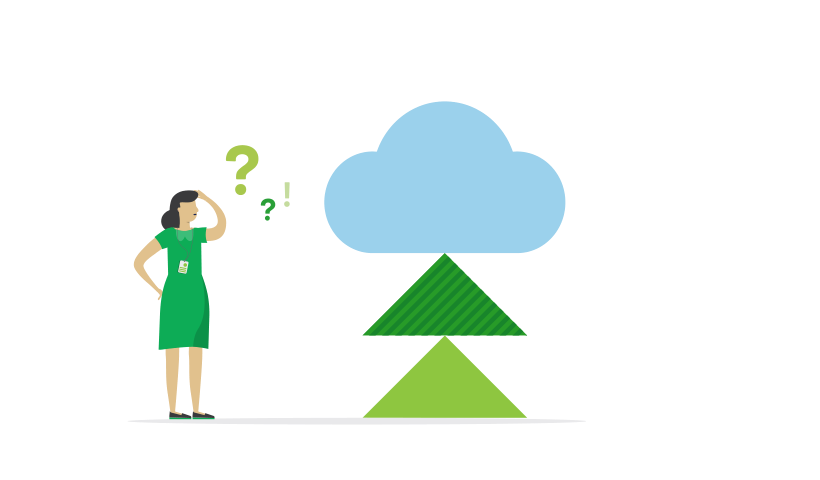 Due to print's relationship with the cloud, the search for the ideal cloud print management solution presents some questions…
Privacy and security - This is perhaps the biggest question asked of print management in the cloud: is it secure? When print jobs traverse the cloud, are they now going off-site? If data is traversing the cloud, is your organization now more exposed to security threats? How does this impact compliance obligations? (For example, GDPR, HIPAA, etc.)
For more info, have a look at our Security Whitepaper.
Reliability - If the internet is down and the cloud is unreachable, does printing stop? If your workplace is now using a cloud service for printing instead of on-premise infrastructure, does it introduce new points of failure to print flows? 
Performance - Internet connections can be unreliable, so could a cloud print management service potentially be slower than an on-premise print solution?
Learn about the power of our multi-tenant platform Edge Mesh.
Five benefits of cloud print management
As cloud SaaS offerings continued to evolve and dominate the modern tech landscape, the world of print was just another technological bastion to be enhanced with cloud computing. 
So what benefits does a cloud print management solution seek to offer?
Simple maintenance - The biggest win for managing your printing in the cloud is freeing yourself of the behind-the-scenes maintenance of print servers. This is doubly true for modern workplaces that seek print management but need alternatives to the traditional on-premise print ecosystem. This is a clear advantage of cloud services. It's why countless businesses of every size use the likes of Google Workspace, Microsoft Office 365 etc. 
Scalability and flexibility - Software fixes and level-ups are automatic, with continuous delivery and rapid deployment eliminating the need to regularly patch or upgrade. On top of this, cloud services provide the benefit of auto-scaling. Cloud solutions are elastic. If your organization booms, your cloud service can facilitate it. This goes both ways; if you have a reduction in your print flow, you don't have unused print servers gathering dust, your cloud solution can just scale down. 
Reduced costs and IT burden - By using a print solution in the cloud, hardware maintenance is handled for you by the cloud service provider.  You don't need to pay for a print server nor its regular care, which is particularly helpful for workplaces that don't have a dedicated IT team. Many businesses need to hire third-party providers to maintain their print servers. This is no longer the case with a cloud print management solution. Even workplaces with IT teams reap these benefits because their sysadmins are no longer burdened with maintaining print servers, freeing up their time for other IT tasks.
More than one option: single-tenant (private-hosted) or multi-tenant (public-hosted SaaS)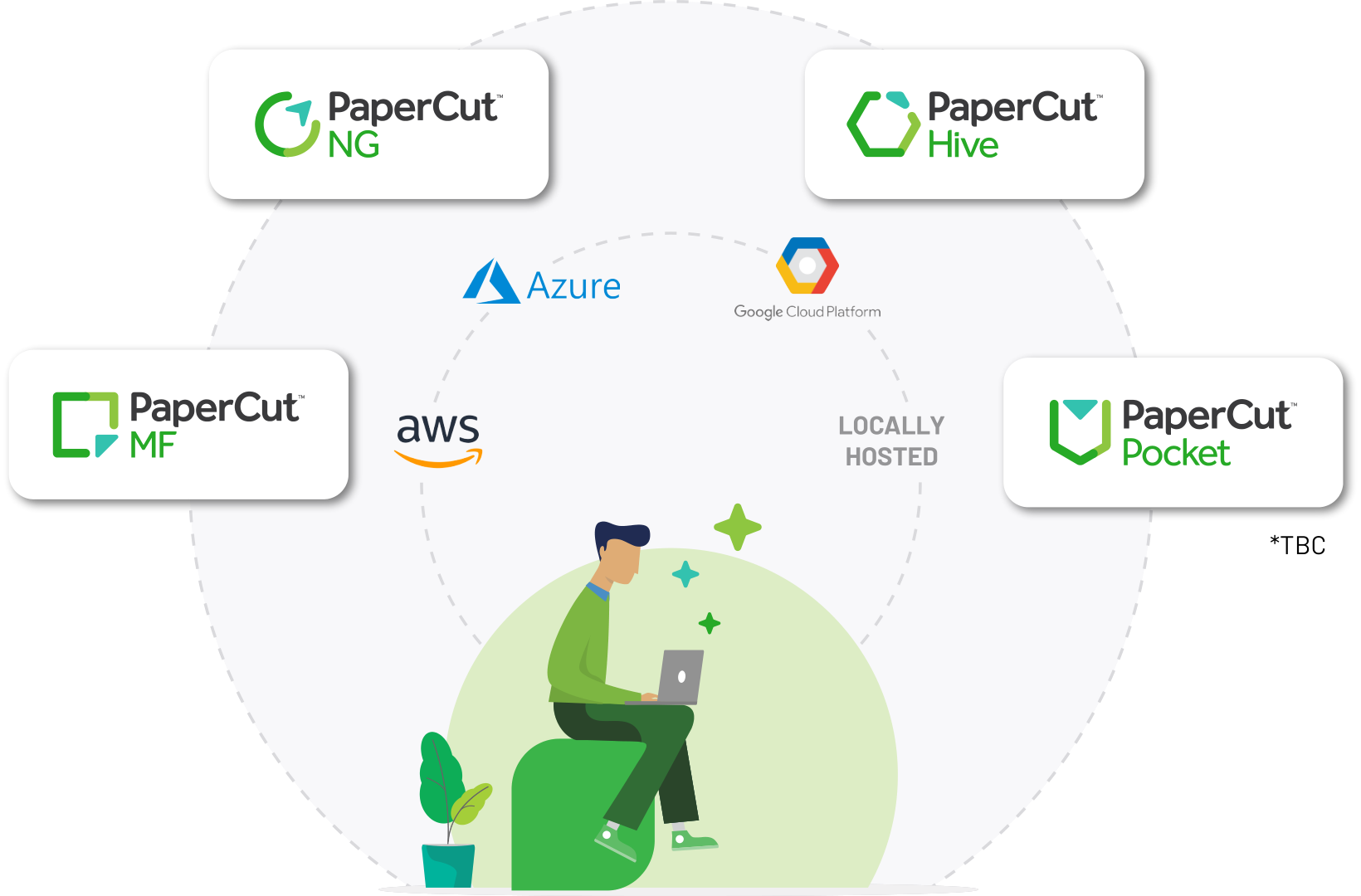 Cloud as a term gets thrown around a lot, but not all clouds are the same. Some businesses require a multi-tenant (public hosted SaaS) solution for any or all of the benefits listed above. Other businesses need more control over their print environment and have more resources (IT teams, hardware, and money) so they opt for a single-tenant (private-hosted) solution. 
It's important to consider what you need from a print management solution and what your business requirements are. 
For more on private-hosted single-tenant and public-hosted multi-tenant solutions in the cloud, head over to this Discover page.
The "best of both worlds" wishlist for multi-tenant cloud and print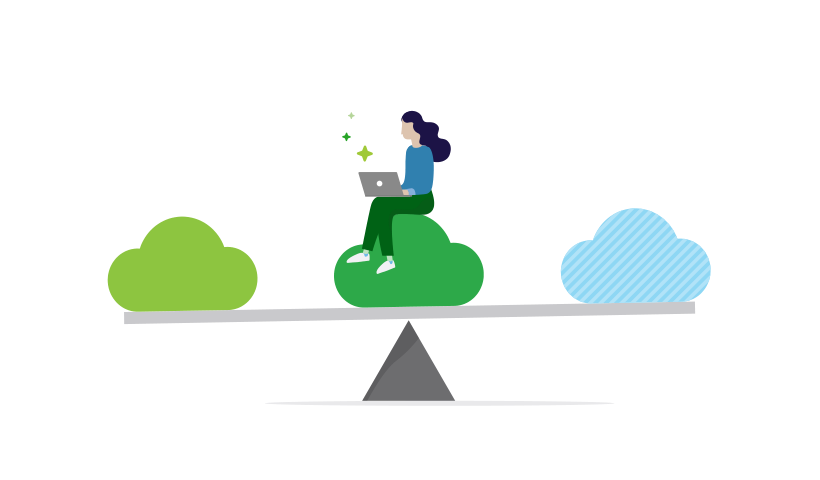 Print servers and IT teams are expenses not every organization can afford. These aspects of print infrastructure have presented a barrier of entry into print management for multiple workplaces. 
Meanwhile other workplaces don't want to lose the visibility of print management, but sure would benefit if they could reduce their business costs associated with maintaining a print server. 
For businesses seeking private-hosted single-tenant implementations, their needs have been provided by cloud hosting the likes of our flagship print management solution, PaperCut MF. Many other businesses seek public-hosted multi-tenant cloud print management software that provides the best of both on-premise and cloud solutions: reliable printing with all the right parts hosted in the cloud, and the necessary parts staying on-premise.
The dream is clear; reliable, secure, and fast printing in the cloud without dedicated on-site infrastructure beyond the printer. But the reality is tricky - previously printing with a multi-tenant public cloud solution has meant:
Slow print speeds
Clunky/non-intuitive UX
Security concerns
Complicated VPN configurations
Only works on specific printer brands
Now, however, there's  a multi-tenant SaaS cloud print management solution in PaperCut Hive and PaperCut Pocket that ticks all the boxes of the dream wish list for printing and the cloud.
PaperCut's cloud-native wishlist
Document security

All print jobs and data stay local and are secure and compliant with the highest security standards

Less infrastructure

The need for expenditure and management of on-premise print infrastructure is minimized or eliminated

Mobile working

Printing is simple for BYOD environments and should facilitate hybrid (home/office) and remote working print flows

Reduced IT burden

IT teams spend less time managing print infrastructure

Cost savings

Print-related costs are minimized

Reduced waste

All printing is thoughtful and purposeful with no uncollected or unfettered print jobs

Reliability

The solution is self-healing, accounting for network outages without a single point of failure

Performance

Printing is quick and powerful and intuitive for end-users
For businesses the opportunity with multi-tenant cloud-native print management is to set a new benchmark in ease of use for both end-users and administrators. 
For administrators, the goal is to make setting up users and printing as automatic as possible.
For end-users, pressing print should work no matter what device or brand of printer they or your business is using.
Find out more about PaperCut Hive and PaperCut Pocket.
Printers and the cloud: choosing the right print management cloud software
When it comes to choosing the right print management software for the cloud, it's about the solution suiting you, not you suiting the solution. Wait, does that make sense?
Put it this way: you shouldn't change your workplace to suit print management in the cloud. The right cloud print management solution is out there for you and it's about identifying what implementation is the right fit for your organization. You might need a self-hosted solution, or a multi-tenant (public-hosted SaaS) cloud solution might be the way to go. 
Regardless of where you are in your cloud journey, PaperCut has an option for you.
| | | |
| --- | --- | --- |
| Benefits | Self-hosted (PaperCut MF) | Fully-hosted (PaperCut Hive and PaperCut Pocket) |
| Hosting | Self-hosted in Public or Private Cloud as a single-tenant solution | Public cloud hosted as a a multi-tenant SaaS solution |
| Architecture | Service Oriented Architecture/Web Services with remote browser administration | Edge Mesh and Google Cloud Microservices |
| Max business size | Enterprise | Enterprise - PaperCut HiveSMBs - PaperCut Pocket |
| High Availability | Yes | Yes |
| Redundancy | Yes | Yes - self-healing |
| Patches and updates | Manually performed by IT teams or hosting provider | Automatic - continuous delivery |
| Scalability | Modular services /Flexible Architecture Options | Edge Mesh automatically grows with your organization |
| Security | Full control | Always Verify - data doesn't need to leave your network |
| Brand agnostic | Yes | Yes |
| MFP embedded software | Yes | PaperCut Hive only |
| BYOD printing | Mobility Print and Print Deploy | Cloud Node in PaperCut Hive and PaperCut Pocket |
PaperCut Hive and PaperCut Pocket are a great fit for businesses that have the relatively simple objective of making printing easy and reliable while doing their part to reduce waste and overhead costs.
PaperCut MF hosted in the cloud is fantastic for organizations that appreciate a private hosting model and prioritize customization and feature depth.
If we lost you at multi-tenant and single-tenant, do make sure you read on about PaperCut's various options available for printing with the cloud.
Want to know more?
Check out these links: