5 tips to improve student adoption of 3D printing
Whether you've invested in one or two desktop 3D printers, a room full of professional 3D printers, or specialized machines that print metal, you want to make sure you're getting the most out of them! This article covers the best tips we've gathered from our customers on how to ensure your devices are accessible to all staff and students no matter their level of experience.
It's very unfortunate if a lot of money is spent on setting up 3D printers or a fab lab, only for it to not get used. Student and staff learning outcomes need to be the primary measure of success of the equipment. After interviewing a number of leading international universities, we've gathered these top 5 tips to help ensure your fab lab is a success.
Tip 1: Make requesting a 3D print job as easy as ordering dinner
Students are super familiar with using online ordering systems and web stores. One of the most effective tips is to make 3D printing friendly — present a great looking 'storefront' that has pre-configured products. Instead of presenting machine model numbers and materials, offer products like:
Basic plastic small 3D print
High-strength plastic print
CNC cut metal sheet print
Metal 3D print
Lab operators can then assess the job's design and select the most appropriate machine. Some labs offer a set of 'starter jobs' implying that new students should select one of those options for their first print. (see next tip)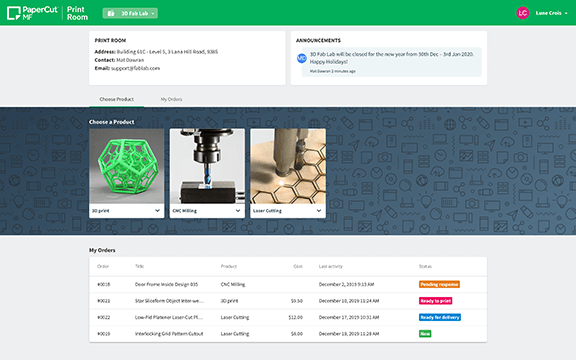 Tip 2: Offer starter kits or example products
Websites like Thingiverse have lots of fun items to print that let people experience the fun of printing without designing anything. (Of course, once they see how easy it is, you'll introduce them to design and really get them learning!)
Consider offering some example items in your store to help students work out the best way to get started. For example, one university requires the architecture students to print at least one job as part of their introductory course.
Tip 3: Offer 3D print services to other departments
In larger education institutions such as state universities it's common to see multiple fab labs. For example, the architecture department might have a set of 3D printers and the bio-medical or engineering department have their own. By offering 3D print and fab lab services to students across departments, students will have access to a wider variety of machine types and more availability.
The challenges of this usually come down to 'budget territories' and this is where cost control comes in. When the print jobs are appropriately charged, the faculty or department can be assured that usage by non-department students is tracked and accounted for appropriately.
Tip 4: Offer a design service
Some 3D printers or production methods are very expensive, for example, a 3D metal printer or a 3D Bioprinter. Consider offering a 'design service' as part of your standard product range. With the design service, students/staff can explain what they want to achieve. You can recommend the best practices, give advice, or even offer a full end-to-end service. This substantially reduces the barrier to entry of using the more powerful 3D print methods for the first time.
One national university offered design services to medical teaching staff to help visualise parts of the human body. The service enabled staff to make 3D copies of bones, etc. to pass around it class to make the conceptual situations more tangible.
Tip 5: Communicate and advertise
Friendly people are approachable people. The same can be said for a store or a service, so it applies to your fab lab, too. Take the time to set up appropriate welcome messages on your submission page and send acknowledgment emails. For example, when a lab operator moves a job from Pending to In Progres, sending a nice email to say 'Your job is now printing' is one of the many small changes that will bring a smile to your customers.
Word of mouth is important but also remember to advertise! This could be as simple as putting posters around the campus, or as creative as one idea we saw at one campus, where they creatively displayed many of the failed print jobs, with an invitation for you to try, too :-)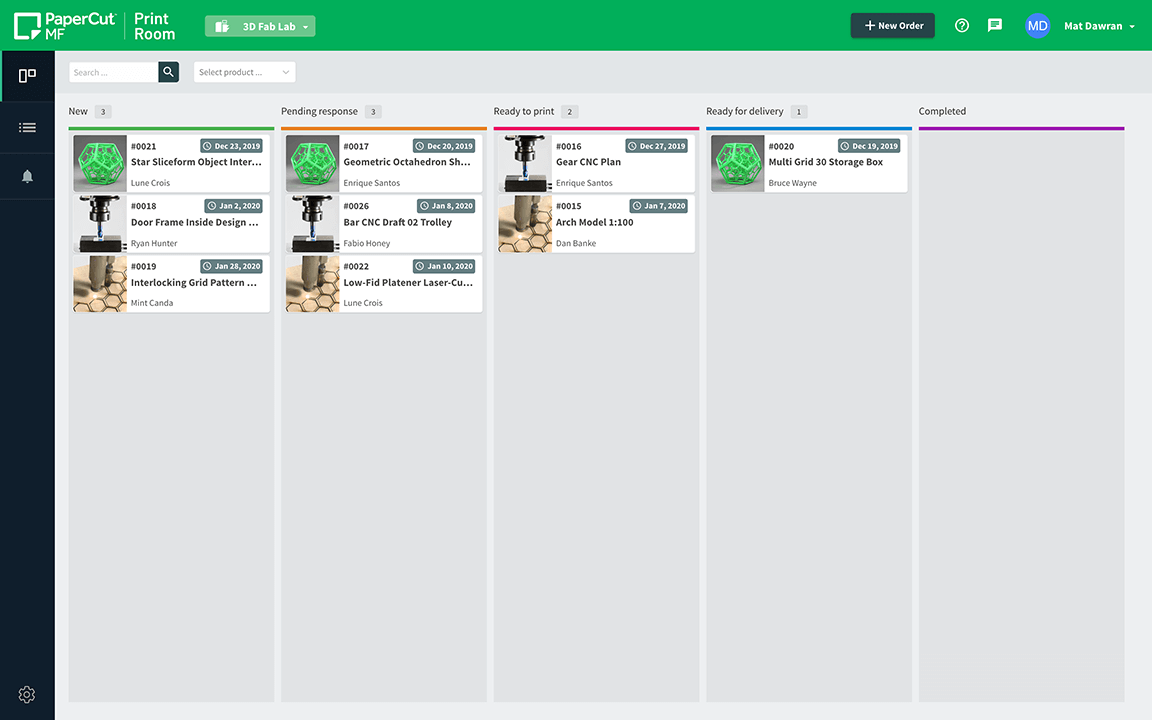 We hope that these 5 tips have proven thought-provoking. If you have your own tips you'd like to share, please let us know.
Want to know more…?