How to dedicate less time to printing
Printing is one of those essential services that we expect to work whenever we need it. But the reality is, to make this happen we need to spend more time than we want to — printing can be hard!
We have solutions to help save time — from printer driver deployment and BYOD and mobile printing, to easy scanning. These features make life easy for both network administrators and users, giving you back those precious hours, allowing you dedicate your time to the things you really want to do.
Time — the hidden cost of printing

It's well known that print management can help you save paper — reams of it — but there's another cost to printing that gets less attention: Time!

Printing soaks up time. Time for your administrators, time for your help desk, and time for your users. And time is usually something we're short of.

In the old days it was printer cables, ribbons, and paper jams that soaked up your time. Today it's print queue deployment, BYOD devices, mobile printing, permissions, security, and "PC Load Letter" messages :)

Have your users had to deal with any of the following things this week?
Wrestling with the setup of a printer driver.
Printing to the wrong printer, and then playing hide-and-seek to find the document.
Waiting in line to get a print job, or use a copier/MFD.
Pulling a hamstring doing the 100 yard dash to the printer to get to a confidential document before anyone else does.
Had to make "intelligent guesses" about which complex options to select when all they want to do is to scan an invoice.
Not knowing which print queue to print to when moving between locations.
PaperCut's Print Management and Integrated Scanning feature can help with all these problems. We don't just look after users, we also look after you, the SysAdmin. Check out these videos to see how centralized management helps you and your users save time:
Real world examples
We've taken some of the best practices and stories from our customers to help show you the way to help save time printing:
Large Enterprise
A national telecommunications giant was all too familiar with the challenges of organizational inertia, especially when it came to internal systems. So many good ideas and small changes simply couldn't get done because any change would affect thousands of people and had to be rolled out across forty-eight offices.
While corporate HR were banging their heads against the wall looking for ways to implement sustainability initiatives, the IT department found an easy way to start reducing waste that only took a few minutes to implement.
By changing PaperCut's centrally managed print policies to promote duplex conversion on every print job, they were able to start saving paper immediately. That never would've happened if it meant someone from IT services in every office had to start changing printer settings.
Central management saves time and unlocks new possibilities.
Government / Local council
At the Department of Conservation, staff are constantly surprised by how busy the printers are even though there are three on each floor. How much paper do you need to use to save trees anyway? Sometimes, it's a lot. The regulatory teams regularly need to print long policy document drafts and reports.
Staff who share floors with regulatory staff used to feel like they were rolling the dice on the rare occasions they needed to print. Would the printer be choked with another hundred pages of legalese? Would it be out of paper, or flashing some error message because it's been worked so hard? Which printer on my floor won't have a huge line of people?
PaperCut to the rescue! With Printers in Error and Find-Me printing set up, it's easy for anyone to see if their favorite printer is working before weaving their way through the cubicles. And if they don't like the line when they get there (or the printer was broken again!), it's seamless to release their job on any other printer. Even the one on level six behind IT that's always free. Human load balancing, anyone?
Features in more detail
The following content explains a number of the features referenced in the examples above.
Handle BYOD printing with ease
Managing printing is somewhat similar to managing antivirus software. The day-to-day appreciation of uptime doesn't exist, however disappointment/judgement is rife when something breaks or stops. We hear you, we feel you.
The reality is basic — people just want printing to work in their environment. They don't want to adapt to work in your environment. They know their device and iOS, they know their personal Windows laptop, and they're adept with their Chromebook. If your printing steps are '23 easy steps to connect to my Windows Server using SMB' they're probably right to be disappointed.
PaperCut's Mobility and BYOD printing solution brings a native printing experience, with authentication, to the world they're comfortable with and saves you fanboy judgment. Windows users just Ctrl+P. MacOS users just Command+P. iOS users do whatever the current OS hides printing under.
But would you believe, for the SysAdmin this is all created with a simple installer saved onto your existing print server… for all mobile and BYOD devices? Shut the front door! And it's standard functionality in PaperCut!
Since this is about publishing print queues, if it's a PaperCut controlled printer, it's now mobile capable.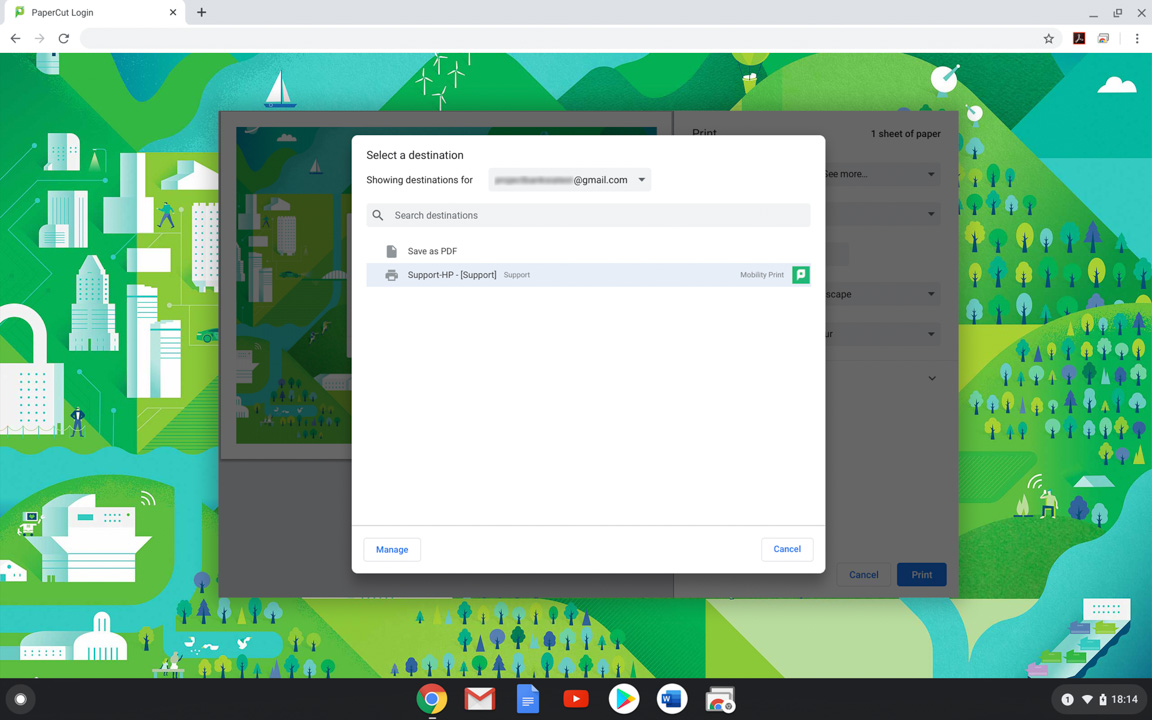 Only one queue to deal with
Find-Me printing means one queue to share. One queue means one printer driver to test, deploy, and manage. One queue means no more location aware scripting. "One" anything is time saving through reduced administration (also a ripping Metallica track).
For the users, one queue means immediate access to an entire fleet wherever they are. This means less time to get setup. This means less time to productivity. This means less support calls.
It also gives the users reduced incidences of time queuing (sorry Brits). No more waiting for your job to come out of a specific device, because, well, you don't choose a specific device! Walk to your traditional printer of choice and find someone only just beginning their job? No sweat, walk on by and get it from the next printer. Time saved. You're welcome.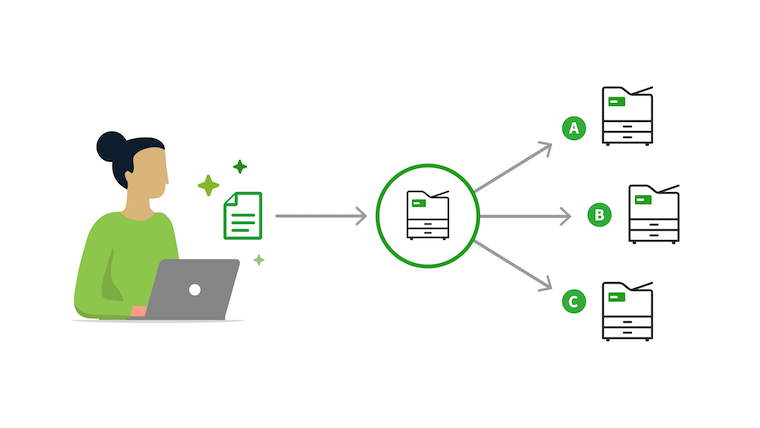 Spend less time deploying drivers — use Print Deploy
Dream this… how amazing would it be if you had only one machine to manage as an administrator? Or at least just one of each OS type? There'd be no 'deployments', there'd just be an installation of a driver, a test, and happiness. Adding a new printer driver or a new queue would be as simple as updating that single machine, a new test and, yes, happiness again.
Print Deploy brings the best aspect of this dream to reality for administrators.
Print Deploy introduces the concept of a reference machine — a single machine that the administrator creates queues on, adds drivers to, then uses to test and trust it all. With the Print Deploy client running on all other machines, the rest is taken care of. This is known as the 'good state' and is easily distributed — queues, drivers and all. Update a driver on your reference machine and test. Run the printer cloner tool and the updated 'good state' is automatically distributed to the clients — immediately.
This can be even sweeter with conditional queue deployment. Want something a little different for one group of users, like access to a wide format printer that other's shouldn't access? Use groups to manage this! A specific queue for a specific site? IP zones will mean when they arrive on site, they get this extra queue. What support calls?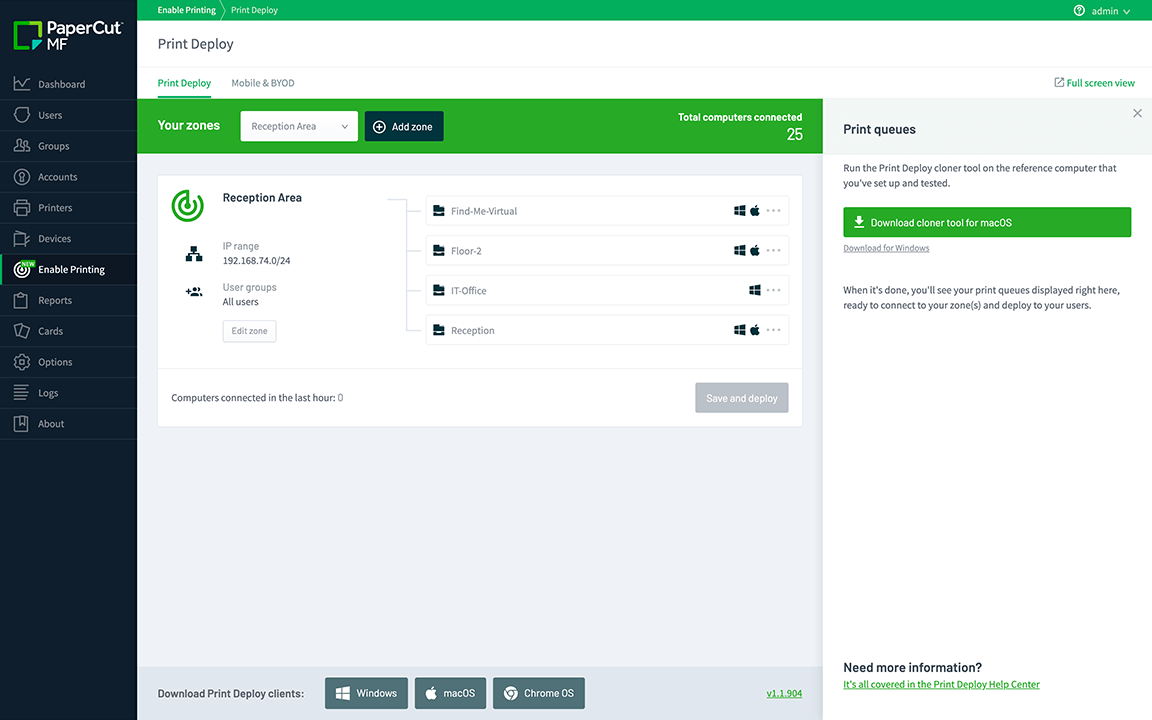 Why craft a well-written error message when you can prevent mistakes
While we might not get feature names right all the time, we do pride ourselves on functionality decisions! Printers In Error saves users from issues they're unlikely to be aware of but surely would discover if they tried to release a job. Who really knows what that little red light on the MFD means? Is it an error? Is it an error I should worry about? Is it just mood lighting?
If a user attempts to release a print job on an MFD that we know is out of paper, or out of toner, or in a number of other error states, we'll alert the use before the job is released and halt the release so they can move to another machine. This saves users from the stress and time hurriedly trying to solve an issue on a machine to get that sensitive print, or logging an 'urgent' call for the sysadmin, too.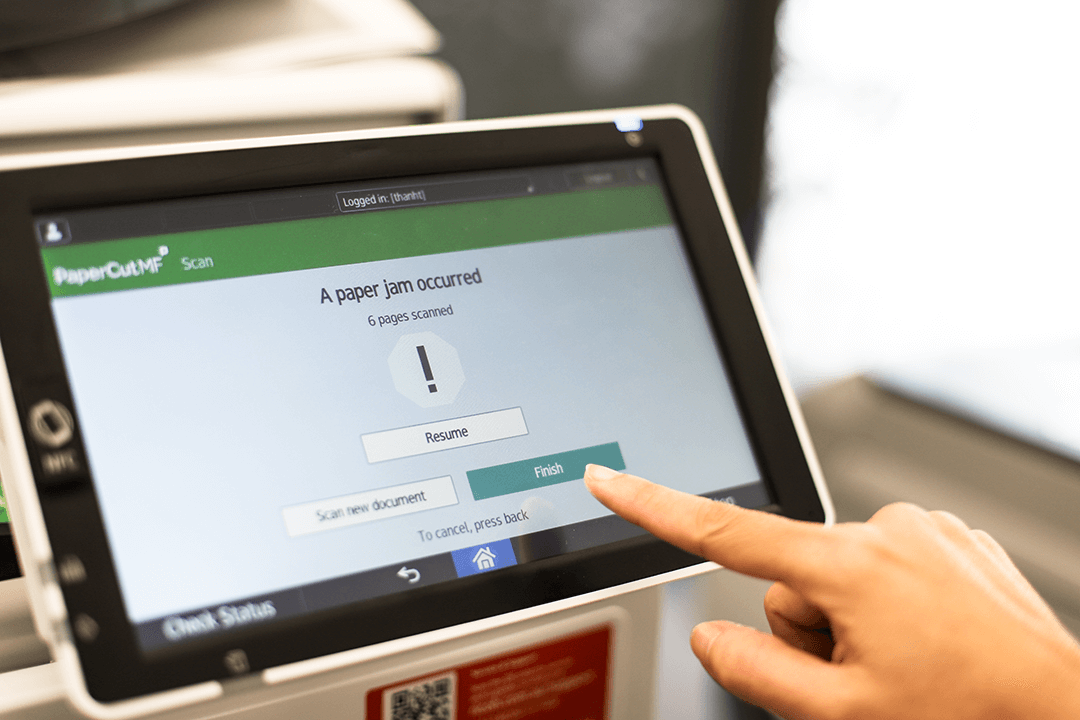 Reliability
Under the hood, PaperCut is designed to work in high uptime environments to ensure minimal outages. Nobody can remember the last time their mail server went offline, and the same High Availability technologies that support these essential services can be used to support PaperCut as well. We work with all modern databases and all major operating systems, so if you can defend a server and database, you can defend PaperCut.
But for those without the grunt, we also have built-in database backup and simple restore steps. You can get a system backup and running in under 30 minutes (yes, much like Jamie Oliver can bang out a meal in 15 minutes there are some variables here like experience and size of data set).
System notifications
Oh my word, are we STILL on time-saving features!? I guess we have a bunch. Oddly if you're here you've probably spent quite some time on this topic. #irony.
We'll close off with system notifications. Toner updates on a daily basis to allow you to plan your day? Tick. System health monitoring to allow you to plan for system expansion before an outage? Tick. Notifications of a printer in error? Tick.
We got you.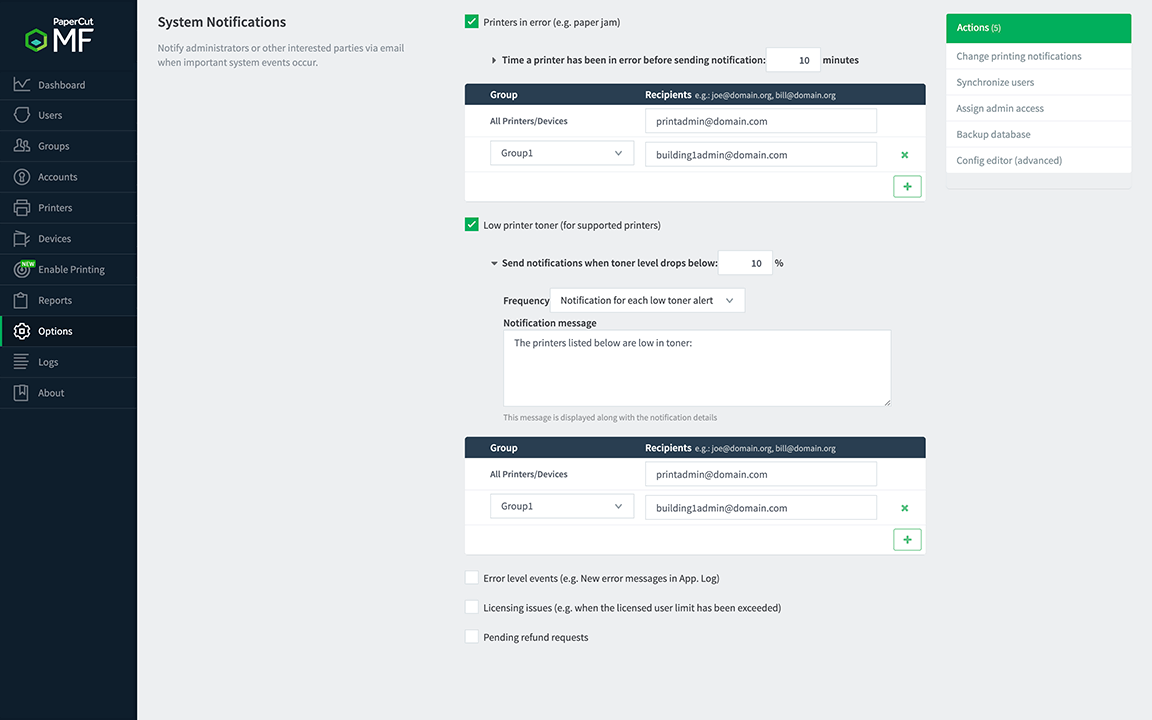 Want to know more…?
Here's where you can find more information, configuration possibilities, and setup steps: