Print charging in education with payment gateways
PaperCut makes it easy to set up how users pay for the services they use, including printing and copying. So if they're running low on funds, they can add money with a payment platform they're familiar with. Or they can choose a one-off amount, or set automatic top-ups so they're never out of credit.
Sure they could use pre-paid top-up cards and vouchers, however your savvy students and guests will appreciate simpler ways to get the job done without having to talk to humans.
You can do this because PaperCut has lots of 3rd Party integrations. You can check out the full list of 3rd Party integrations.
Think you could take advantage of one of these scenarios for your payments?
Online payment by anyone using their preferred payment, including credit card or bank account
Integration with payment providers such as PayPal, Authorize.Net, RBS WorldPay, or CyberSource
Student fees management systems
A number of leading higher education organizations allow students to transfer small amounts of credit into their print account, with these fees being reconciled at the end of a term or semester against their fees or loan. You can confiure this to automatically debit the student management records in an external database or student management system.
Payment gateway information and workflows
Please refer to the documents below for an overview of the Payment Gateway workflow within PaperCut.
Payment Gateway Information and Workflows - PDF
Simple user interface
The administrator can customize the payment web page to match the organization's intranet or colors, and can configure the allowed payment amounts.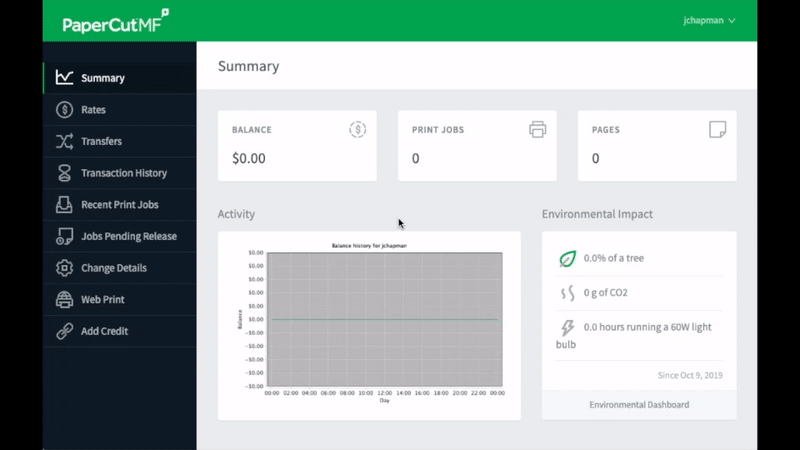 Modular architecture
Module options
The PaperCut Software development team has worked hard to offer a wide range of payment options (see below). In addition, many of our partners have developed payment options for their local market. And if you're interested in developing your own custom payment integration, we can provide you with simple Application Programming Interfaces.
This ensures you have the widest choice of payment providers and the option to switch in the future.
External credit sources
User payments may optionally be tracked separately to free quota, using the multiple personal accounts feature.
For other options to recharge user balances in PaperCut, check out Recharging Balance.
Want to know more…?
For more options and information: