Exporting PaperCut MF usage data to 3rd party tools
PaperCut MF now comes with Data Integrations: a new feature that allows you to export daily usage data from PaperCut MF into various 3rd party tools for - graphics, reporting, BI, or accounting systems. This feature expands our suite of reporting functionality options like inbuilt reports and custom reports.
Why export usage data?
Using Data Integrations you can now consume, analyze and view usage trends. You can now understand trends of usage overtime to make informed decisions to further optimize your print fleet.
Build your own data integration into your BI tool of choice
Easily configure PaperCut's Data Integration platform to export your usage data from PaperCut MF to your 3rd party Business Intelligence tool of choice.
You choose the datasets (users, printer, print scan and copy usage, accounts, servers)
Historical data export
Choose data output location
Data exported in csv format
Build a dashboard that you want
PaperCut database agnostic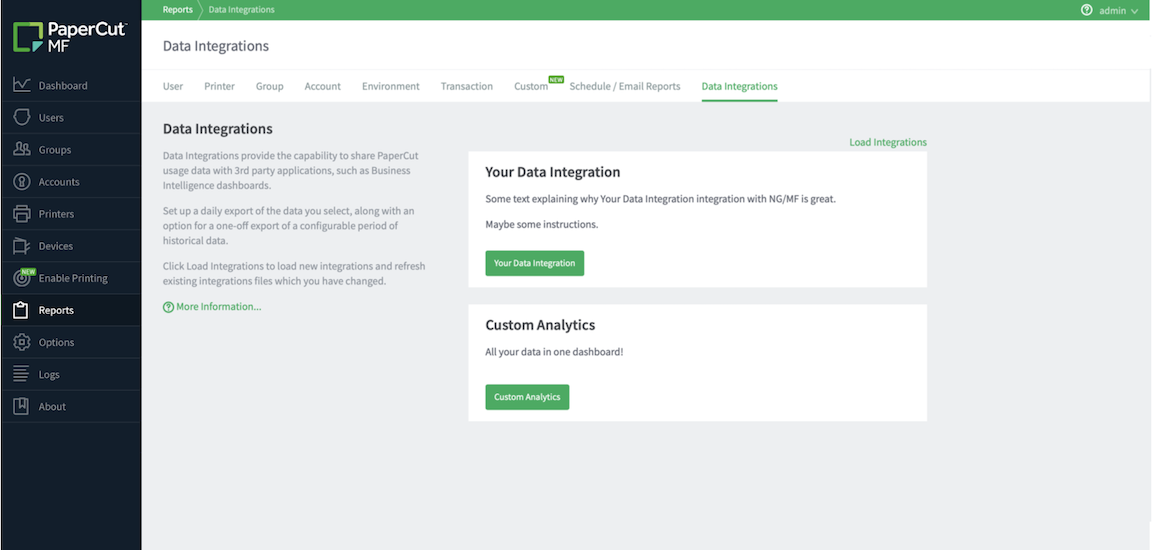 **You will need to do the heavy lifting of building the interactive dashboard and consumption of the data into your BI/reporting system.
Prebuilt data integrations solutions
Don't want to build your own dashboard? Want a pre-built off the shelf solution?
Solution
Description

Intuitive for PaperCut MF/NG
Intuitive Dashboards help keep volume and costs controlled. The dashboards are designed to work with PaperCut MF to help answer key questions and manage print/copy costs, whilst educating users about the environmental impact of their printing.

Read about side by side installation here.

StoryBoard for PaperCut MF/NG
StoryBoard for PaperCut® was designed specifically to work with the best print management software in the land. Launch StoryBoard directly from the Integrations tab and get instant, real-time visualizations of your PaperCut installation. With infinite ways to click and drill-down into your data, the advanced comparison analytics will tell the real story behind your data.
Want to know more…?
Configure Data Integrations