Make scanning and OCR simple and secure
PaperCut's scanning solutions are built to save you time and give you a better result.
We save time with one-touch scan actions, in which all the complex options are pre-set, so users can be sure they will always get the right output.
Our connected cloud services give you great results by fixing image problems and making your documents text searchable with OCR (Optical Character Recognition). And we can deliver your document directly where you needed it (be it Dropbox, Google Drive, GSuite SharePoint, Microsoft OneDrive or somewhere else), as we've built integrations to the largest range of cloud document storage providers.
We know you need to scan so lets make it simple
All MFD (Multifunction Devices) can scan documents, but getting a scan job done is not always so easy. Users are presented with numerous obscure options from DPI and file formats through to margin trimming and level of compression. Useful features like OCR on the device are often expensive and slow. And picking in the correct scan destination is often a chore.
PaperCut sits over the manufacturer's scanning interface to make it amazingly simple to get any scan job done. The experience is the same no matter which manufacturer's devices you have. And your users are no longer limited by the specific capabilities of the device. All major brands are supported form Xerox, HP, Ricoh, Kyocera, Sharp, Toshiba, Konica Minolta, and many more.
Our on-device (embedded) software is complemented by secure cloud services to deliver OCR, image correction, and delivery to cloud storage securely and without fuss. PaperCut manages security end-end, from authentication on the device to secure processing and delivery of scanned documents to your chosen local destination or cloud storage provider.
All this means you can spend less time on scanning and can go get that coffee!
Scanning at a glance
Here's a quick overview of our scan features and how they make scanning better for users and administrators.
Central setup for scan actions and delivery
With PaperCut, the SysAdmin sets up scanning centrally then users can scan on any device:

Admins get easy central scan setup to define scan actions and where scans go
Users get a clean, simple interface with one-touch scan actions
Scan actions roam with users across most MFDs and brands

Improved scanning experience and output
PaperCut comes with the most used features right 'out of the box' to deliver a great scanning experience every time:

Text-searchable documents with OCR
Batch splitting, to create multiple documents from one scan
Blank page removal, automatically
Archival PDF-A output
Image enhancements (despeckle and deskew)
Pre-defined, one-touch scans for consistent results and fewer errors

Send scans straight to where you need them
Scan to your home folder, email, Office 365, Google Drive, SharePoint …Secure delivery TLS encryption is standard)Users cloud authenticate (OAUTH) once for all machinesOnce delivered, leverage keyword search (yes, OCRed PDFs are keyword searchable)
Real world example
There are many tips about scanning. Here's one for starters:
Large Enterprise
Data is the lifeblood of business. Make it easy to get data from paper into your digital business systems.
A large construction company is constantly hiring new laborers across many active projects. Onboarding each new hire involves a number of tax, privacy, OHS, and certification forms that all need to be retained for seven years by law.
The forms are collected for each employee by human resources, and stacked together for scanning. The tax forms are single sided, and the OHS forms are double sided.
A scan action is set up to capture the bundle of all forms in duplex, OCR them, despeckle to clean up each page, then use blank page removal automatically remove the empty back sides of the tax forms from the output.
The digitized document, along with a metadata file containing information about it, is delivered to a folder on the company network being monitored by their Document Management System (DMS).
The DMS picks up the file, and based on the metadata and OCR text, stores it in the correct HR archive with a seven year retention policy. If anyone needs a copy of one of the forms, it's easy to search by the OCR text or browse by the metadata used for filing.
Features in more detail
The following content explains a number of the features referenced in the example above.
Cloud OCR
OCR (Optical Character Recognition) is the technology that makes scanned documents smart — text searchable, editable, and way more useful.
Traditionally, OCR has been complex and expensive to provide for your users, requiring specialized third-party tools. PaperCut has changed all that with our Cloud OCR solution. This is a cloud-based OCR service available at no extra cost to all paid up PaperCut MF customers.
How hard is it to configure Cloud OCR? Well how hard is to check a tick-box? That's all you need to do to turn on OCR Cloud for any PaperCut scan action. As long as your PaperCut MF server has an internet connection, it will automatically start using the secure OCR servers.
Our cloud services are hosted in regional data centers in America, Europe, and Australia so you can meet your data sovereignty and compliance obligations in more corners of the world.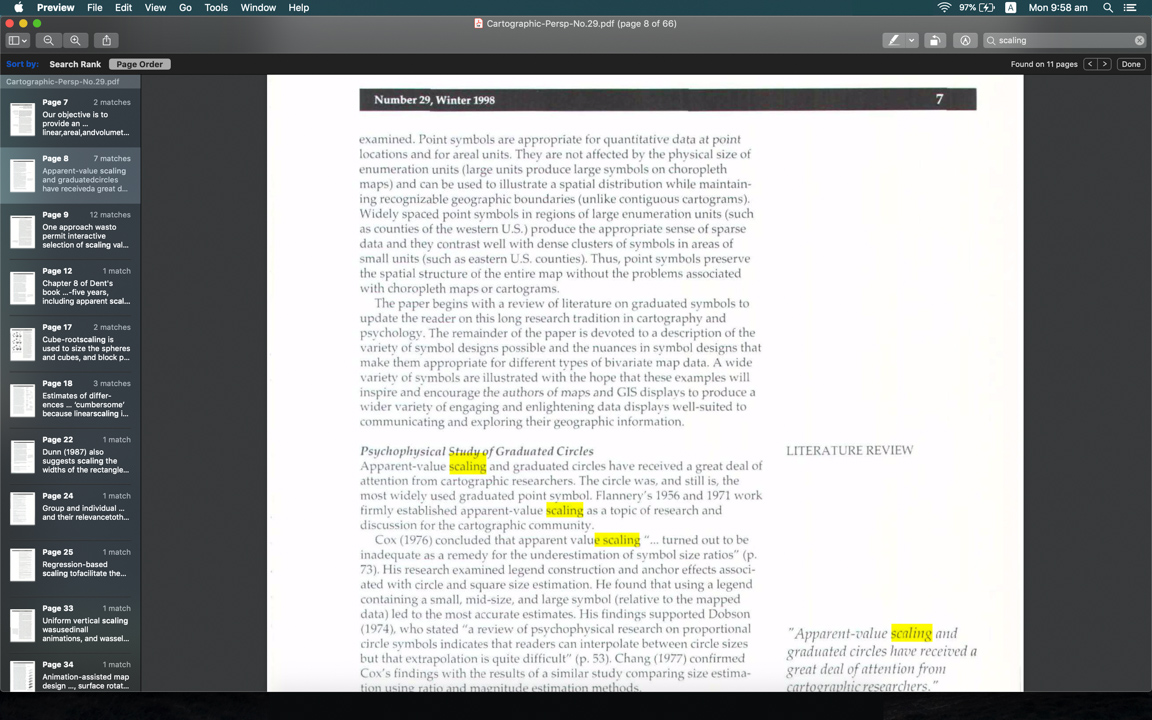 Self-hosted OCR
If you prefer to have your scanned documents remain onsite, we also provide a self-hosted OCR solution. You can install it alongside the PaperCut Application Server, or scale up for a growing scanning workload by installing it on one or more independent servers.
And it's completely transparent to your users. Self-hosting OCR delivers exactly the same user experience at the device as when configuring scan actions as using OCR Cloud.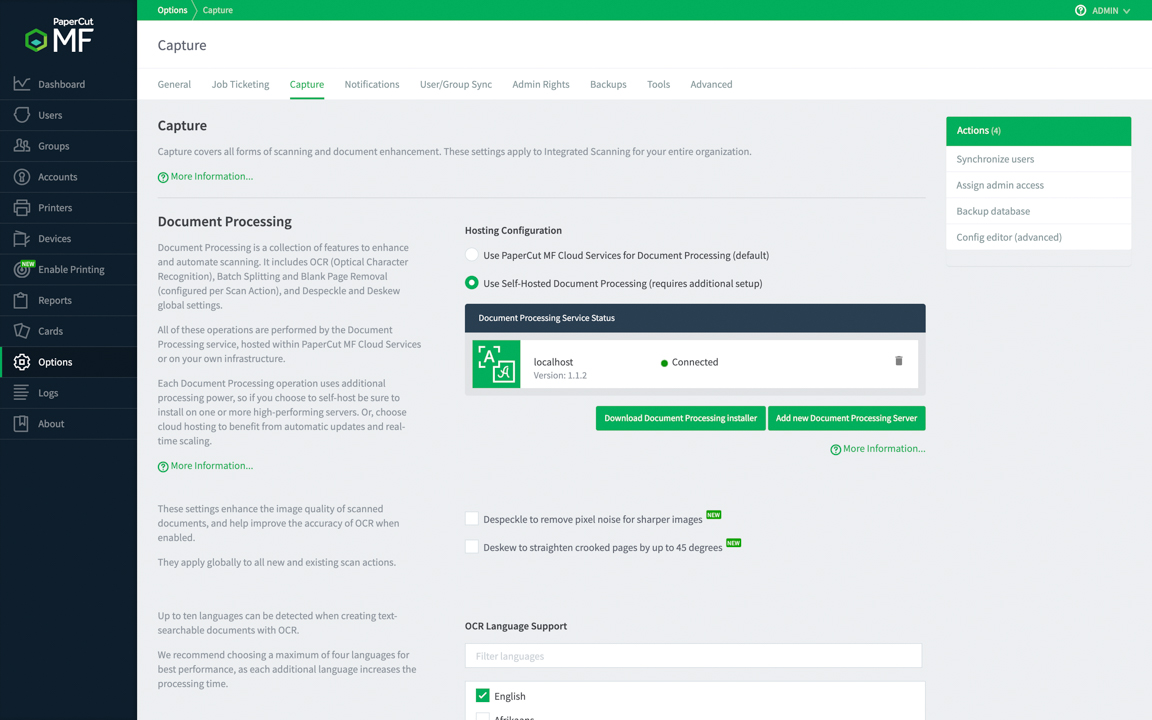 PDF-A
PaperCut can generate true PDF-A files for document archiving. Conventional PDFs are not always fully self-contained, with references to fonts defined externally over the web. This means that the fidelity of an archived document might be lost over time if the font is no longer available.
PDF-A documents are fully self-contained and can be safely archived for long periods with the assurance that they retain their fidelity. It's also an ISO international standard so you know software to read PDF-A will be around for the long term.
Batch splitting and blank page removal
When you scan a stack of forms or invoices, you need a separate PDF output file for each document, not one huge PDF you have to manually split and save back at your desk. And not all forms are all the same length. What if some are two pages, and some are three, or four? You can set PaperCut batch splitting to insert a blank page to separate each document in the stack, regardless of page count. Cool!
And don't get us started on blank pages! How annoying is it when your scanned documents have useless blank pages you have to skip past when reading? Don't worry, PaperCut can automatically remove blank pages for you, making scanned documents friendlier for humans. Nice!
Image enhancements (despeckle and deskew)
What happens when a document original has blemishes or isn't placed perfectly straight on the glass? The resulting scan looks bad, and that image noise means the OCR process takes longer and isn't as accurate.
Some high-end MFDs perform image enhancements internally, so the quality of the scanned document might vary from device to device.
PaperCut's image enhancements correct and straighten your image prior to the OCR step, both improving the appearance of the document and the quality of the OCR output. That's a win-win.
In addition, you'll get more consistent quality output across your MFD fleet. Thats a win-win-win!
Scan actions using group permissions
PaperCut scan actions let the SysAdmin define, up-front, the things that remain constant from scan to scan. For example, if all invoices should be scanned at 300 DPI to PDF, then the administrator can define those things up front in an 'invoice' scan action — the users doesn't have to worry about the details.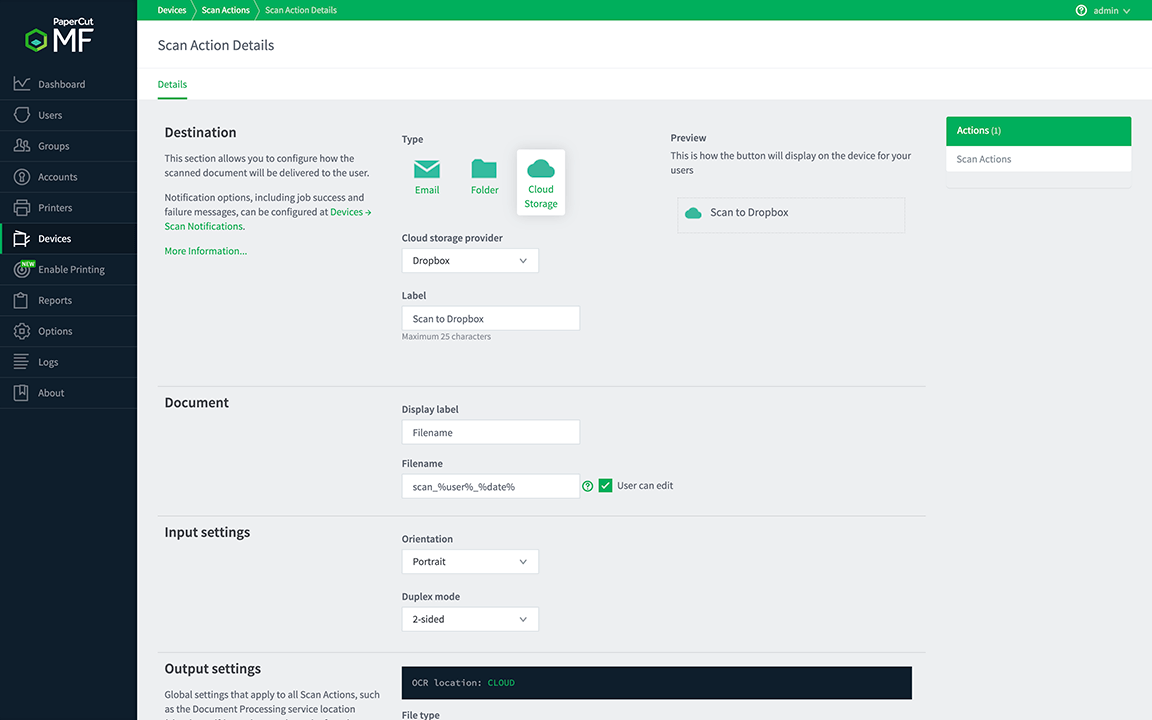 The SysAdmin also gets to control which users get access to specific scan actions — users see only the scan actions they need, so they can quickly choose the right one. To do this we leverage your existing AD groups to make access control seamless and automatic.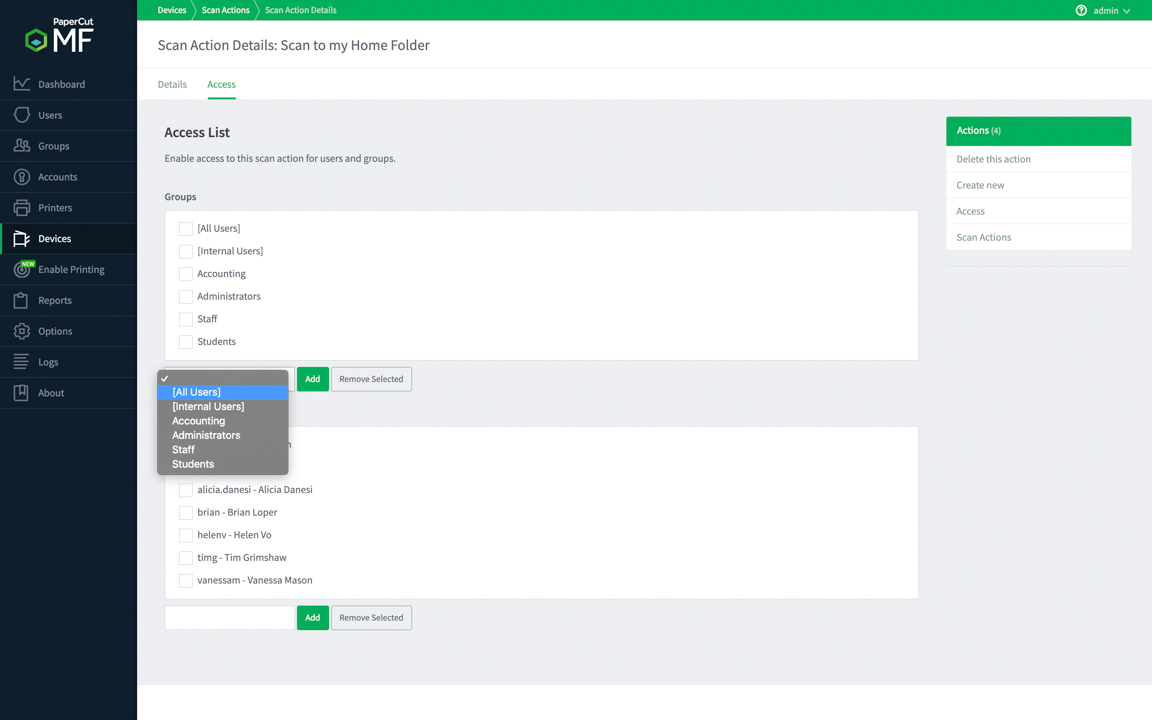 Want to know more…?
+We've got plenty of other places for you to go to learn more. Here are some: