No-fuss printing for visitors, contractors, and guests
While guests and temporary contract staff generally don't have much need to print, when they do it can be a headache. And if you've taken steps to secure your printing, you've probably made guest printing even harder.
Guests don't want to waste time installing software just for your environment. The best printing solution for them needs to be plain and simple, with nothing to install.
PaperCut can come to the rescue with the right features designed to make it easy offer a Guest Print Service for occasional printing.
Don't (completely) lock out your guests!
So you've implemented a secure print solution that's working great for your staff. But at the same time, you've made printing harder for casual visitors and contractors. As a result, your support staff are spending hours of their time at printers with people who only ever need to print a single page. There's no logic to that!
A good guest printing solution enables basic printing services without opening up a big security hole. When selecting a guest printing approach, consider the following factors:
How much will a guest need (or want) to print?
Will the guest's device be connected to the local network?
Is offering guest printing a security concern for your organization?
How to onboard guests in your organization
We've put together the handy table below to help you select your favored guest printing approach.
Problem
Description
Convenience
Print security score
Product
Email to Print
With Email to Print, guests email their documents to a printer. Nothing to install. Simple!
High
Low

PaperCut MF

PaperCut NG

Email to Print with Guest Release
Visitors email their document to then printer, then log in as a "guest" at the MFD to release the job via Secure Print Release.
Med
Med

PaperCut MF

PaperCut NG

Email to Print with Assisted Print
Guests email documents to an address like printer@example.org and ask reception to release the job.
Med
High

PaperCut MF

PaperCut NG

Temporary user registration
Guests register (or are registered) as a print user to get access to printing. Guests use PaperCut Mobility Print with their assigned account to print natively from their device.
High
High

PaperCut MF

PaperCut NG
Still not sure? We've got some helpful examples below and more details to come.
Real world examples
Here's how PaperCut customers are making printing easy for their guests:
Education
A long-standing Community College wanted to improve their community image after an embarrassing student paintball episode. (We made that bit up to make it interesting!) They started by offering services to the public through their libraries, using BYOD and guest printing. The Head of Technology had heard of other University libraries having problems with students taking advantage of anonymous guest printing to work around quotas and restrictions. But he was confident his staff could learn from those mistakes.
He was right because the college IT team chose PaperCut guest access. Now every public library guest could self-register and have an individually managed print quota. It prevented cheeky students from sneaking in the back door while still opening up the library's services to the public.
Large Enterprise
Working the walk-up helpdesk at a global shipping company for the last three years, Greg had struggled with everything that could possibly go wrong with office visitors trying to print. Virus-infected USB drives. Direct printing USB cables. Emailing files to people with print access. Dealing with the 'files are too big' syndrome or getting marked as spam by the email system. He was convinced these guest printing nightmares were contributing more to his hair loss than supporting his chronically inept football team.
When the company finally implemented PaperCut MF, and Greg could set up any guest or visitor to print using Email to Print on the big MFD outside the meeting rooms, his job immediately got 36% easier. The printing process was super easy — a visitor would just email their file (for example, a PDF) to a preconfigured address and any staff member could then release the job at the MFD using the printer touchscreen embedded software. Now, guest printing just works. Ahhhhh, nice.
Small Business
An independent sportswear label had been struggling with how to give brand consultants and marketing agency reps access to their office printers when working on new campaigns. It was only a few days every few months, and rarely the same people on the next campaign.
Their IT guy had been using a few generic user accounts that were passed around but had never been comfortable with such poor security. Once he deployed PaperCut Mobility Print in the office, it was easy to grant short term guest access to printing for as many consultants and designers it took to work on launching their next season's hot new leggings.
Features in more detail
The following content explains a number of the features referenced in the examples above.
Email to Print
Everyone can send an email, so with Email to Print, everyone can print. The power of this solution is that there is nothing for the user to install. Each eligible printer is assigned its email address and prints supported email attachments sent to it*.
* supported includes: Office Suite, PDF, images, text, etc. — it's an impressive list.
As emails can be sent from anywhere, you might want to guard printing with a release step. Print jobs wait in a hold/release queue until a user logs in to release the job to the printer. PaperCut offers a range of options here:
Provide a guest login for guests to use. Convenient, but you will need to change the password regularly, and all guests can see all jobs.
Empower your receptionist or an admin to release jobs on behalf of a guest.
Register or assign your guest with a temporary "internal" account for the guest's own use. This approach also opens up other options, such as PaperCut Mobility Print.
PaperCut offers "internal user" accounts, which only give access to printing. These accounts are internal to PaperCut and don't require changes to your organization's user directory (AD or LDAP). You can keep a few internal user accounts available for guest use, or have your guests register a new account themselves.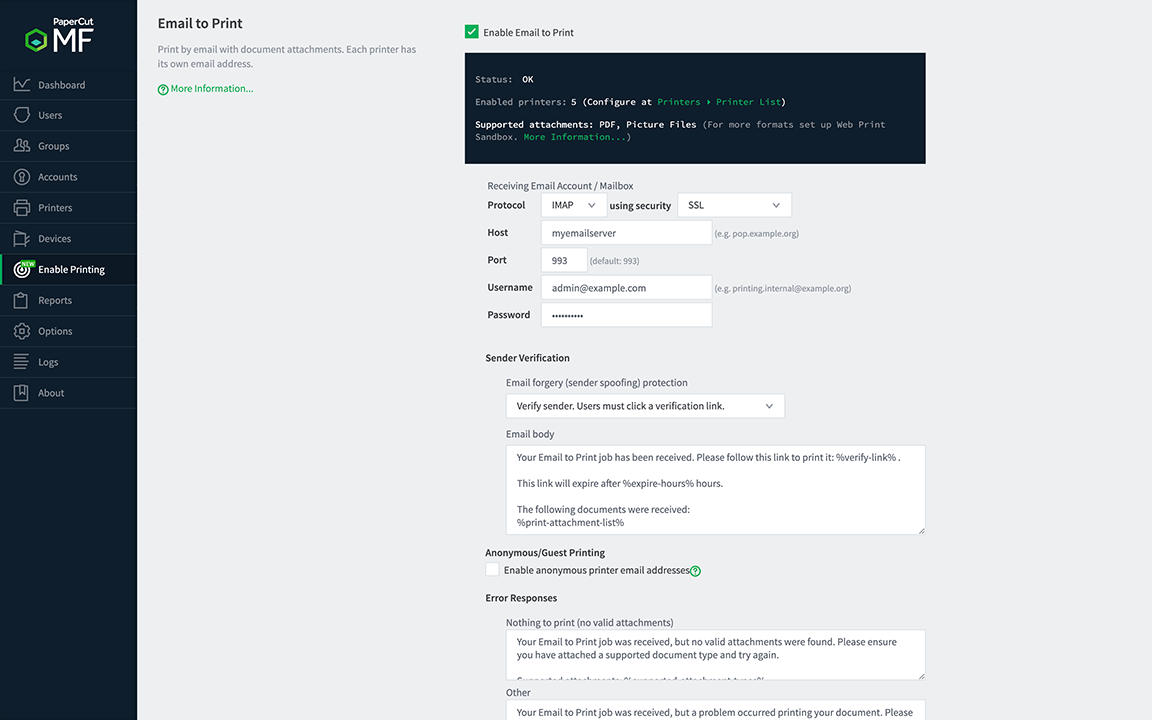 PaperCut Mobility Print
PaperCut Mobility Print is a great solution for guests (and employees with BYO devices - BYOD), as it enables printing natively from their device whether it be a PC, Mac, Chromebook, or Smartphone/mobile/cell. Your guest users get a more convenient and richer experience than other options like Email to Print. Useful print options such as double-sided, paper size, and print in black and white are available via the native print options. Also, the print documents never leave your site, so guest information is kept secure and safe.
Guest devices will need to be connected to the local Wi-Fi network (a guest Wi-Fi is ideal for security). As PaperCut Mobility Print requires users to authenticate themselves, you might need to create a "guest" user account or assign an internal user account for login. This will also allow you to track guest print volumes via print logging and ensure the service is not abused.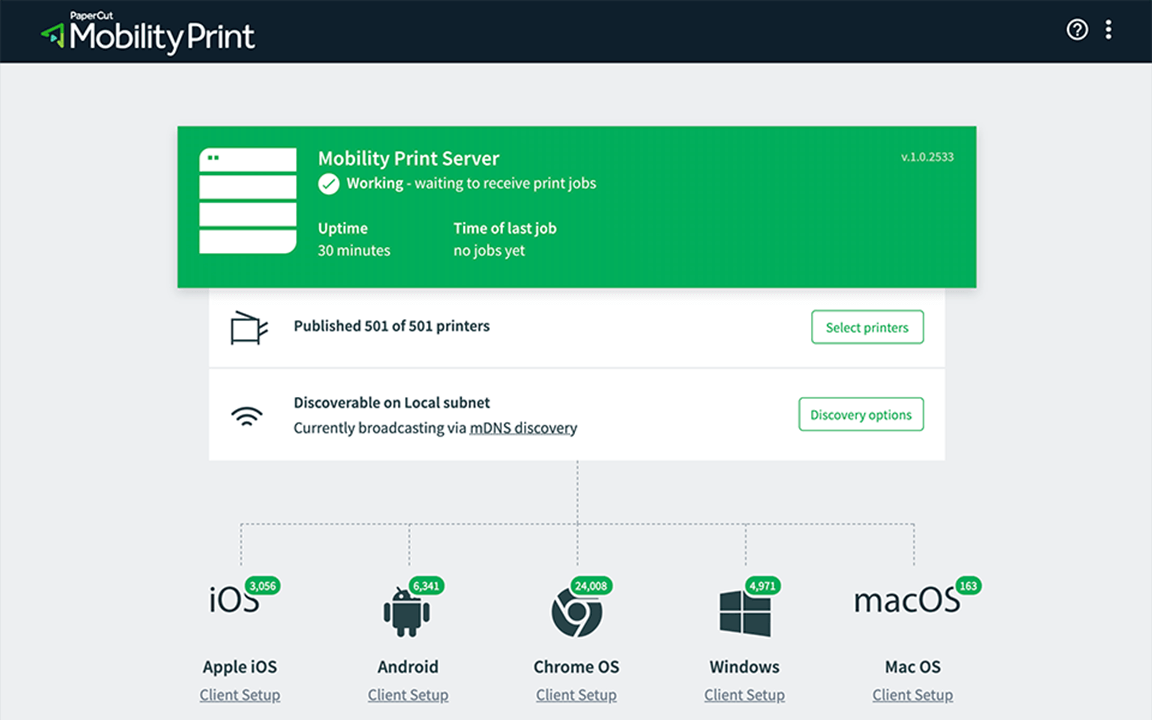 Want to know more…?
For more options and information, take a look at: