Five ways to save waste through sustainable printing
You want to reduce your office's carbon footprint. Beyond switching to LED lights and reducing travel, the top trending advice is to go paperless.
Printing is a good place to start. With just a few easy changes you can reduce your paper, toner, and power usage to get one step closer to a truly environmentally friendly office.
Why sustainable printing is important
It's obvious why: printers consume paper, toner chemicals, and power. Reduce printing and you directly reduce the impact of all three on your environmental footprint. And yet here we are in 2021 and the paperless office stills seems far off. Almost every size office today still runs printers as an essential function.
That's why we've built tools to make printing efficient and to reduce paper. We do this through smart printing features, nudges that change user behavior, and flexible print policies to drive compliance.
So while paperless is a dream today, the reality is we have simple and proven ways to make printing more efficient, sustainable, and cost effective.
We call it the "lesspaper office". Here's how PaperCut can help you get there.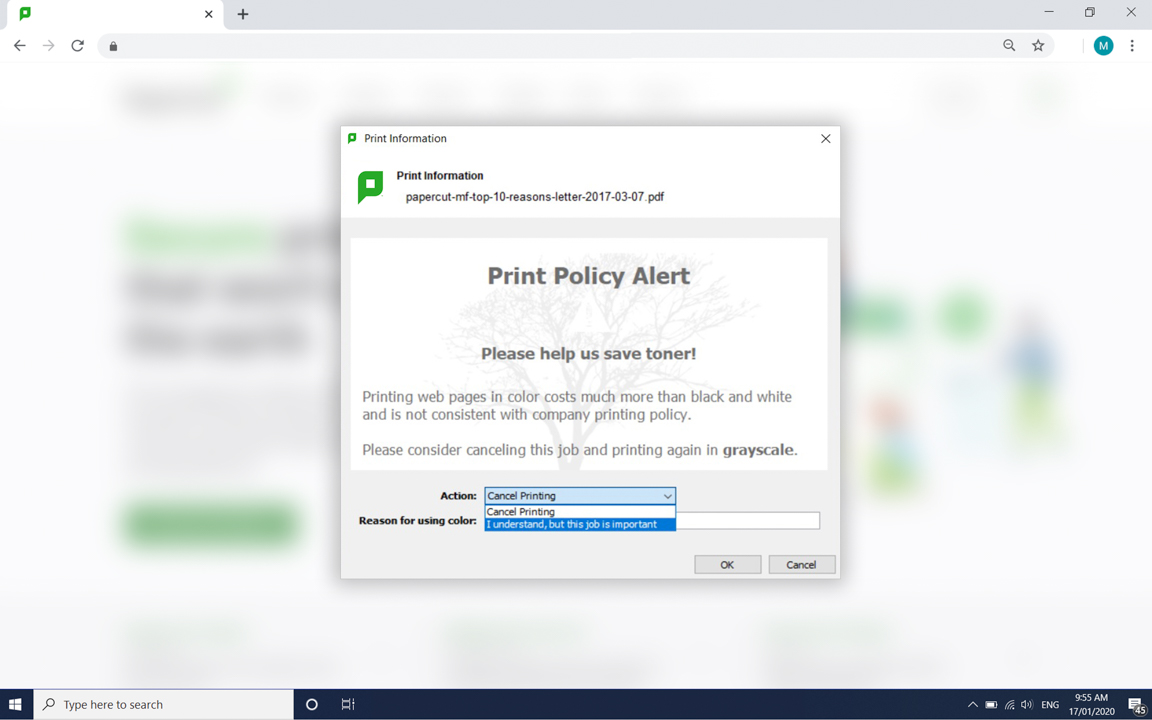 Five steps to your lesspaper office
Before we start, an admission — you'll need to choose the right PaperCut Print Management solution for your organization. With PaperCut Pocket, NG, and MF we have the right solution for very small businesses up to large enterprizes. Once you've chosen your solution, here are your next steps.
 
Problem
Action
Product
1
Measure your printing
If you know how much paper you're using and where it's being used, you're halfway towards doing something about it. By the way, you might find users print more responsibly when they know their printing's being tracked!

PaperCut MF

PaperCut NG

PaperCut Pocket

PaperCut Views

2
Use Find-Me printing (or Secure Print Release)
This feature is one of those rare win-win-wins. It's a great experience for users, wastage is dramatically cut as unwanted print-outs are never produced, and you save big on consumable costs, too.

PaperCut MF

PaperCut NG

PaperCut Pocket

3
Print on both sides — it's a great way to slash paper usage
Start by configuring double-sided as the default option in your printers. You can do that right now without PaperCut. Use PaperCut for the next steps: use a print script or Pocket Add On to nudge users at the time of printing to print double-sided. Or just get PaperCut to convert all jobs to double-sided on some printers.

PaperCut MF

PaperCut NG

PaperCut Pocket

4
Print in color only when needed
Color printing uses more expensive toners and inks, and more toner is needed overall to mix colors. With PaperCut you can use a print script or Pocket Add On to help guide users to print black and white. Or you can use active policies to restrict color printing to those who have a business need.

PaperCut MF

PaperCut NG

PaperCut Pocket

5
Implement quotas or charging
In some industries, such as Education, you can charge printing back to each user to empower them to think before they print. This helps them to make an informed decision on how much to print — you educate your users and save paper at the same time.

PaperCut MF

PaperCut NG
In the wild — examples
There are hundreds of tips that have to do with reducing waste. We have taken the best practices out of key industries and give them to you here:
Real world examples
There are hundreds of tips that have to do with print control. We have taken the best practices out of key industries and give them to you here:
Small Business
Everyone wants to reduce waste, but for some companies it's the reason they exist. A re-useable coffee cup maker designed their first product to cut down on disposable coffee cups going into landfill, and saw their sales grow dramatically as more and more coffee lovers wanted to do their part with a stylish cup.
When the founder noticed all the overflowing paper bins next to every printer in their office, he knew the company could do more to live up to its mission of helping reduce waste.
Implementing PaperCut print policies to force double-sided printing, and hold all print jobs until the users released them, cut paper use by a third… well the deployment of the software was also backed with a very strong "why" statement from the founder, so not all organizations may see this level of saving! In the end, this small but important culture change helped the company live their values and message in the office as much as they did in the Cafes.
Government / Local council
A Territory council wanted to embrace the same message of sustainability and reducing waste internally that they were promoting to all their citizens.
Using PaperCut print tracking and user quotas, they made it easy to see the impact of printing as well as keeping everyone accountable for staying under their quota. Staff could always request additional quota when they needed it, but few did. It helped that when the quota program was introduced, users could see exactly how many trees their monthly page allocation added up to. Every page they didn't print was helping save those trees. Of course, this wasn't applied to the customer service staff who spend most of their day printing forms and information for customers!
Even this small change helped support their culture of personal responsibility and accountability, when all staff were able to see their efforts to reduce printing waste make a difference.
Getting Started
When it comes to printing efficiency, you need to bring your users along the journey. That's why we recommend a phased approach to introducing the five steps.
First, turn on PaperCut in passive mode — you'll gain visibility of your printing environment activities and your users won't even notice.
Then, introduce Find-Me printing — it's a a sure-fire way to avoid wastage at the printer and to improve print security.
When it comes to double-sided and black and white printing policies, you might want to guide your users with some gentle nudges in the first instance.
Finally, you might need to be a little more blunt and use active print policies to enforce desired outcomes on some printers. For example, you could automatically convert jobs to double-sided for some users.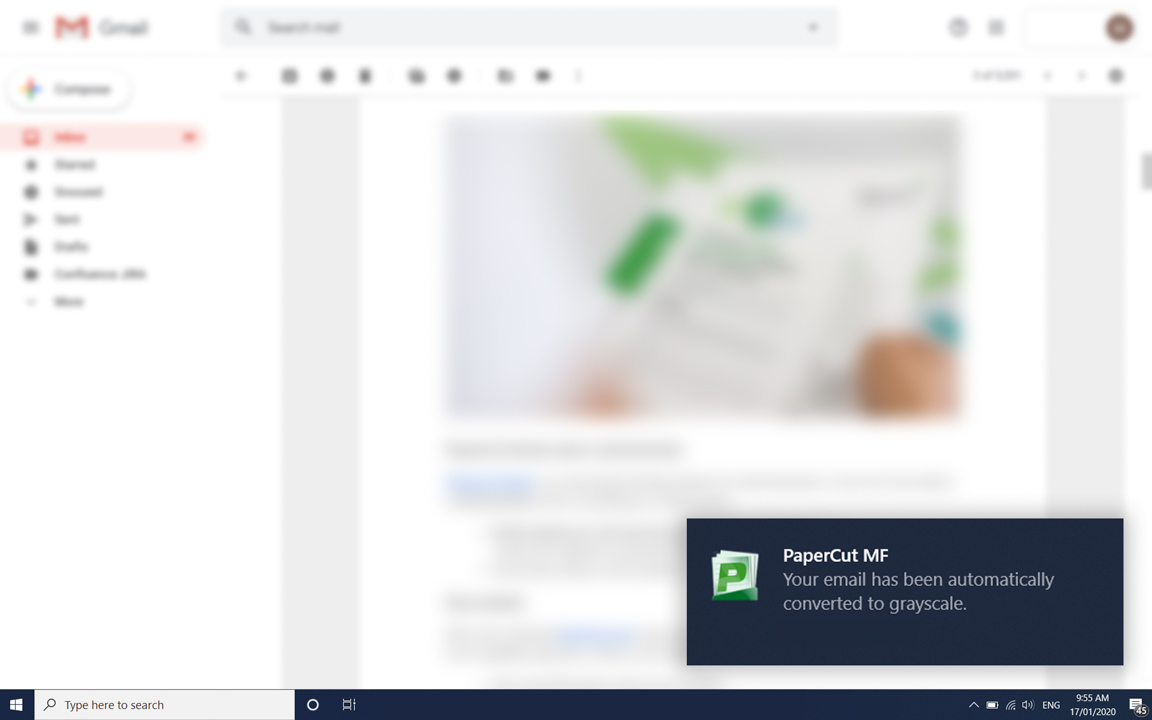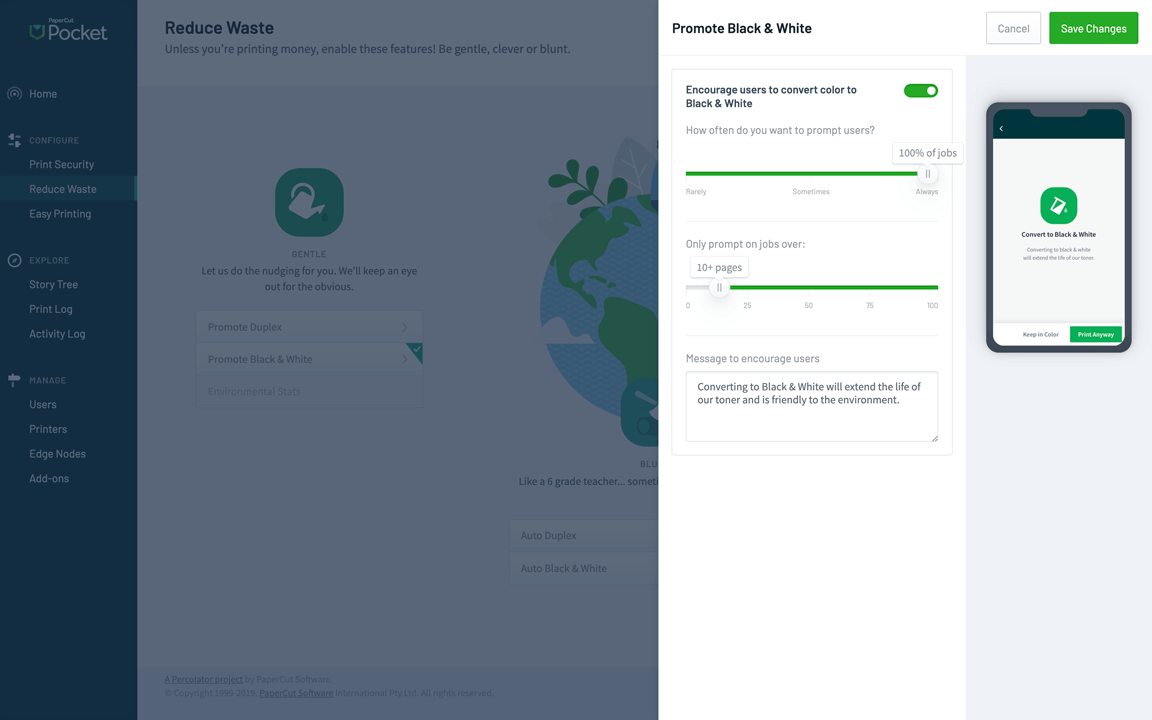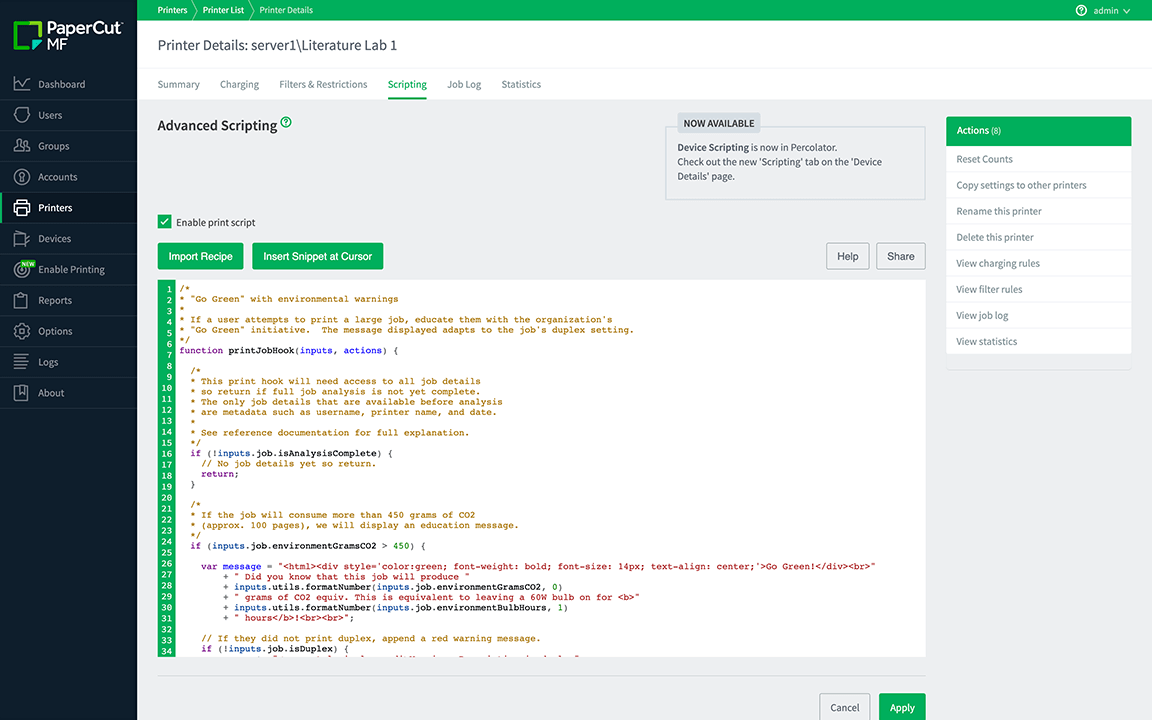 These are well trodden paths for countless PaperCut customers, and we'll be with you every step of the way. We'd love to hear your sustainable printing story.
Want to know more…?