Shared accounts and client billing
Alex printed 100+ documents over the last 24 hours. 😱   While it's great to have that user-level visibility, there are times when people can wear many different hats within an organization.
Call them projects, cost centers, clients, departments, accounts, matter codes or pesky paperwork - whatever you call them - Alex might be the one pressing print on all of those documents, but how do we know if 20 of them are related to the English department, and 80 are for the Art department? Are some of them being printed as part of 'Project Leo' for client code 2984?
To get that extra layer of visibility, the Shared Account features can easily be enabled in PaperCut MF or NG, to see which hats are being worn when printing - and enable control over who can wear which hats!
PaperCut MF and NG has two types of accounts that are used for client billing or print cost allocation: personal accounts and shared accounts. Each user automatically has a personal account, which is the default account charged under normal operation. In some organizations and businesses it can be useful to provide users (or even selected users) with the option to charge printing to a shared account. Think of it as an easy way to allocate print costs to accounts, departments, projects or clients.
Scenarios and workflow
Different examples of shared accounts for print cost allocation include:
In a business (e.g. legal, medical, engineering, accounting, and architecture firms):
Allocate and budget printing by business areas (e.g. cost center).
Track printing by project, phase, client or account.
Track printing by client/matter - popular in legal and accounting firms.
In a school or university (e.g. education):
Budget staff use via shared faculty or department accounts.
Provide shared accounts for classes or subjects.
Track printing costs by subject area or cost center.
Workflow
Administrators create and manage the shared accounts through the PaperCut NG/MF admin interface.
End-users allocate printing to the accounts (either at the time of printing or at the time of releasing the print job).
Reports are automatically available, allowing costs to be charged back to the client (with invoice options), project, department, or cost center.
Account selection using the Standard User Client (from your PC)
Print jobs can be charged to accounts using the PaperCut User Client tool. (The Client Tool is a small software component that runs on user systems).
The user prints the document as normal, and the User Client popup will appear asking them to choose which account to allocate (or charge) the job to: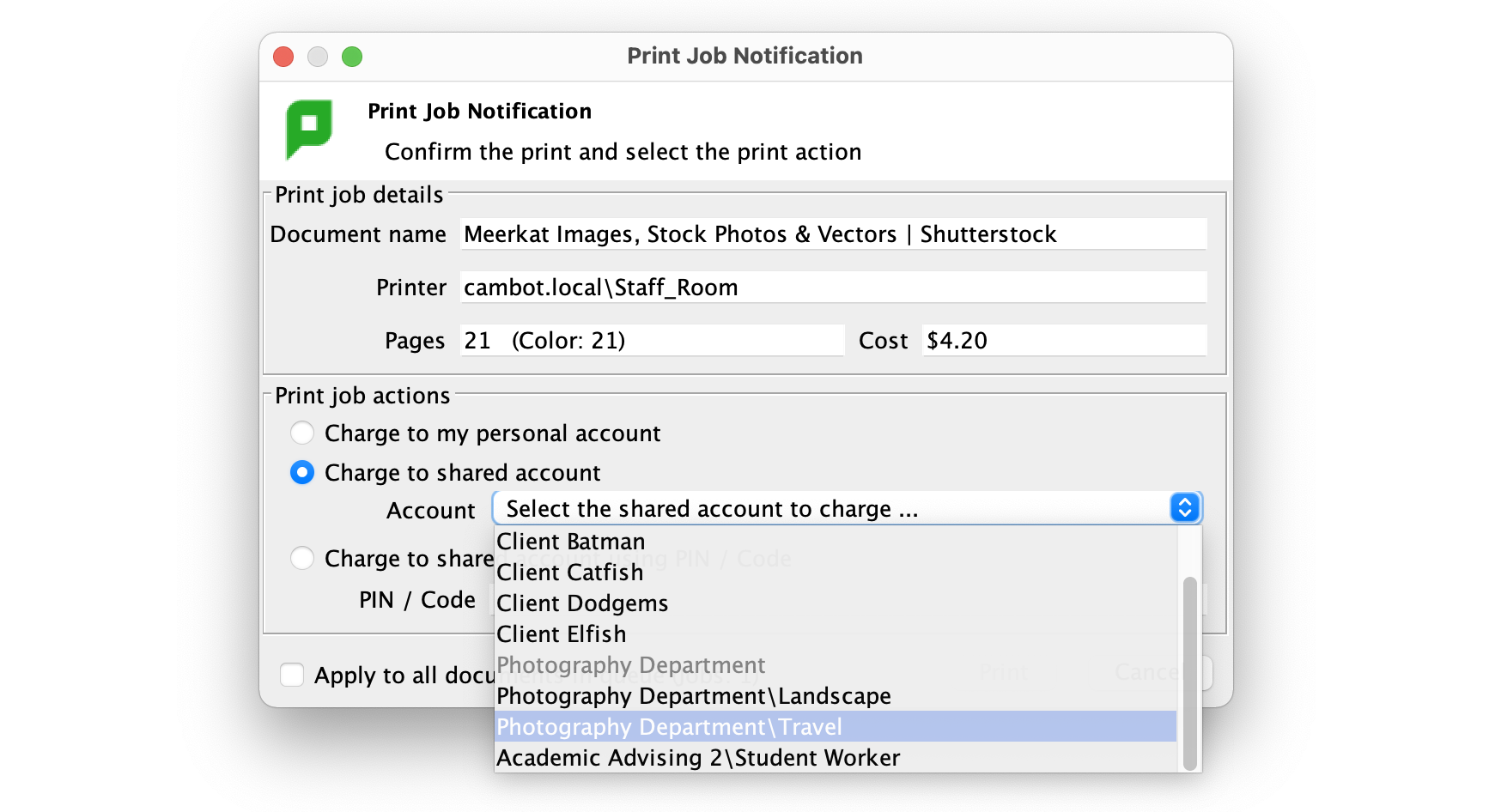 The Standard User Client Tool provides a simple solution for organizations with a few accounts or less complex cost allocation requirements:
Charging to a shared account.
Choosing the account by a drop down list of accounts.
Choosing the account by entering the account code/PIN.
You can also see a video walk-through of the Standard User Client tool here:
Account selection using the Advanced User Client (from your PC)
PaperCut MF includes the advanced PaperCut User Client option as standard for all users across all license options. In PaperCut NG, the advanced Client Tool option is only available in the professional client billing licensing option. It is specially designed to suit organizations making heavy use of the account charging features in PaperCut.
The user prints the document as normal, and the Advanced User Client popup will appear, asking them to choose which account to allocate (or charge) the job to: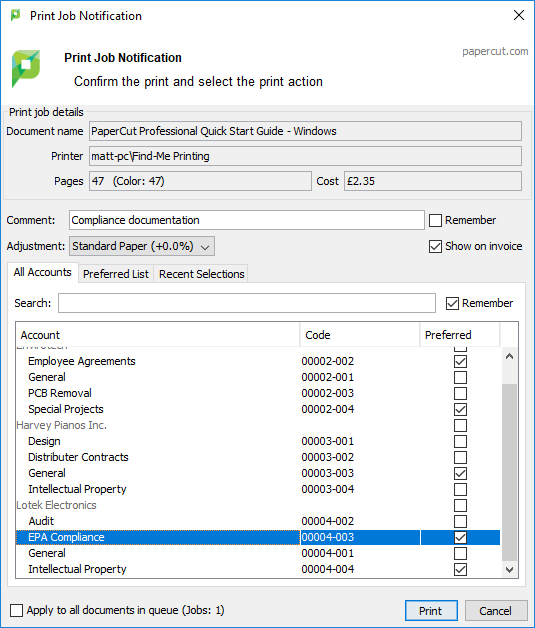 The Advanced User Client Tool provides an advanced solution for users with many accounts – or more complex cost allocation needs – with features such as search, preference lists, recent selections, cost adjustments, comment entry and invoicing options. This is ideal for businesses, including engineering, legal, accounting and architecture firms:
Associating a comment with the print job for future reference (will be included in the Job Log and certain reports).
Applying a different charge rate / cost adjustments to the job (see the 'Adjustment' dropdown in the screenshot above).
Prevent the job from being displayed on invoice reports.
Searching for accounts by name, code or keyword.
Sort accounts by custom criteria.
Saving a preferred list of commonly used accounts (through the 'Preferred List' tab in the screenshot above).
Maintaining a list of recently selected accounts (through the 'Recent Selections' tab in the screenshot above).
Check out our 'What is the Advanced Client' article for more on the differences between the standard client and the advanced client.
You can also see a video walk-through of the Advanced User Client tool here:
Account selection at the MFD (at the copier or device when releasing the job)
With PaperCut MF, you can give users the ability to select the client, project or cost center they want to charge when they are at the MFD. This gives users the choice to print from their computer using the Client tool, or from their personal device without needing to install the client tool.
This is a great option for organizations using Mobility Print or any of our other mobile or BYOD printing solutions because it means no extra steps - just allocate an account and collect your print jobs all at once.
Find out more about allocating shared accounts to print jobs at the device.
Automatically allocating to a Shared Account
An administrator can configure PaperCut NG/MF to automatically allocate print jobs to a department, client, or cost centre for specific users. See the 'Account selection configuration > Automatically charge to a single shared account' section of the Account Selection page for more information on how to set this up.
Administration
Shared accounts can be administered from anywhere on the network via a web browser. They can be: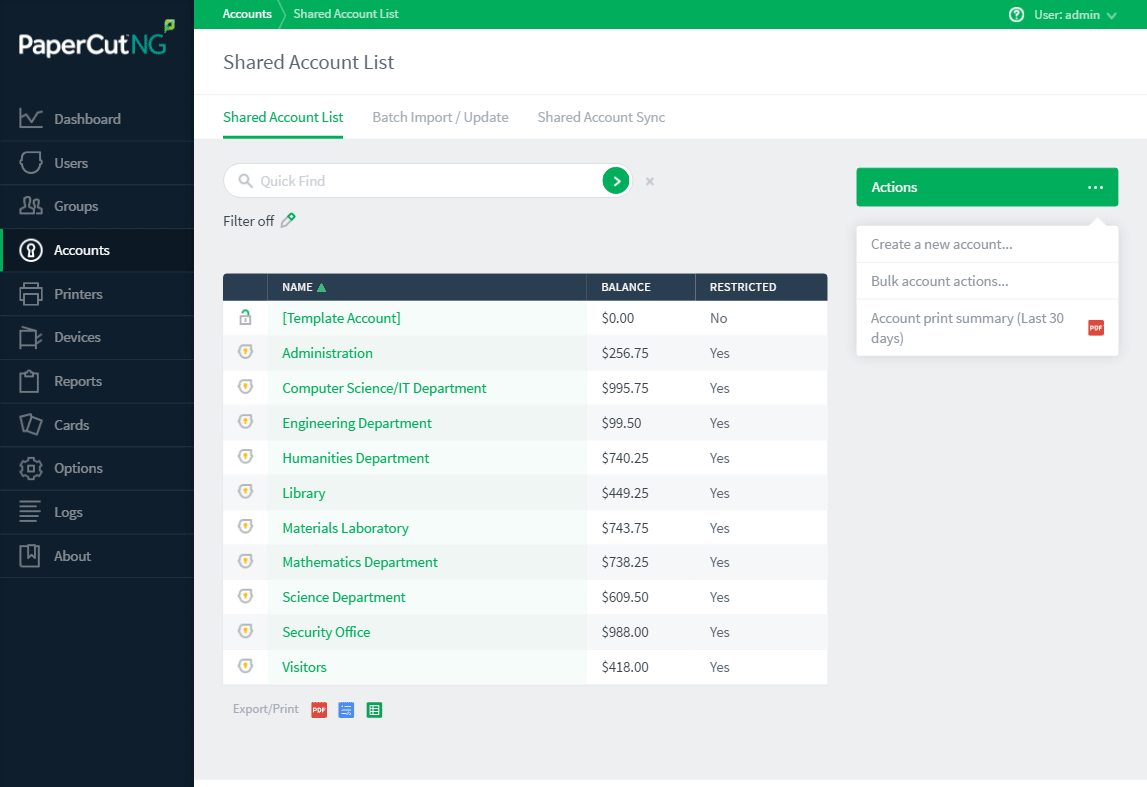 As can be seen in the above example, shared accounts can be hierarchical. This allows for greater flexibility in account management.
Security
Shared account access security may be enforced if necessary. In the following example only users in the group 'Executives' plus the user 'strangelove' may charge to the account 'World Domination'. Other users may not charge to this account.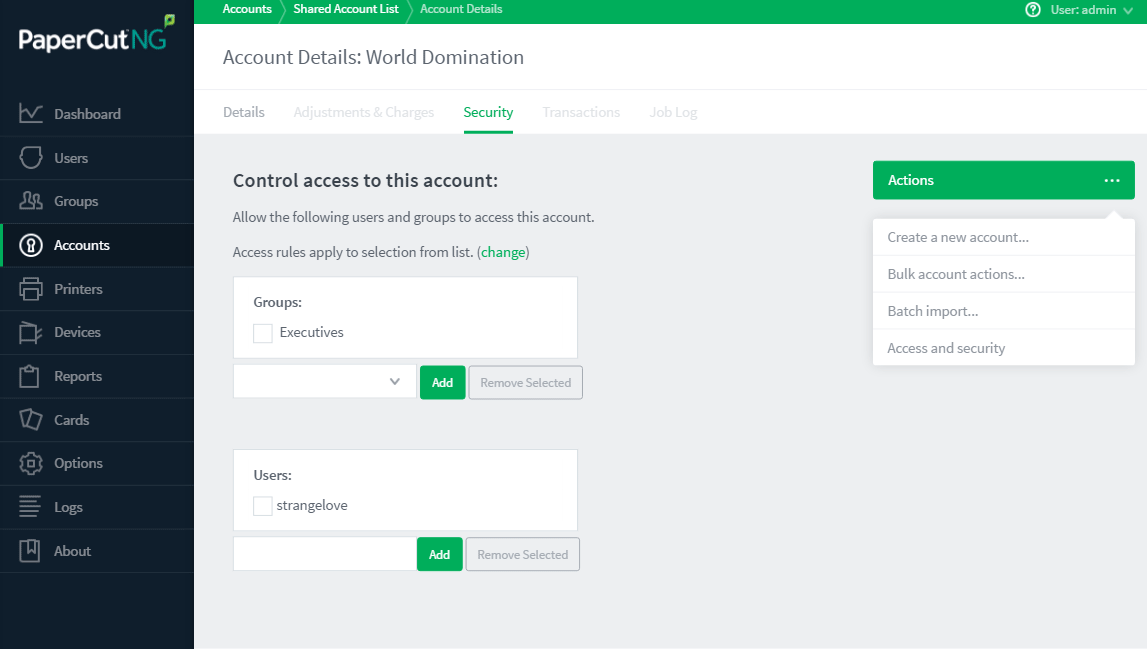 Group membership does not need to be configured within PaperCut - it can be automatically discovered (through the User/Group Sync setup) from your domain!
You can also control access to shared accounts via PINs if you want to steer clear of security groups.
Reporting
PaperCut has many reports dealing with shared accounts. The most common is the Invoice Report, which provides a printing summary for an account (and all its subaccounts).

The report header can even be customized and replaced with that of your own organization.
Want to know more…?
Take a look at: