Choosing a model for cloud print management: self-hosted or fully-hosted
When searching for a cloud solution for printing, your options differ depending on what type of cloud hosting model you're looking for: self-hosted (single-tenant) or fully-hosted (multi-tenant).
Your choice will depend on whether you're already using an on-premise solution, or if you're new to print management software.If you're migrating your print management service from an on-premise setup to a self-hosted cloud setup, which can help reduce your capital costs, we have a page over here for you.
Single-tenant vs multi-tenant: what's the difference?
Single-tenant refers to self-hosted cloud and multi-tenant refers to fully-hosted cloud. 
The contrast between single-tenant and multi-tenant solutions, as each name suggests, comes down to exclusivity of the cloud computing resources that the tenant (organization) uses. That is, whether or not an organization uses the same instance of resources in the cloud as other tenants (organizations). 
A single-tenant solution has its own unique instance (set of resources) that is exclusive to that individual organization. It can help reduce capital costs but still requires an IT team for maintenance. 
A multi-tenant solution shares resources with other tenants. It can help reduce capital costs and reduce your IT team's workload. They'll always have some involvement though - computers and printers can't entirely manage themselves… yet!
| | |
| --- | --- |
| Single-tenant (self-hosted) | Multi-tenant (fully-hosted) |
| Dedicated resources | Shared resources |
| One instance for a single organisation | Securely segmented instances for multiple organisations |
| IT expertise required | Almost no IT expertise required |
Single-tenant (self-hosted) solution: a unique instance with exclusive access
Self-hosted clouds are single tenant instances by nature. They are one instance of applications administered for a single organization. This allows for a greater control of maintenance, upgrades, and data access, for which IT expertise is required.
Multi-tenant (fully-hosted SaaS) solution: applications hosted in shared resources 
Most fully-hosted SaaS cloud applications, for example, Google Workspace, Microsoft Office 365, or PaperCut Hive, are multi-tenant offerings. The resources required to run the service are shared between customers; however each customer uses their own instance of the application. No other organizations can access your application; all data is securely segmented between each instance. 
Rather than your organization requiring IT expertise, your cloud service provider looks after the maintenance. You have the option to scale the resources of your multi-tenancy depending on your business's needs.
PaperCut has a suite of cloud solutions that meet any cloud hosting model and both single and multi-tenancies.
PaperCut MF: self-hosted (single-tenant) cloud solution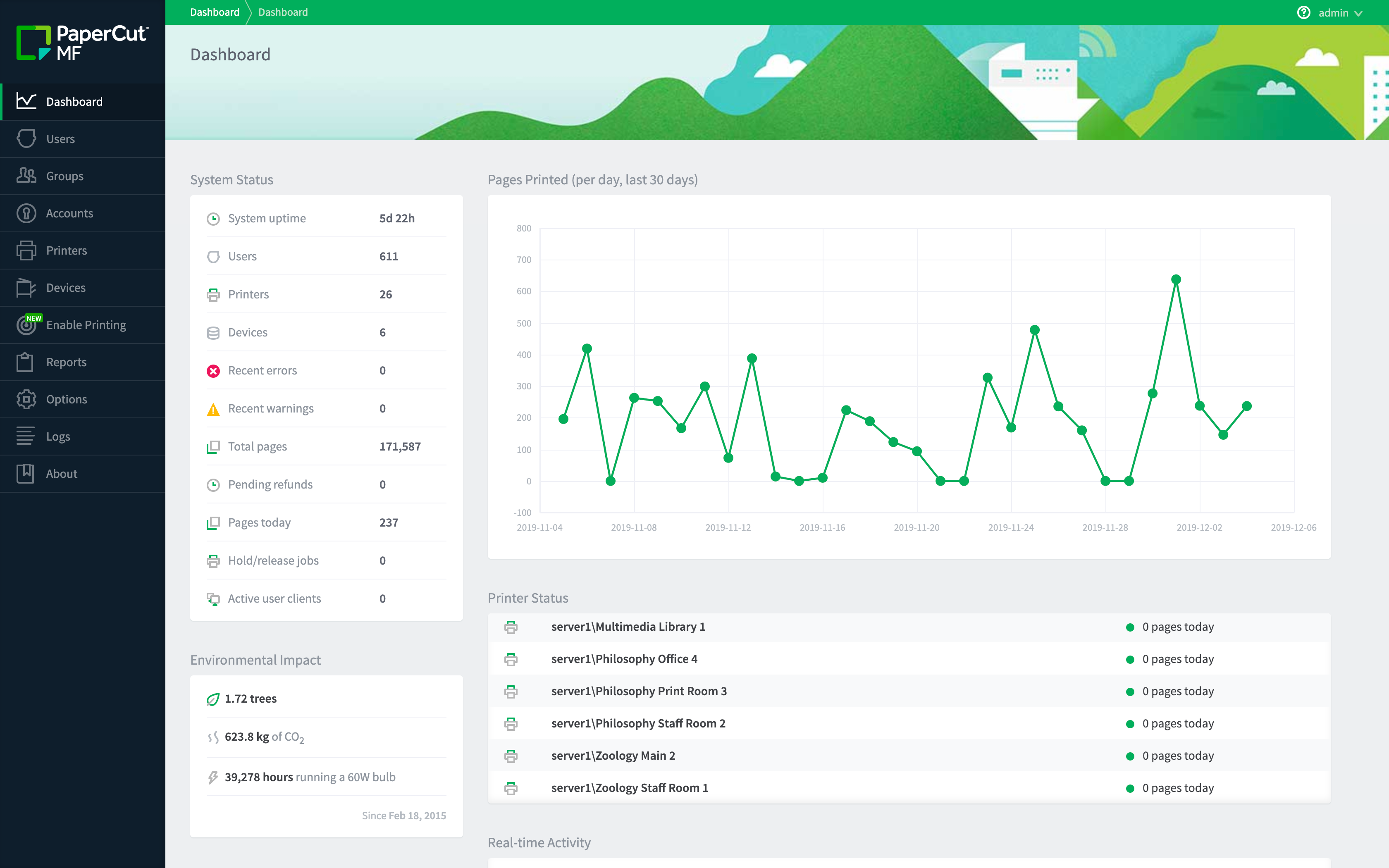 PaperCut MF is a single-tenant application whether on-premise, self-hosted (by your organization), or self-hosted in the cloud (by an authorized PaperCut reseller or ASC). 
One instance of PaperCut MF is set up per customer and is either hosted by themselves or an approved PaperCut partner (which can be complimented by managed print services).PaperCut MF is a true single-tenant (self-hosted) cloud solution for print management. Where it's hosted and what public cloud features (integrations with third-party SaaS products) are enabled  (for example, Scan to Cloud, OCR, etc.) is up to you.  
Find out more on PaperCut's MF's public cloud features here.
PaperCut Hive and PaperCut Pocket: fully-hosted (multi-tenant) SaaS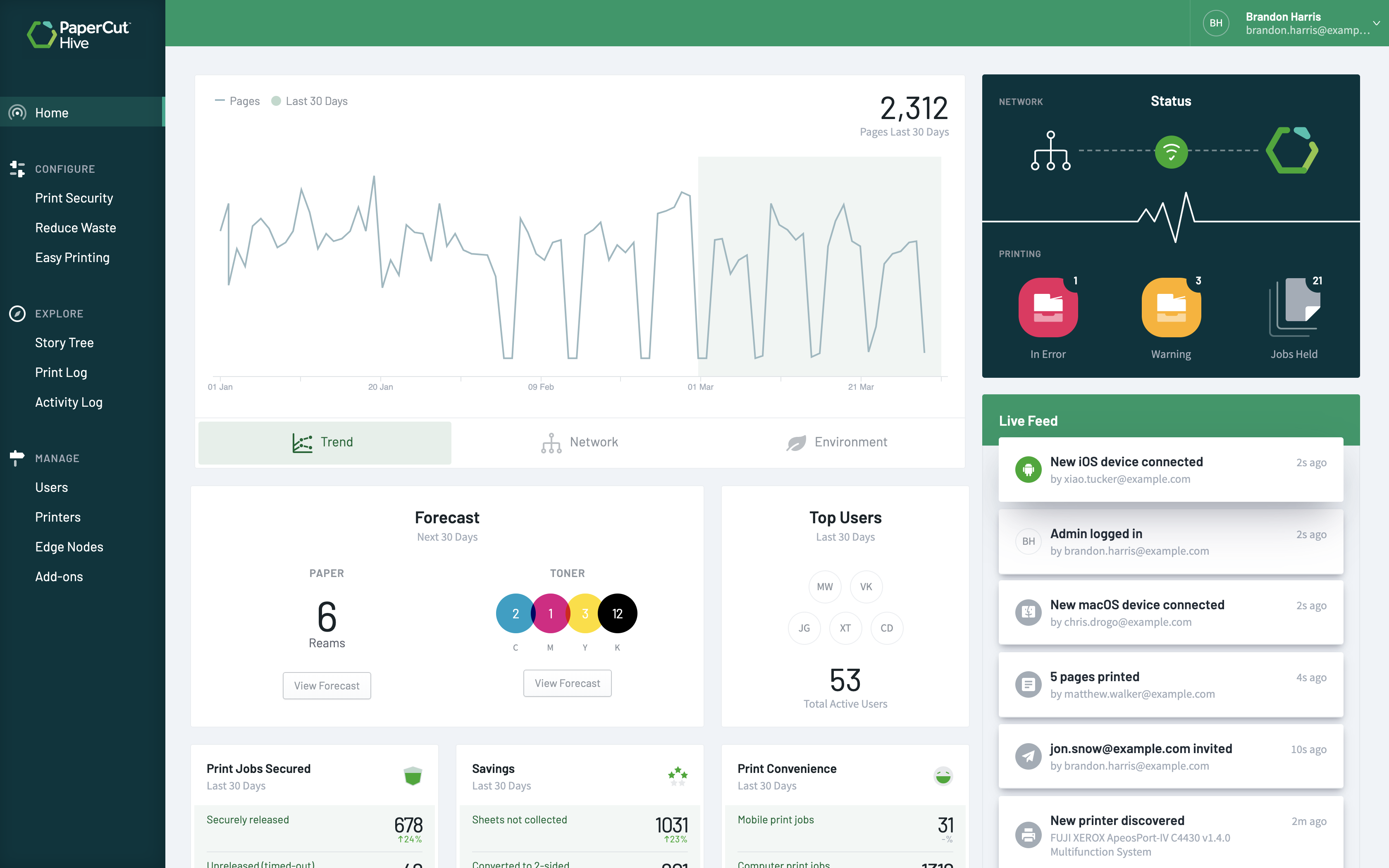 PaperCut Hive and PaperCut Pocket are built from the scratch as robust multi-tenant SaaS print management solutions fully hosted in the cloud. 
Our cloud-native platform's Edge Mesh technology reimagines print management in the cloud with the best-of-breed IoT practises Edge computing, and mesh networks. 
The Edge Mesh was purpose built from the first line of code to meet public cloud security standards. As on-prem technology (your organisation's devices) governed by our cloud, the Edge Mesh delivers the expected cloud benefits with no additional infrastructure being required. 
Comparing PaperCut's self-hosted and fully-hosted offerings
Let's pop the hood and break down the differences between our self-hosted solution PaperCut MF, and our fully-hosted solutions PaperCut Hive and PaperCut Pocket.
| | | |
| --- | --- | --- |
| Features | Self-hosted (PaperCut MF) | Fully-hosted (PaperCut Hive and PaperCut Pocket) |
| Hosting | Self-hosted in Public or Private Cloud | Public cloud hosted SaaS |
| Architecture | Service Oriented Architecture/Web Services with remote browser administration | Edge Mesh and Google Cloud Microservices |
| Max business size | Enterprise | Enterprise - PaperCut HiveSMBs - PaperCut Pocket |
| High Availability | Yes | Yes |
| Redundancy | Yes | Yes - self-healing |
| Patches and updates | Manually performed by IT teams or hosting provide | Automatic continuous delivery |
| Scalability | Modular services /Flexible Architecture Options | Edge Mesh automatically grows with your organization |
| Security | Full control | Always Verify - data doesn't need to leave your network |
| Brand agnostic | Yes | Yes |
| MFP embedded software | Yes | PaperCut Hive only |
| BYOD printing | Mobility Print and Print Deploy | Cloud Node in PaperCut Hive and PaperCut Pocket |
Not a case of one cloud fits all
Our approach to print management is customer first. We believe everybody should be able to manage print and we engineer tirelessly (fuelled by caffeine and a love for technology) to ensure all our customers have a choice of OS, printer brand, and cloud model.
Whether you're looking to transition from on-premise to self-hosted (single tenant) or fully-hosted (multi-tenant) SaaS, we've knocked together the following guide to walk you through it.
Want to know more?
Check out these links: