Cloud migration: moving print management from on-premise to the cloud
Print management in the cloud, whether self-hosted or fully-hosted, is the right fit for any business. Which type you choose depends on what cloud benefits your business requires and what your current setup is. 
If you're an SMB-type organization and you're already using public cloud services or have a simple print environment, then you're more than ready for a fully-hosted (that is, a multi-tenant SaaS) solution. 
But if your business already has an on-premise setup and is looking to migrate to self-hosted in the cloud (as a single-tenant) the migration process is one you are rightly researching!
Migrating from on-premise to self-hosted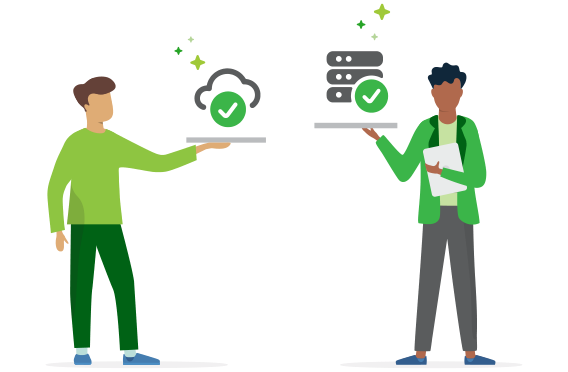 Migrating print management from on-premise to self-hosted is similar to moving your print server from one location to another. Most of the steps are the same but there are some crucial differences in  the specific prerequisites and the testing stage. 
For details about server-to-server migration, take a look at the plan your PaperCut Application Server Migration article in our Knowledge Base, which  includes a preparation checklist. This will prepare you for some of the steps.
For information about migrating from on-premises to self-hosted (single-tenant) print management, read our Best Practise for Private Cloud Hosting guide in our Knowledge Base.
Migrating from on-premise to fully-hosted
Usually migrating from on-premise infrastructure to the cloud requires scheduling, planning, staging, and managing expenses of your previous and coming setup. PaperCut's Edge Mesh technology - used in PaperCut Hive and PaperCut Pocket - simplifies this process.
When it's set up, the  Edge Mesh adopts your existing infrastructure and then grows with your network, allowing you to manage either a partial or complete migration all on your timeline. And should you want to keep your existing servers, you can leverage them as "Super Nodes" in your Edge Mesh to make it even more robust. 
The coolest part? You have full control over the adoption rate of the new SaaS print solution. Users are on boarded to the PaperCut Hive and PaperCut Pocket platform via invitation. You can either move all users from the old printing solution at once, or take a staged approach and move  groups of users (usually by department or location). This offers not only flexibility, but allows you the opportunity to work with a smaller group of users as they start to use the new print solution.
Find out more about how Edge Mesh and our cloud-native platform works here.
Want to know more?
Take a deep dive into the difference between single-tenant and multi-tenant solutions
Review our full product suite to compare self-hosted to fully-hosted solutions
Have a look at our PaperCut server sizing guide
Have a chat with our Technical Support team about migration to self-hosting