As a group we're proud of what we've achieved. Founded by two young software developers back in 1998, the youthful passion and start-up culture remains just as strong with us today. What drives us is very different to the corporate companies:
We have a purpose
It's not about profits and business metrics. It's about building strong long lasting relationships.
After 20 years we still have our first employees, first resellers, and first customers. Our success is not measured by a balance sheet, but instead by the impact we've had across 50 million end-users, 180 countries, and 60,000 organizations, ... and the trillions of pages we've saved.
Our secret
At PaperCut everyone is a trained coffee barista (so we've got that to fall back on if this software thing does not work out :-). Each day we stand around the espresso machine sharing ideas on how to be ...
Engineering Focused
Proudly driven by geeks, we develop great software.
Customer Driven
We don't follow. We let our customers drive us.
Nimble and Flexible
Our start-up way of thinking keeps us agile.
Quality Always
That last 10% gives a seamless customer experience.
Fuelled by Coffee
Our huge coffee consumption keeps us at the ready.
It all started with an overflowing recycle bin...
In the late 90's, our two co-founders Chris and Matt were university students, used to problem solving. It was a part time sys admin job at a local high school where Chris saw overflowing bins of printed paper - staff and students could print anything! Aha, the light bulb moment!
They set to work writing "a bit of code" to help the school monitor their printing and reduce waste, it soon spread like wildfire.
1998
The idea is born and coding starts. NASA finds water at moon polar regions.
1999
First version released and first international sale made. Space shuttle Discovery docks for the first time at the International Space station.
2002
The company renamed to PaperCut (much better than our first name!). The iMac G4 is announced.
2005
Chris and Matt leave their day jobs and start full time. The Huygens probe lands on Saturn's moon Titan.
2006
First employee and complete rewrite of PaperCut's original code. Social networking service Twitter launched publicly.
2007
PaperCut is now in 12 languages. Microsoft removes Clippy from Office.
2008
First version integrated with MFD. Won contract to supply service to Harvard. Bitcoin is first proposed in a mailing list.
2009
PaperCut's first company-wide coffee barista training. Longest total eclipse of the 21st century lasts 6 minutes and 38.6 seconds.
2010
Skype's website designer helps us with our new green website. Apple release the iPad.
2012
Winner of iAward for innovation and export achievement. Facebook goes public.
2013
Outgrew existing office and needed to expand. The LHC confirms the long-sought Higgs boson.
2014
Our founders win EY Technology Entrepreneur of the Year. A critical bug (named "Heartbleed") was found in OpenSSL.
2016
PaperCut HQ finds a new home in bigger, better offices in Camberwell.
The PaperCut Family is more than us
We're proud of our partnership with our dedicated Authorized Solution Centers spread around the world. Our success is a result of global reach with local focus.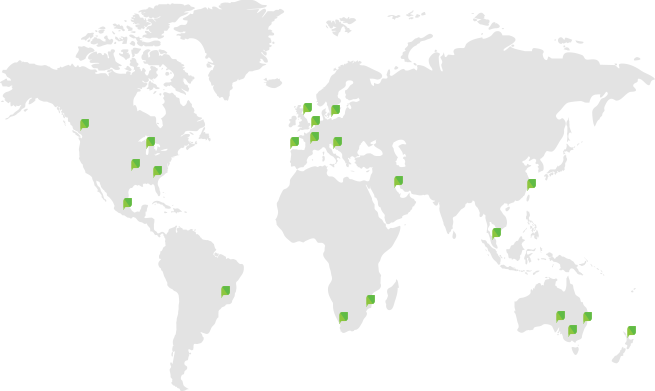 We're all baristas at heart. Are you?
If you're ever in town, or want to join our team, the coffee's always hot. Our reception is a cafe called /dev/coffee. Drop in. Our door is always open.