DIY print management for everyone

Powerful print management for printers and MFDs

Print management for small businesses in the cloud

Complete cloud-native print management for business

Print security and data loss prevention
Secure print release with ID card and/or MFD login

Provide confidentiality by ensuring users are actually at the printer to collect their jobs (often referred to as 'tap and collect', 'pull-printing' or 'Find-Me' printing).

Secure print release with mobile phone

Provide confidentiality by ensuring users are actually at the printer to collect their jobs (often referred to as 'tap and collect', 'pull-printing' or 'Find-Me' printing).

Print audit and system activity logs

Track who's printing what, when and where. Visibility in printing allows you to make intelligent decisions and stay compliant.

Watermarking & digital signatures

Stamp the ownership of documents to encourage users to handle sensitive information with care, even after printing.

Full print archiving and job view

Allow trusted administrators to search and inspect what's being printed to beef up compliance and security.

Printing cost control
Print quotas and reasonable limits

Stop unnecessary waste by ensuring users are responsible and have reasonable usage.

Future
Shared accounts (billing by department, project, or client)

Empower users by allowing them to allocate their printing costs to projects, clients or departments. Ideal for tracking printing for budgets or billing.

Planned
Reporting and visibility

Leverage in-built reports to fully understand your printing. Run them on demand or schedule them to arrive in your inbox.

Advanced reporting and data access

Consume printing data in a raw form to build your own insights or integrate with your existing systems.

Via Add-on
Via Add-on
Online payment gateways (pay for print)

Allow students or the public to pay for printing with a credit card or other major payment types. Popular in colleges, universities and higher education.

Limited
Pay-for-print refund management

Avoid the queues at the help desk with streamline refund management. Users can request a refund and the administrator can quickly approve.

Print enablement (easier setup)
Find-Me printing (one single global queue)

Avoid the need to install many queues on end-user systems and have end users understand 'printer name conventions'. Users print to one printer and can walk up to any device to collect their job.

Automated print queue and driver deployment

Solve the pain of print driver installations across all major operating systems with one simple, centralized approach.

Location-aware print driver deployment

Do your users move between offices? Set up PaperCut Print Deploy to automate the installation of appropriate printers as users roam.

Mobile printing (iOS, Android, Chromebook)

Print from all major mobile and tablet operating systems with ease, while still maintaining all the benefits of print management. Works on any printer. You don't need a 'mobile friendly' printer to offer mobile printing

BYOD printing (all OSs including Mac and Windows laptops)

Enable end users to quickly self set up printers. No drivers to find or IP addresses to understand!

Low toner alerts
Toner and paper forecasting

Know what you need to buy before you head to the shops, or maybe forecast your budget for the whole year.

Zero on-prem infrastructure

No need for managed print servers either on-prem or in your data center. Everything is hosted by PaperCut and hosted on data centers across multiples regions.

High availability
Site servers

Remove the uptime dependencies on your WAN links. Make printing always work even when other problems are going on.

N/A
N/A
VM support and clustering

Leverage virtual machines or VM and operating system clustering to improve your print system resiliency.

N/A
N/A
Enterprise grade database support (e.g. MS SQL Server)

Scale your print system on top of an enterprise grade database. Microsoft SQL server, MySQL, Postgres, and Oracle are among popular options.

N/A
N/A
Self-healing Edge Mesh
On-device MFD Embedded Software
Secure print release and Find-Me printing using ID cards and touchscreen

Use the power of your devices touch screen and optional card readers to make secure print release a breeze.

Device access control (control who can use)

Ensure only approved users can use an MFD for copy, print, scan and fax.

Copy, Scan and Fax tracking and control

Don't just track printing. Track copy, fax, and scan as well using MFD embedded software that runs directly on the device.

On-device Scanning & Capture
"One click" Scan to Cloud (Dropbox, OneDrive, GDrive, etc.)

Improve productivity by scanning directly into popular cloud document systems and DMS.

Some brands
"One click" Scan to Email or Folder

Avoid the complex MFD in-built features and enable one click scan by leveraging Single Sign-On on all your MFD's.

Some brands
OCR & Digitization (including PDF/A support)

Make your scanned documents useful, easy to find, and archival standards compliant. OCR turns images into searchable text.

Some brands
Scanning Integrations

Interface your MFD's scan feature with popular business systems, automating your business processes.

Planned
Customization
Print scripting (customized print policies, etc)

Print scripting allows print management to be just how you need it. Leverage many of the dozens of pre-written recipies or write your own.

Open APIs

For developers and system administrators: Automate anything from user provisioning through to linking systems with a well documented, and feature rich API and command scripting tools.

Custom logos and designs

Add your organizations logo to MFD screen, client software and login screens to make it an official part of your IT landscape.

Integrations and customizations

Use the widest collection of integrations and customizations. Do much more with print management software by linking it with other business tools and services.

Selected
Basic
Selected
Multi-region and language support

Use the software in your language, currency, and number format.

Planned
Planned
Print Rooms Management Option
Job submissions and ticketing process

Make it easy for your end users to submit valid print room jobs.

Print room workflow and approval

Make life easy for print room operators by automating the approval and job workflow process.

Job progress notifications

Automate the task of keeping end users informed as their print room jobs are processed.

Automatic job cost calculation and charging (both end-user and shared accounts)

Implement print quotas, limits, or charging for print room jobs.

3D Printing & Fab Labs Option
Job submission

Make it easy for students to submit 3D print jobs to the fab lab or studio.

Customizable lab operation workflows

Empower operators to manage the 3D print lab using their prefered tools and practices.

Job progress notifications

Keep students informed as their 3D print jobs are processed and are ready to collect.

Automatic job cost calculation and charging (both end-user and shared accounts)

Set prices on 3D printing and charge different amounts for different types of printing.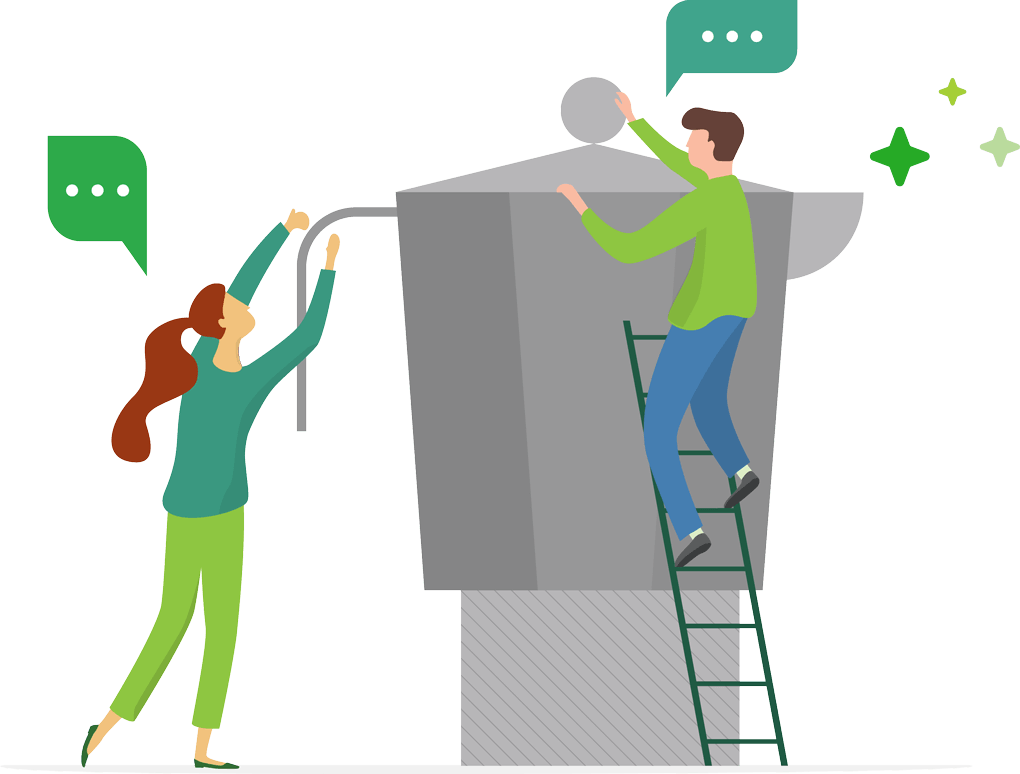 See what's in beta
Innovation never stops at PaperCut. Sit down with us for a cafe lattè and join the conversation.
The things you can't see...
Passionate team
Did you know that EVERYONE at PaperCut is a trained coffee barista. We're passionate about our code and our coffee!
Global support
With a global team of SysAdmins and a leading partner network, we have real people here to help.
Environmental & values focused
PaperCut all started due to the frustration caused by an overflowing recycling bin, and continues today with our purpose and values.
Easiest to use
Our first version focused on ease-of-use because there is more in the world than just printing. This priority is just as strong with us today.
Vendor & platform neutral
Our customers need this. Our software works with all printers and operating systems, and we're always working to make sure this remains true.
Geeks at heart
Our CEO even writes code. We have hackathons twice a year — we call them Constructivals because they involve the whole company. We geek out over more than just tech.
Still not sure? Ask a Papercutter.
Need a little help from a human?
Speak with us, we dont bite.
Get in touch