Environmental Dashboard / Windows Live Tiles
One of the most powerful features in PaperCut is not actually a feature at all - it's the culture change that it brings about in an organization. Most of this change is encouraged by increasing the visibility of the impact printing has on the company and the environment. The Environmental Dashboard and the Windows Live Tile is an innovative way to raise awareness. It promotes paper saving in a positive and creative way. For example:
See your environmental impact front and center

Benchmark your usage against others in the organization

Reward and promote good user behavior:

Award users for printing less

Encourage the user of duplex and grayscale

It makes printing impact tangible and understandable:

Converting sheets into an "energy equivalent"

Emphasizing forest conservation

Highlighting CO2 emissions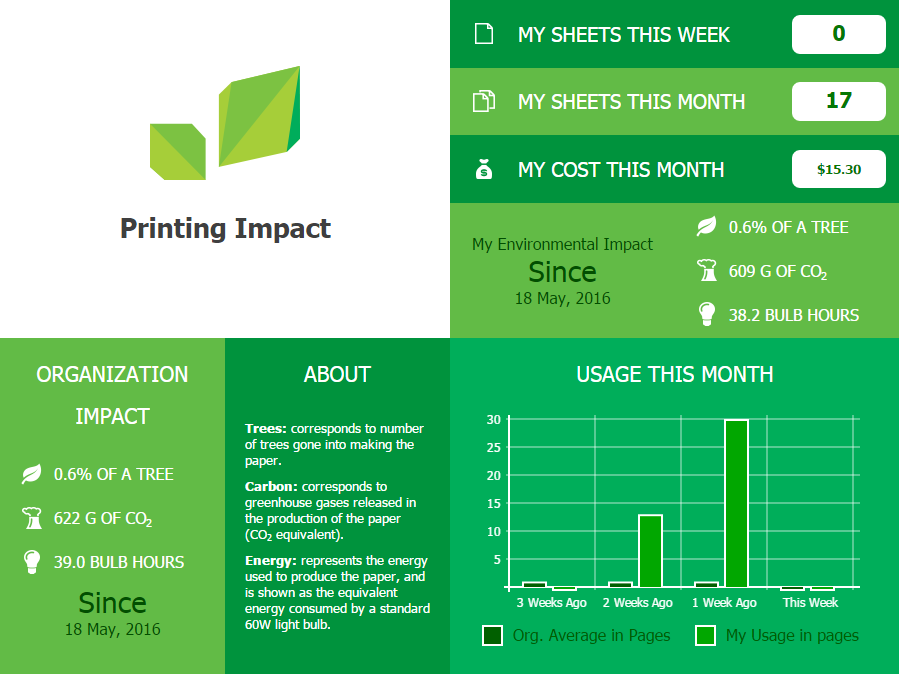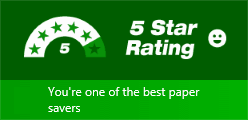 Windows Live Tile
The increasing use of devices running Windows with a tile based interface (featured in Windows 8 and above) has opened up a new avenue to communicate to users. You can pin the Environmental Dashboard page to the Windows Start Screen to create a dynamic Live Tile. This Live Tile communicates over 20 user-specific facts, awards and challenges all generated from real-time PaperCut data.
Sending a positive message with the Live Tile
All too often, the IT department is implementing back-end systems or invisible projects. The PaperCut Windows Live tile is a highly visible and positive story, and is a great complement to other changes planned in your print management program.
Some suggestions:
Encourage your users to bookmark their dashboard

Draw Windows users attention to the Live Tile and encourage them to Pin it to their start menu. See Windows Live Tile Installation.

Link to the Environmental Dashboard on your intranet or monthly newsletter

Share environmental impact information visually with management

Challenge users to compare their live tile awards with their colleagues
Windows Live Tile examples
Below is a small sample of the 20+ tiles available: