The dashboard
The Dashboard tab is the first page displayed in the PaperCut NG/MF Admin web interface. It provides an overview of system activity from the past and in real-time for devices and users. It does this by using a collection of gadgets that are described below.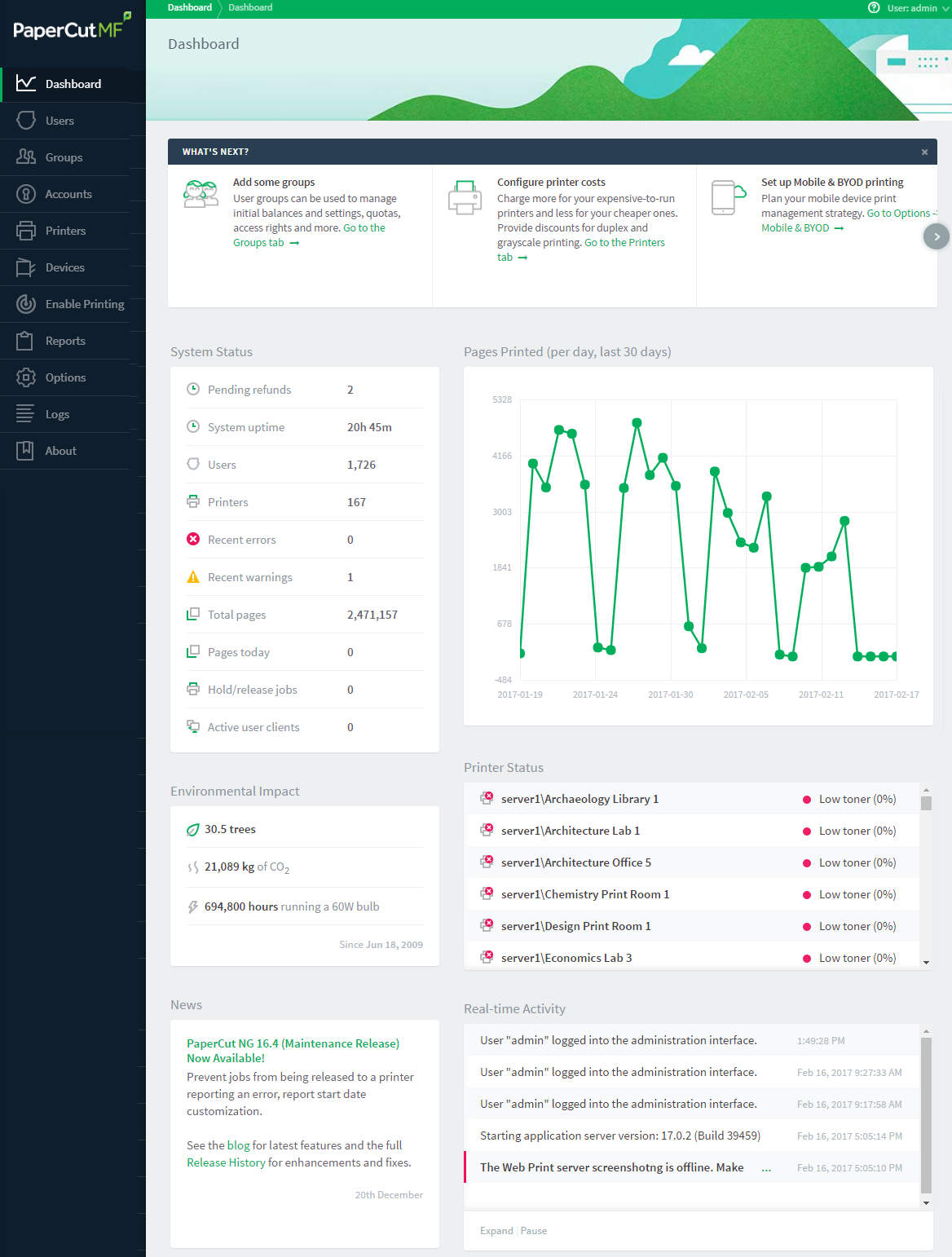 What's Next gadget
At the top of the page is the What's Next gadget. It gives a list of hints that are particularly useful for first-time administrators of PaperCut NG/MF. They give descriptions of useful tasks to do in PaperCut NG/MF with links to other Admin web interface or help pages. This gadget can be closed for more experienced administrators who no longer need it. You can permanently hide this gadget by clicking the close icon in the top right corner.

System Status gadget
The System Status gadget provides a list of system level statistics. They provide an overview of system information including any warnings or errors that need attention.

Pages Printed gadget
The Pages Printed gadget provides a graph showing the trends in printing volume over the last 30 days. The graph displays after three days of data has been accumulated. When upgrading from a version of PaperCut NG/MF prior to a version supporting the Dashboard feature, the data from the previous version is not displayed.

Environmental Impact gadget
The Environmental Impact gadget provides overall environmental impact statistics in terms of trees, carbon and energy. For more information on Environmental Impact, see Change the environmental impact reference values.

Printer Status gadget
The Printer Status gadget provides a status overview of the printers managed by PaperCut NG/MF. The information displayed includes the daily number of pages printed and device alerts such as low toner levels or printer jams. Alerts for printer errors and low toner levels are also available via System Notifications. Refer to Set up system notifications and emails for additional information.

News gadget
The News gadget ensures you're kept up to date with relevant release and development activity regarding PaperCut NG/MF.

Real-time Activity gadget
The Real-time Activity gadget shows a list of current events in real-time. It shows activities such as print jobs arriving, users logging in, exceeding print quotas, print job status, a variety of errors and much more. This tool helps administrators monitor activity and diagnose problems. The events are updated as they occur and errors are highlighted in red. The events are described in a one-line summary, but can be expanded by clicking the link to the right of the message. Expand the gadget by clicking the Expand item at the bottom of the gadget to display more events. Refreshing the browser page reverses the expansion. Use the Pause item at the bottom of the gadget if the number of events being reported makes viewing difficult.