What is Integrated Scanning?
Integrated Scanning is PaperCut MF's scan control application. It's embedded on Multifunction Devices (MFDs) to provide secure Integrated Scanning as a simple, one-touch experience.
Integrated Scanning not only provides the most common scan job settings through a consistent interface across most MFD brands, it also lets you easily control, track, and report on all users' scan actions on your devices.
Scan actions
Scan actions are preset scan settings that control a scan's output (file type, DPI, duplex, text searchable, batch splitting, blank page removal etc.) and delivery location (email, folder, cloud, and fax server). Scan actions make the scanning process simple and fast for your users.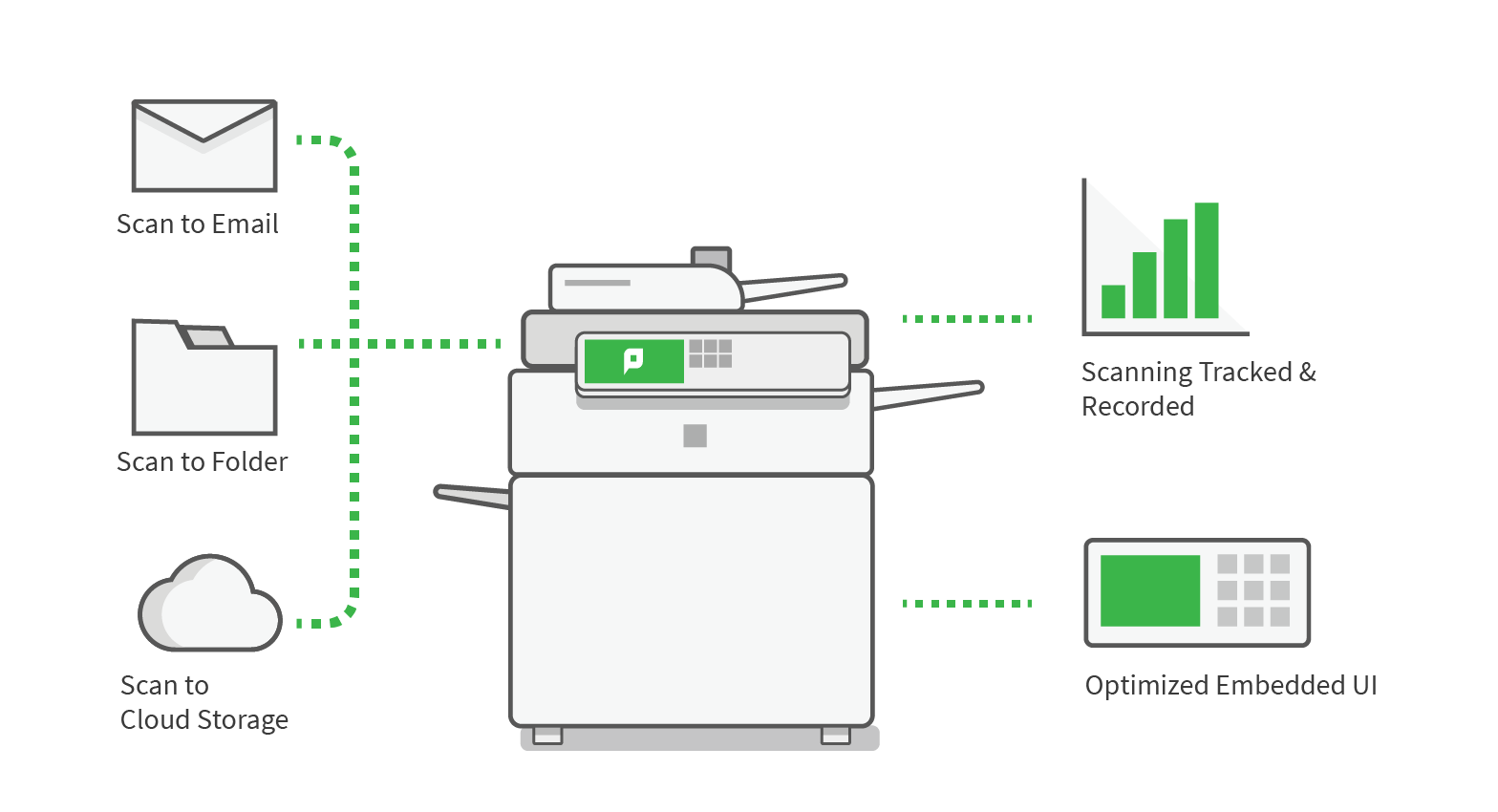 You can set up any number of scan actions using the PaperCut MF Admin web interface. And you can control (at the user or group level) who has access to each scan action.
Scan actions take minutes to configure, and once set up they're automatically available across all of your MFDs. This ensures that all users who have access to the scan action have a consistent scanning experience no matter where they are located or which device they are using. They simply select a scan action to quickly and easily perform a scan job and charge it to an account.
PaperCut MF offers the following types of scan actions:
Scan to Email
Send a scanned document to the user's primary email or a predefined email address. For example, you might want to share a scanned document with someone in your organization who is in a different location and therefore can't access a secure folder.
Scan to Folder
Send a scanned document to either the user's home folder/personal directory or a predefined network path. For example, send the scan directly to a folder in a document management system.
Scan to Cloud Storage
Send a scanned document to a location in the cloud storage provider of your choice, via the hosting region of your choice. Users can set up their own account within the storage provider.
This is a one-click storage solution that includes authentication management for most cloud storage providers. Other advantages are automatic back up (no local backup required) and access to scans from anywhere.
Currently PaperCut MF supports scanning to personal folders in:
Google Drive

OneDrive (Personal and Business)

Dropbox (Personal and Business)

Box

Evernote

pCloud
Currently PaperCut MF supports scanning to shared folders in:
PaperCut MF Cloud Services offers three hosting regions to choose from:
Australia

Europe (Germany)

USA
The hosting region is configured the first time one of the following happens:
the first Document Processing feature, (including Batch Splitting or creating text searchable documents using OCR) is configured

the first Scan to Cloud Storage scan action is created.
You can change the hosting region at any time.
Scan to Cloud Storage is one of the PaperCut MF Cloud Services.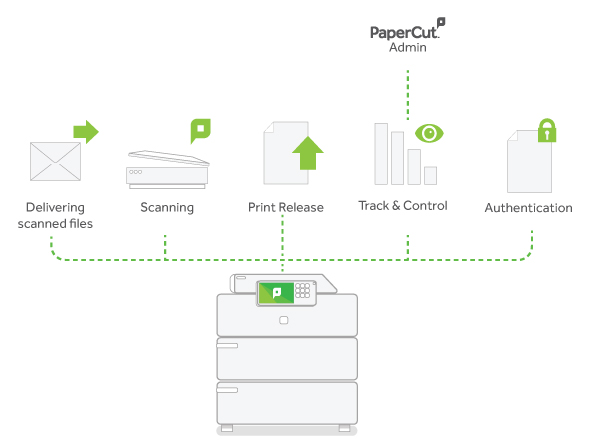 Scan to Fax
Send a scanned document to a fax number via the fax provider of your choice. There are multiple ways you can set up Scan to Fax and how the users can select the recipient at the device (fixed or type in), based on the delivery medium:
Basic SMTP

Advanced, the more secure API-driven delivery, with Phonebook lookup on supported fax integrations.
For a full explanation take a look at the Scan to Fax explained page.
Document Processing to enhance scans
One of the great things about Integrated Scanning is that you can choose to enhance scans with Document Processing to automate manual transformation tasks and improve image quality.
Document Processing offers the ability to:
create text-searchable and editable documents using Optical Character Recognition (OCR)

produce multiple documents from a single scan, using Batch Splitting

clean up documents with Blank Page Removal

improve the visual quality of documents with Despeckle and Deskew.
Importantly, you can choose where Document Processing is performed; either locally using your own infrastructure or in the cloud using PaperCut MF Cloud Services. The best option for you depends on your organization's data policies and system capabilities.
Want to know more?
To see how Integrated Scanning works at the MFD, take a look at Integrated Scanning at the MFD.
To set up scan actions, go to Configure Integrated Scanning.
To set up document processing, go to Document Processing for Scans.
You might also want to check out Example Integrated Scanning implementations.