The Super Node is offline
'Help! I'm an administrator, I set up and promoted my edge node to be a Super Node! Why is it now showing me an error?!

You saw this error on your Edge Mesh page "Could not communicate to at least one of your super nodes. They are not that super! Click here for troubleshooting tips" and landed here.
First, let's go through a few things, we will help you walk-through:
What purpose does a Super Node play in your edge mesh?
Our recommendations on what should become a Super Node.
You decided on what should be your Super Node, what's next?
What is a Super Node?
First, let's talk about Edge Nodes. Edge Nodes work together to keep print jobs secure and safe. Edge nodes do the following: securely hold encrypted print jobs waiting for release, monitor the status of a printer, support mobile printing, check on your printer's health, and toner levels. A collective group of Edge Nodes is what makes your Edge Mesh, they are the core of your system, the more you have, the stronger your mesh gets!
Edge nodes have 3 tiers:
Super Nodes
Standard Nodes
Passive Nodes
If you want to know what each tier means, go to your 'Edge Mesh' page to learn more.
Now let's talk about what an Super Node is! A Super Node is optional but recommended on networks with 20 or more printers. They help improve the reliability of the local edge mesh. An always-on system or virtual machine makes a great Super Node. If present, a Super Node will take the majority of printing traffic and tasks. They perform the same roles as a Standard Node, but just work harder! If there is however a problem with a Super Node, don't worry. Other Super Nodes or Standard Nodes stand ready to automatically step in to repair.
A Super Node can also do a lot to enable advanced printing features. Give it a static IP address and iOS printing will work better.
What should be a Super Node?
An always-on system or virtual machine makes a great Super Node. An example of an always-on system could be the Reception PC that never gets turned off. Once you have found "the one", promote your nodes to be super! Here's how.
Go to your "Edge Mesh" page.
Go to the Edge Node that you think is your most reliable node.
On the right side, you will see this icon.
Hover over and these options will appear.
Click 'Promote' and your selected Edge Node is now a "Super Node", Hooray!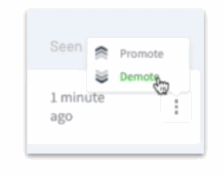 How to promote an Edge Node
I have a reliable Super Node, what do I do now?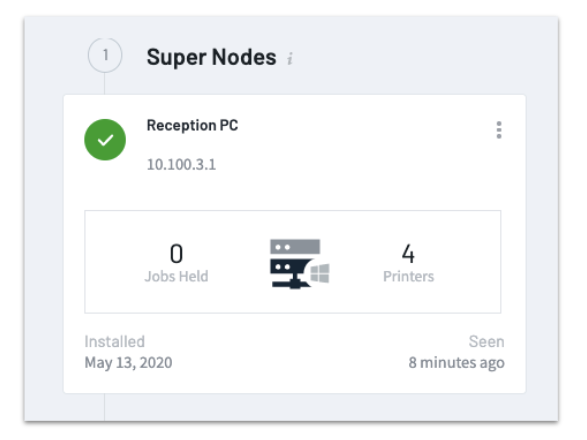 Example of a Super Node
You're all set and ready to go! Remember your Super Node should be reliable and not be turned off, if so, perhaps think of a better computer to be promoted to a Super Node.
If you notice that your Super Node is 'down', we will not include it when it comes to printing. Here are a few things that may cause the Super Node to down:
Your computer may have turned off due to an update.
Accidentally shut down.
A mouse chewed the power cable of the computer (joking of course...).
Once you fix the issue your Edge Node will report back to us and let us know it's up and running.
Note
💡 A Super Node that is 'down' is a node that has not been seen in the last 10 minutes.
Still have a question?
Let us know! We love chatting about what's going on under the hood. Feel free to leave a comment below or visit our Support Portal for further assistance.