Troubleshooting with the Activity Log in PaperCut Pocket & PaperCut Hive
"I'm the IT System Administrator for my cloud print management product and I'm having print, scan and configuration issues with my local users. How can I determine where settings changes have been made or actions made in PaperCut Pocket or PaperCut Hive to work out the root cause?"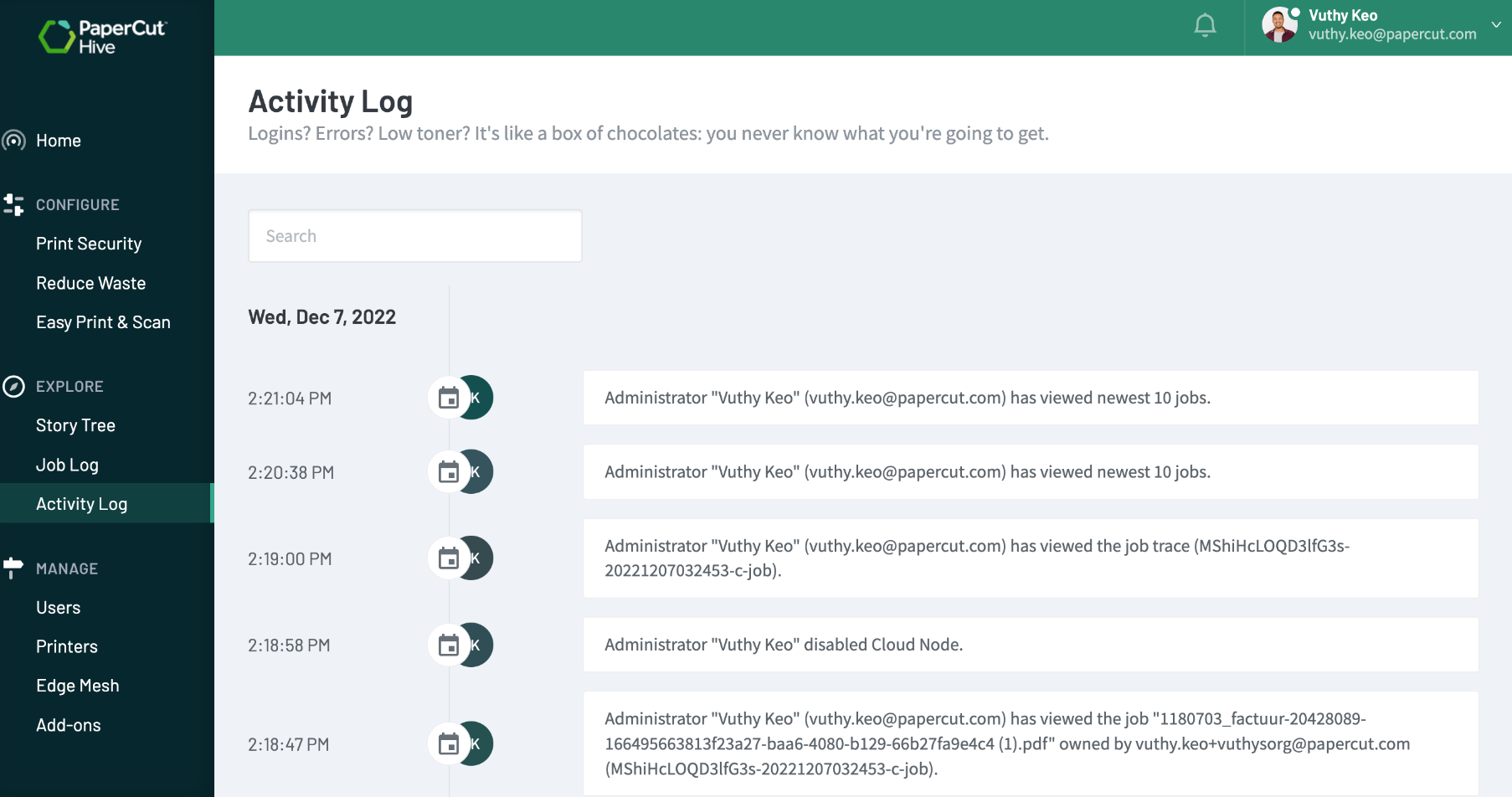 What does the Activity Log enable you to see?
Any change to the configuration of any setting.

Promote rules.
Enforce rules.
Safety net.
Watermarking & Digital Signatures.
Welcome messages.
Toner alerts.


Users

The administrator who sends a user invitation to print.
Removing a user.
A user who has been removed and is still trying to print.
Changing the access code of a user.
The access code email sent for a user.
Re-invitations to a user.
A user who scans a QR code and requests access for printing.
Admin who accepts/denies the request access for printing.

Edge Mesh

The cloud node is enabled or disabled.
Promoting or demoting an edge node.
An edge node is added to the Edge Mesh.
The print client is linked by a user.
The mobile app is linked by a user.

Printers

Publishing or unpublishing a printer.
Adding a printer to the ignore list.
Rename the printer.
Printer error statuses i.e. low toner, no paper, paper jam etc.

Scanning

Adding or removing a quick scan.

Job Log

What information is viewed by a user in the Job Log.
Logs when a user exports the Job Log to a .csv file.
Logs if they view an individual job (useful if there are sensitive thumbnails).

Settings

Administrators inviting other administrators to the administrator console.

Add-ons

An add-on is added or removed.
How much activity can I view?
We will present all data from the first time your PaperCut Pocket or PaperCut Hive instance was set up and installed. Currently, you will need to scroll back to a later date or time via the … Load More button at the bottom of the page.
Final thoughts
With all this in mind, the main function we have at our disposal is the search function at the top of the Activity Log page. The information provided further up this page, allows System Administrators to search and focus on key points in the timeline of events in the issue they are investigating. Using the Activity Log can help build a truthful version of events compared to the reported issue by an end user.
Further development
We hope to expand this page in the future and add functionality such as search Filters and Date/Time ranges as seen in our sister product PaperCut NG/MF.