SysAdmin (IT administration) Tools
🔎 Find this feature in the admin interface: Configure > Easy printing > Administrators
Chances are, as a SysAdmin you're juggling networking, maintenance, laptop-fixing, user training, lost-file finding, undercover therapy, and printing needs - all in the course of a normal day. We think it's our duty to help out system administrators with printing needs in whatever small way we can!
Low toner alerts
Configure > Easy printing > Administrators > Low Toner Alerts
A stitch in time saves nine… or something like that. Get the early heads-up on which printers are low on toner - before it becomes a lunch-stopping issue.
You can configure not only who the alerts go to, but also configure what level the toner can drop to before alerting.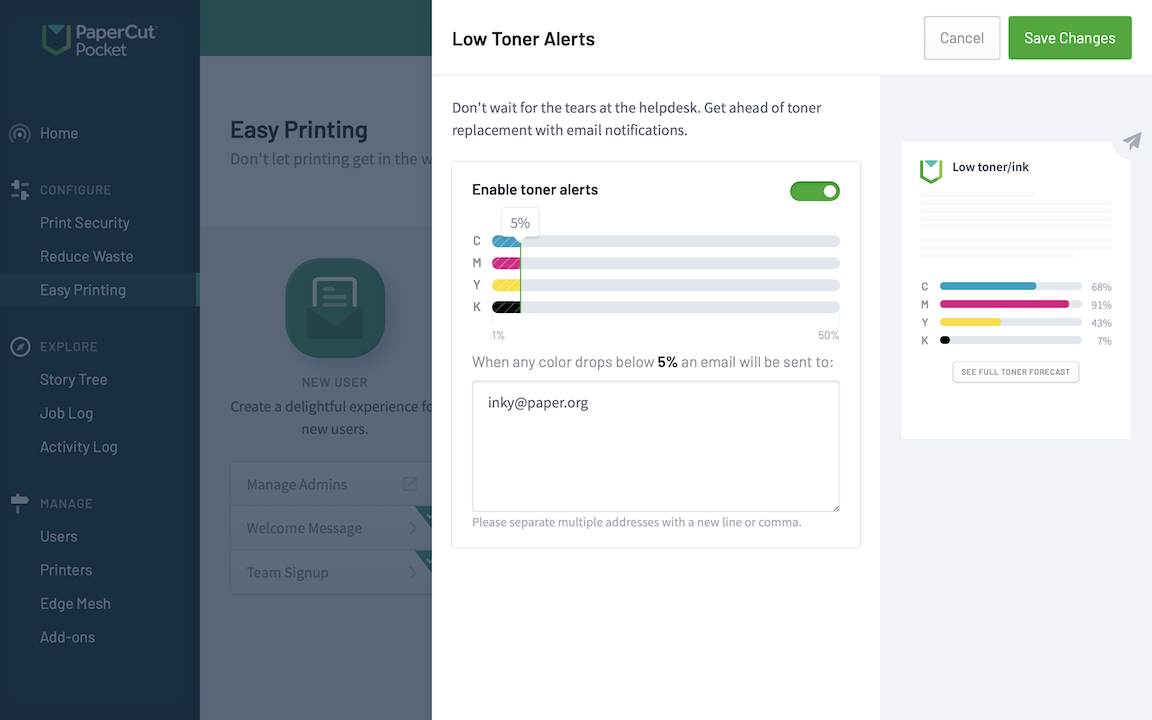 Printer ID labels
Configure > Easy printing > Administrators > Printer ID Labels
A handy label wizard to take you through printing labels that you might need for your printers. Y'know, so that people can use the amazing features like secure release with a QR Code!
Check out the Printer Labels in Detail section for more on this magical tool.
Printer discovery
Configure → Easy printing → Administrators → Printer Discovery
The beauty of networks is that they can be set up in so many different ways. The tricky thing about networks is that they can be set up in so many different ways!
To help you customize where and how the printers are found, PaperCut Pocket and Hive have lots of options for choosing what makes the most sense in your environment:
Search addresses - Tell PaperCut Pocket or Hive where to find printers, so that the printers can be published or left unpublished. This feature can be just as handy for 'hiding' printers from PaperCut, and also narrowing down the amount of sleuthing PaperCut has to do to find them. The feature can also be handy if your users roam around to different work environments too - where they could pick up printers from other networks that you don't want to be added to your organization.
Discovery technique - Select whether new printers are discovered on both Super Nodes and Edge Nodes, or whether you only want PaperCut to find new printers from Super Nodes. This can be handy if people have USB printers that they use at home or elsewhere but you're not really interested in having these published to other users. Instead, make the discovery process search and add printers only from 'Super Nodes'.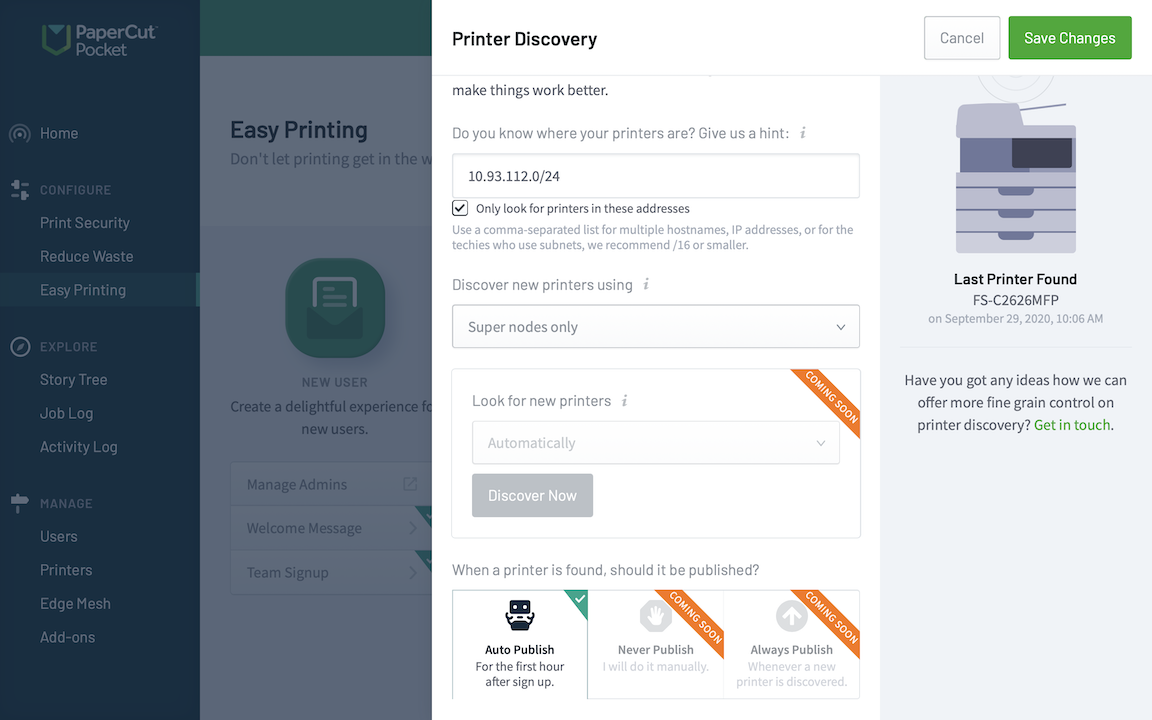 Administration tools - frequently asked questions (FAQs)
Can I set low toner alerts for specific printers?
Want to send a notification about the aquarium printer 4 to the aquarium IT team? Good idea! It's something that has been suggested and we're working on it for a future feature. At the moment though, all the alerts for all printers go to all the addresses configured.
When PaperCut finds new printers, can I stop it from publishing them automatically?
Very very soon the answer will be yes. Until that time, we're working on it! Take a look at the Printer Discovery page for more information on the whole 'how does it find my printers' thing - at the moment, after 24 hours of running Pocket or Hive, printers will no longer be published by default. There's some good info on the managing your printers page too!
I'm seeing a lot of printers that I don't want to see. Can I remove them from my printers page?
Have a look over on the managing your printers page for more details on how to manage your printers!