0) ? window.innerWidth : screen.width; if(width >= 1300){ largeDevice = true; } else{ largeDevice = false; }">
Device Offline Mode
Server or network downtime usually means that the PaperCut MF Application Server is unavailable and copiers can not be used during that period. Systems Administrators can now select "Offline Mode" in the Device's Details page to offer continued use of copiers without a server connection. However, "Offline Mode" is only available on Kyocera and Ricoh SDK/J copiers. If you're looking for equivalent "Offline Mode" functionality for other copier manufacturers, we would recommend implementing a Site Server in your environment instead for your copiers to be hosted on.
When the copier is working in "Offline Mode", users can log into the copier with a swipe card, and activity is still logged against the card number. This activity is not restricted. When a connection to the server is restored, the activity is logged against the user with that card number. If no user is found for the card number, the activity is logged against the username unknown (edit the ext-device.unknown-offline-username config key to change the name of this user; please see Using the Config Editor). A warning will also appear in the Application Log when a copy job is charged to the unknown user. If there is no account for the unknown user, one will be created automatically.
It is also possible to configure the text displayed when the copier goes into "Offline Mode". You can use the following config key to modify the text according to your organization's requirements: ext-device-msg.offline-welcome-text . To edit a config key follow the steps listed here.
It is important to note that in "Offline Mode", the copier is not able to:
Authenticate users anonymously or via username, identity number or PIN.
Associate swipe cards or PINs with users.
Access shared accounts.
Check account balances.
Apply restrictions.
Release print jobs.
Enabling the feature
Offline mode can be enabled via the Device Details page.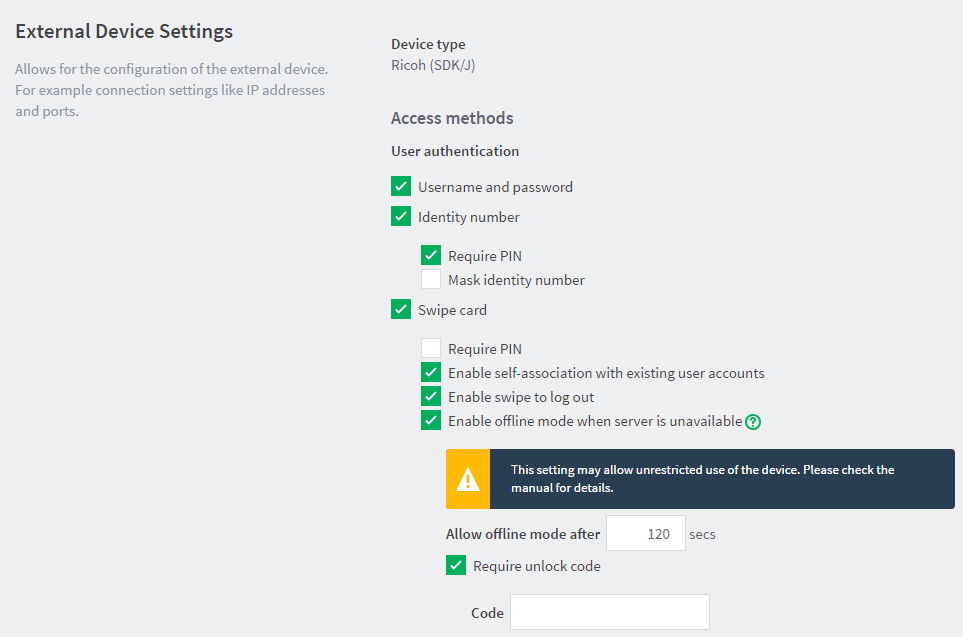 You can specify a delay between the time the copier first fails to contact the PaperCut MF Application Server and the copier going offline. This is useful to avoid switching to "Offline Mode" for brief periods of server unavailability, e.g. a server reboot or planned maintenance.
"Offline Mode" should be carefully considered before it is enabled as it allows overrunning of account balances on restricted user accounts. It can also be configured based on the environment, including an option to set up an administrative unlock code. This allows "Offline Mode" to be set up in environments such as schools where administrative oversight is required before each activation of "Offline Mode".
"Offline Mode" can be set up for commercial environments where the tracking of print usage to users, groups or departments is important and charging is not a factor. The device can be configured to go into "Offline Mode" automatically when the copier fails to contact the application server.
Unlock code - for pay per use (Education)
For added security, system administrators can require "Offline Mode" to be unlocked before users can log into the copier with a swipe card. Unlocking "Offline Mode" involves entering the specified code at the copier and choosing to unlock the copier for single use or until a connection to the PaperCut MF Application server is restored. This is specifically useful for education organizations where a supervisor or teacher can enter this code before the device can be used by users in "Offline mode".
---
Still have questions?
Let us know! We love chatting about what's going on under the hood. Feel free to leave a comment below or visit our Support Portal for further assistance.
---
Categories: How-to Articles , Devices
---
Keywords: Ricoh , Kyocera , offline , resilience , supervisor code , mf-only
Last updated June 17, 2020