0) ? window.innerWidth : screen.width; if(width >= 1300){ largeDevice = true; } else{ largeDevice = false; }">
Printer and Device IP Address Change Considerations
"Help! I'm a network administrator and have decided to give a new IP address to a printer. How do we do this without disrupting our users' ability to print? "
Let's say you need to update the IP address of a printer or copier on your network. You would do this either by manually configuring the printer settings to use a new static IP, or updating the IP reservation on your DHCP server (We'll leave that part up to you).
What effect does making that change have on your PaperCut printing environment? Well, you'll need to update the IP address of the print queue on your print server, and if you are a PaperCut MF customer you may also need to take some additional steps to ensure Multifunction Devices (MFDs) running the PaperCut Embedded Application continue to work, these are discussed later on in this article.
If instead you are looking to change the IP address of your PaperCut server, we recommend you have a look at this other article: Changing the PaperCut Server Name or IP Address.
Updating the IP address of a Printer
Your print queues (either on the server or workstations) will need to be updated so they point at the new IP address.
To see where this is configured on a Windows print server for example, open printmanagement.msc, right click on the printer in question, choose Properties and look at the Ports tab like the screenshot below.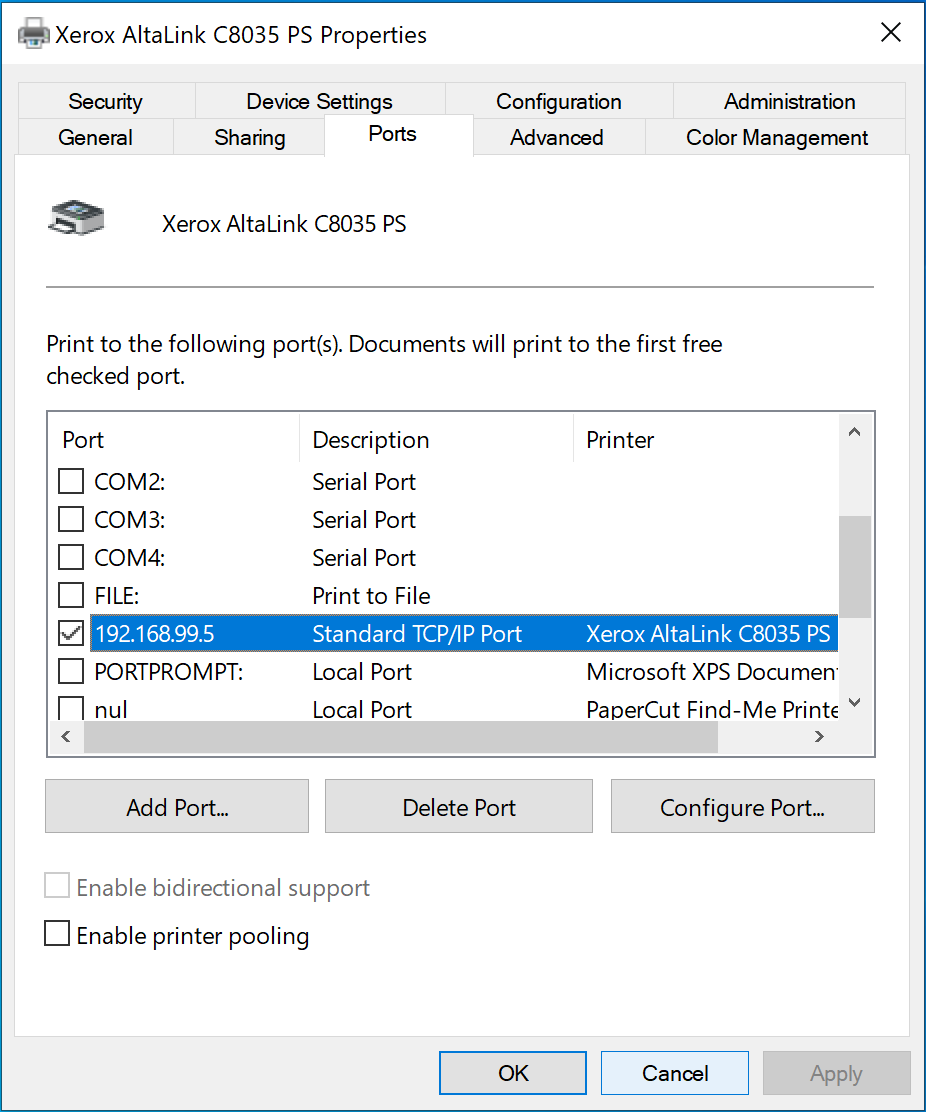 As you can see the printer Xerox AltaLink C8035 is configured to point to the IP address 192.168.99.5. If your printer's IP address has changed, you will need to click Add Port… to add the new IP address be sure to use the same port type as the previous port. The Standard TCP/IP port is normally used but if you use the "Validate page counts" after printing (hardware check) option then the correct port type would be the PaperCut TCP/IP Port. It's worth noting we only recommend using the PaperCut port type if you are using hardware check (more information here), or if the new port has already been added then check the ports check box.
What about updating the printer IP address in PaperCut NG/MF?
You don't need to update the IP address for the Printer in PaperCut.
Why? Because it will update itself automatically - though perhaps not immediately, so don't panic too soon! It's also worth noting that PaperCut NG/MF doesn't utilize the printer's IP for anything significant aside from toner-level monitoring; we simply collect this information from the print server and then display it in the Printers tab of PaperCut NG/MF for reference purposes.
You can see this yourself on the Printer's Details page under "Physical identifier" like in the screenshot below: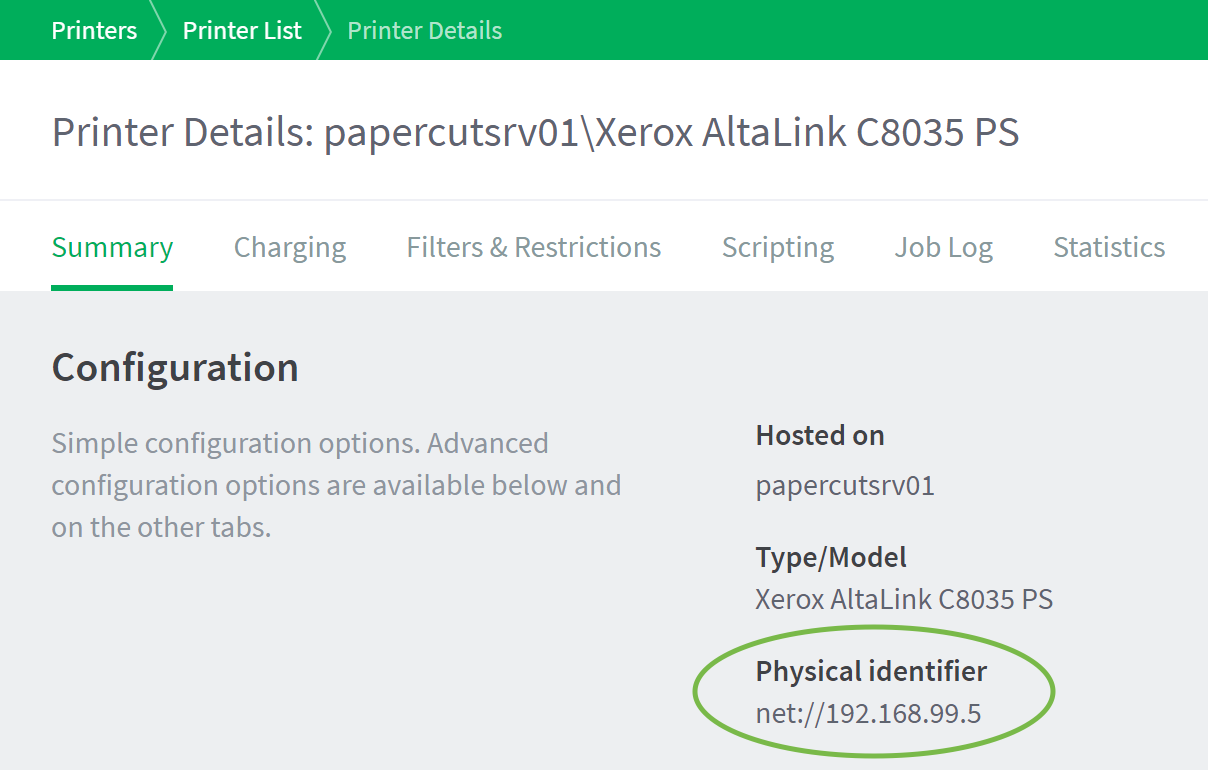 Updating the IP address of a Embedded Device/MFD
The instructions below are only relevant for PaperCut MF customers.
Before updating the IP address for any copiers or Multifunction Devices (MFDs) running the PaperCut Embedded Application we strongly recommend consulting your PaperCut Reseller or Authorised Solution Center. The process will vary considerably depending on the make and model of device, and if the wrong procedures are followed this can cause the dreaded "cannot connect to server" error, so e sure to follow the instructions below.
There are many types of embedded Devices, the brand and model of your MFD will determine the type of embedded application used. This information is important to know and will help you decide how best to approach changing the MFD's IP address.
You will find the embedded type in the PaperCut admin web interface in the Devices section under the column named "Type", once you've established this then you can decide how best to proceed.
In essence there are two main types of embedded device:
App based device connecting to the PaperCut server.
A web-hosted device that connects out from the PaperCut server.
In the case of embedded application based Devices, they connect from the device to the PaperCut server, so in many cases require little or no intervention from yourself after their IP addresses are changed.
In the case of web-hosted devices connecting from the PaperCut server, some reconfiguration on the device or within the PaperCut admin web interface will be required. We would strongly advise contacting your Reseller or Authorized Solution Center before changing IP's on these Device types. Since this Device type is hosted from the PaperCut server, the IP address to which PaperCut points for each device will also need to be changed along with any other settings your Reseller or Authorized Solution Center needs to change.
The list below contains some common Device types. It's not exhaustive so if your Device type isn't listed in either column it is best check back with your Reseller or Authorized Solution Center to confirm the requirements:
Local Application Install Devices:
Web Hosted Devices:
Brother
Dell (AIP)
Canon (MEAP)
Fuji Xerox (AIP)
Gestetner (SDK/J)
Konica Minolta (

OpenAPI

all versions)
HP (OSA)
OKI (open Platform)
Kyocera (HyPAS)
Sharp (OSA)
Lanier (SDK/J)
Sharp OSA (HTML Browser n2.0+)
Nashuatec (SDK/J)
Toshiba (all types)
Ricoh (SDK/J)
Xerox (all types)
Ricoh (

SmartSDK

)
---
Still have questions?
Let us know! We love chatting about what's going on under the hood. Feel free to leave a comment below or visit our Support Portal for further assistance.
---
Categories: How-to Articles , Devices
---
Keywords: IP address , Printer , port , MFD , change , Device , update , embedded
Last updated July 5, 2023