0) ? window.innerWidth : screen.width; if(width >= 1300){ largeDevice = true; } else{ largeDevice = false; }">
Duplicate Printers
"Help! When I try to add a printer or send a print job from my device, I see each printer appearing twice! What can I do to fix this?"
The issue as it pertains to PaperCut Mobility Print
One possible cause of users seeing duplicate printers is that the multi-subnet DNS records for Mobility Print were set up, but mDNS is still enabled. After verifying the DNS records using the Mobility Print "Configure DNS" wizard, publishing printers over mDNS should stop. However, if one overlooked completing the wizard in the flurry of discovery option setup activity, and the clients and the server are in the same subnet, then you may run into a situation where users see duplicated printer advertisements on their devices. What's happening, in this case, is the devices show printers found using mDNS as well as DNS.

The issue might also happen if there are extra, unnecessary DNS records. If you're not sure whether the DNS records are set up correctly then have a look at the these examples. Feel free to send us a screenshot of the records on your DNS server if you're not sure or have any questions at all.
If only users with macOS and iOS devices report duplicate printer advertisements
There might be a printer advertising itself through its onboard AirPrint or Bonjour feature.
If your print server is macOS or Linux, it may be that CUPS sharing is turned on. In macOS, also make sure that "Share this printer" is unchecked.
If macOS clients are domain bound and you have a Windows print server, you may see duplicate print queues with the Kind column set to "Open Directory," which means Active Directory is listing the printers.
Is a macOS user inadvertently sharing this print queue from their own workstation? We've heard of situations where end-users checked "Share this printer on the network" in System Preferences, causing their computer to re-broadcast the print queue with the exact same name.
More information regarding PaperCut iOS Print
Please note that this information pertains to the legacy PaperCut BYOD printing solution called iOS Print for macOS PaperCut servers. However, since its release in PaperCut NG and MF version 17, Mobility Print is the more versatile and robust successor to the iOS Print Service. Mobility Print's improvements include compatibility with Windows and Linux servers as well as macOS and support for a broader variety of BYOD/mobile devices.
Like we mentioned above, duplicate printer advertisements may also happen if you have a macOS print server, enabled "Share this printer," and also shared the printers as described in the iOS Printing Setup pages. In this case, each printer has a doppelgänger that ends with "@ MacServer" as in the screencap below: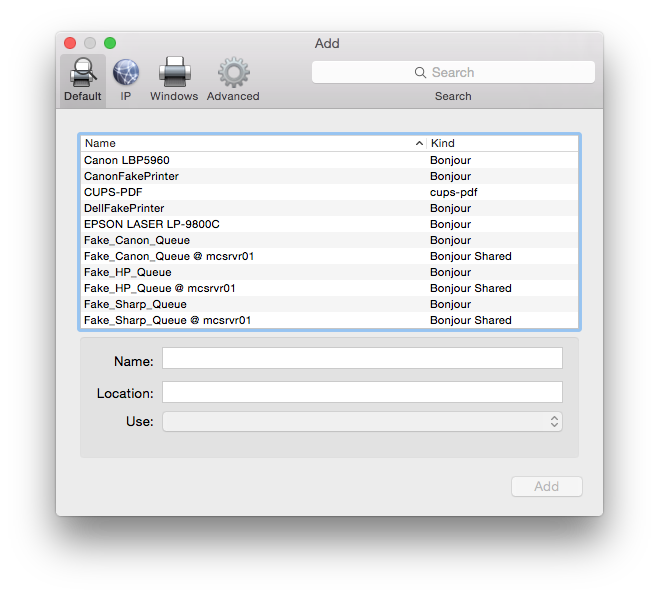 Why would this happen?
Checking 'Share this printer on the network' in System Preferences → Printers and Scanners tells macOS to advertise a print queue over Bonjour using mDNS. This sharing method is entirely outside of PaperCut and controlled by macOS. Printers shared over Bonjour using mDNS appear under the Name and Kind columns respectively as Printer @ Server and Bonjour Shared like in the screencap above.
Keep in mind iOS devices can't discover printers shared over Bonjour from macOS since the mDNS advertisements lack the appropriate "TXT" record details. If you're interested, Bonjour Browser is a handy tool that lets you discover the differences between each mDNS advertisement's SRV and TXT record details on the local subnet. In any case, only the PaperCut iOS Print service version of the advertisement appears on iOS devices, and the duplicate queues only appear when adding Bonjour printers on macOS. Keep in mind applications like PaperCut with the iOS Print Service can't edit or merge with the macOS advertisement which is why the Add printer window distinguishes printers as Bonjour, for PaperCut iOS Print service printers, or Bonjour shared, for macOS shared printers, like in the screencap above.
What can an admin do about it?
If your organization is on PaperCut NG or MF version 17 or better and already using Mobility print to publish printers with DNS or mDNS, then you can disable the PaperCut iOS Print service using the application's disable script:
In Terminal, change to this directory: /Applications/PaperCut [NG or MF]/providers/iosprint/mac/
Run ./disable-iosprint.command.
Alternatively, if your license doesn't support upgrading to PaperCut NG or MF version 17 or better, you have a requirement to share printers to iOS devices, and you only want to advertise specific printers, then you can share on a printer-by-printer basis as detailed in the unshare a particular printer section here.
For more information about Mobility Print, check out the Mobility Print Help Center.
---
Categories: Troubleshooting Articles , Print Queues
---
Keywords: duplicate , bonjour , advertisement , printers , double , yosemite , mavericks , Mac OS , OS X
Last updated February 16, 2021