0) ? window.innerWidth : screen.width; if(width >= 1300){ largeDevice = true; } else{ largeDevice = false; }">
Toner Level Thresholds
The toner levels visible in the Dashboards are displayed in different colors based on the toner levels thresholds defined in PaperCut.
By default, they are displayed in red when the toner level is equal or less than 10%. They are displayed in yellow, if it is equal to 30% or less. These toner levels act as warnings to the system administrator.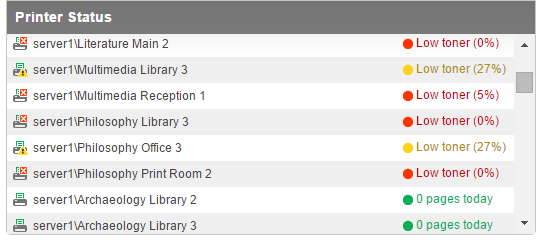 They are configurable via the config keys: toner.low-threshold and toner.very-low-threshold
You can change the config keys via Options → Config Editor (advanced) . Please see the section called Using the Config Editor to find out how to change config keys.
In some organizations, they might want to configure this differently so that they are notified when the toner values go lower than 15%. To show the toner level in yellow only when it reaches this level then you can set the value of "toner.low-threshold" config key to 15.

It is also possible to send low toner notifications to administrators. You can configure it via Options → Notifications → System Notifications
More information on how the toner level information is updated is given here.
---
Categories: How-to Articles , Print Queues
---
Keywords: toner notifications , ink , cartidge , supplies , levels , type , model , toner debug , toner
Last updated January 8, 2020