0) ? window.innerWidth : screen.width; if(width >= 1300){ largeDevice = true; } else{ largeDevice = false; }">
Windows error 'Windows cannot access \\server\PCClient' when launching the client shared folder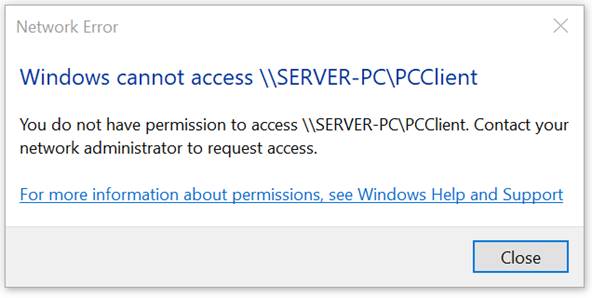 You can sometimes come across this error if you're trying to install the user client. Specifically this is normally seen when trying to use one of the methods where the clients access the PCClient share on the App Server.
This can happen for a couple of reasons:
Check the permissions on the file share. Test by making sure the user can browse to the share and run the client manually.
Is the Application Server running on a desktop version of Windows? Unless you have a sever OS, Windows will only allow up to 20 connections to file shares. There's a little more information about the Microsoft limit on the Windows Connection Limit KB. Options are to either use a server-OS for your PaperCut server or use the local-install version of the client, so that it won't need to access the file share.
Still have questions?
Let us know! We love chatting about what's going on under the hood. Feel free to leave a comment below or visit our Support Portal for further assistance.
---
Categories: Troubleshooting Articles , User Client
---
Keywords: access client share , folder share access
Last updated April 8, 2020