0) ? window.innerWidth : screen.width; if(width >= 1300){ largeDevice = true; } else{ largeDevice = false; }">
Updating Printer Location in PaperCut
The printer location, shown in the PaperCut Administration Console, is field that is pulled from the printers' location setting on the Print Server.
How does PaperCut use the location field?
On the printer's summary page in the Admin interface
To distinguish and isolate printers through the search function on the Printers tab.
In several reports in PaperCut (Printer Attributes, Printer List, Busiest Printer, and others…)
When using Mobility Print to install a print queue on an end-user's workstation .
The location field is pulled from the Printer Properties in Windows or the Location field in CUPS. This field can also be edited in PaperCut, but will be overwritten if the Location field is updated in the operating system.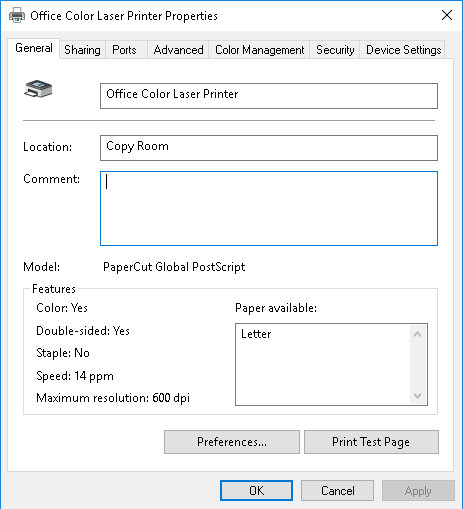 Note: If changing the field in Printer Properties, you will need to restart the PaperCut Print-Provider. Also, changing the location field in Printer Properties will take precedence and overwrite the field set in PaperCut.
---
Categories: How-to Articles , Print Queues
---
Keywords: Updating Printer , Printer Location
Last updated April 6, 2020