0) ? window.innerWidth : screen.width; if(width >= 1300){ largeDevice = true; } else{ largeDevice = false; }">
How to use PaperCut in an Epic environment
PaperCut integrated with Epic: How to use PaperCut in an Epic environment
Printing with Epic
While the capabilities of Epic as an EMR are well known, the printing capabilities are not widely understood. Here's a brief look at how printing works with Epic.
At the heart of Epic printing is a service known as the Epic Print Service (EPS). When a user generates a print job within Epic either by selecting 'print' or as part of a predefined workflow, a print job request is sent to EPS. EPS will then build and render the job into a PDF document, a text file, or an XPS document. EPS will then send that document to the selected Windows print queue in the EPS server.
There are two main types of printing with Epic.
Client-side printing
Client-side printing is where the generated print jobs get redirected to local direct print queues without going through the Epic servers. Reports and ad-hoc documents that physicians often print or print jobs from nurse stations are some of the most common examples of client-side printing.
Even though client-side printing has the advantage of not having to send print jobs to the print servers (an important factor to consider if the Epic print servers are remotely located), it introduces a considerable overhead to the print queue management. Each workstation and the remote host needs to have the print queues set up. Managing these print queues (updating to the latest driver for example) will generate substantial support load for the IT department. See how PaperCut Print Deploy can help.
Server-side printing
Server-side printing handles the majority of print jobs that get generated from an Epic EMR. After collecting print jobs from the Epic Application server and rendering it to a print-ready document, the EPS then prints them to print queues set up in the EPS. These print queues can either be predefined or selected at the time of printing.
Epic hosting and management models
Epic instances, including the EPS, can be hosted and managed in one of two ways.
Hosted and managed by the Hospital: Software is hosted by the hospital or healthcare organization and hospital staff manage the software, servers, network, storage, and backups. Some support services could still be supplied by Epic or another party.

Hosted and managed by Epic (or by an external IT integrator): Software is hosted external data centers outside of your hospital network, and are managed by Epic (or the IT integrators') IT support staff. Typically, to make any changes to the services, you need to raise a service request and coordinate with them.
Integrate PaperCut with Epic
There are a couple of ways you can track and manage your Epic printing with PaperCut. This is based on the Epic hosting and management models described above.
If the EPS is hosted and managed by the Hospital
In this case, PaperCut works out-of-the-box. If the EPS is managed by you, it's as simple as installing the PaperCut Secondary Server in the EPS.
Here's a block diagram of the components and where they are located.
If the EPS is hosted and managed by Epic (or by an external IT integrator)
If the EPS is hosted and managed externally, installing the PaperCut Secondary Server in that print server is not possible.
In this case, you can still track and manage your Epic printing using the PaperCut Epic healthcare module. This app gets installed in the print server in the hospital network, and the EPS is configured to send print jobs to the PaperCut Epic app.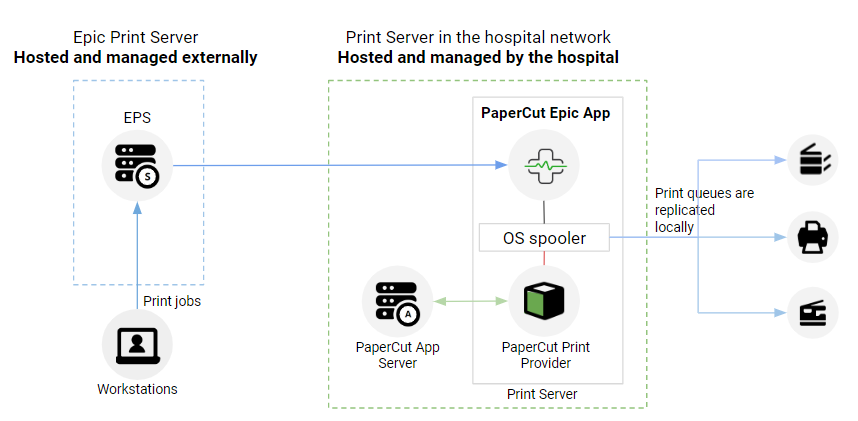 For more information on how to print with Epic - please contact your Epic Technical Support representative.
How can PaperCut improve printing with Epic?
Secure printing
With standard Epic printing, a user's jobs are sent directly to the printer for immediate printing. When you print from Epic, documents may contain PHI (Patient Health Information) and require special handling to ensure patient confidentiality. If a clinician or staff member print directly to a printer there is a greater risk of someone accidentally seeing this content if a hold and release strategy isn't in place.
PaperCut print release provides a simple solution that places jobs in a holding state until the user authenticates and releases the job at the printer. Users may select individual jobs to release or have jobs automatically print after successful authentication.
Save paper
Filters, restrictions, and routing to enforce double-sided printing. Warn users when they print emails in color. Route large jobs to the most cost-effective devices.
Simple print queue management
Managing print queues across multiple servers and workstations is complex and error-prone. The way most print services are set up, the users need to set up hundreds (and sometimes thousands) of print queues across multiple print servers and client workstations. Epic does not provide tools to easily manage these queues, so even a trivial task like updating a print driver can become a maintenance headache.
Print Deploy is a print queue deployment tool that gets the right printer drivers and print queues to the right person in the right location, effectively.

It enables users to move between locations, for example, branches, offices, or campuses, and without them setting anything up. The location's printers are dynamically downloaded onto their computers—it just works!
Find-Me printing
Find-Me printing solves the problem of finding the closest printer from a long list of available printers. It's a roaming print service that allows print jobs to find users based on their physical location. You may have heard it referred to as "Pull Printing" or "Push Printing". It's a great solution for large sites operating a common printer fleet.
Print Job Tracking
While EMR providers provide printing services - there are often challenges obtaining individual print job tracking, making job traceability more difficult than an environment with print management. This is especially important for compliance purposes. For example, in the event of a HIPAA privacy breach due to printed PHI material from a hospital printer being misused - a full audit trail is required to track who printed the material.
PaperCut NG/MF has two types of logging within the Administration pages; Application and Audit logging. Both log views are accessible via the Logs tab for users with sufficient administrative rights to view these. In both cases, there are some minor configuration changes an administrator might want to tune.

Watermarking is a feature that allows text to be written to every page in a print job. You can write the text to the top (or bottom) of a page, in a custom location (such as the middle of the page), or over the entire page. Watermarking is a powerful and flexible feature.
Still have questions?
Let us know! We love chatting about what's going on under the hood. Feel free to leave a comment below or visit our Support Portal for further assistance.
---
Categories: How-to Articles , Architecture
---
Keywords: Epic PaperCut printing , Epic printing backend , Epic PaperCut environment , Epic EMR printing
Last updated December 19, 2022