0) ? window.innerWidth : screen.width; if(width >= 1300){ largeDevice = true; } else{ largeDevice = false; }">
How do I show Shared Account Balances in the User Client
PaperCut's User Client is designed to assist communication between the print environment and the user. This includes customizable notifications about print jobs being denied due to print policy enforcement, jobs being held in Secure Hold/Release queues, and even organisation specific workflows handled by our Advanced Print Scripting.
Perhaps the most obvious use of the User Client is to show a user's Personal Account balance.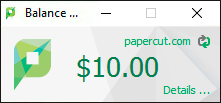 How do I display shared account balances?
However, what is not shown are the balance(s) for Shared Accounts that a user has access to.
The easiest way for a user to see their Shared Account balances is by clicking on the Details link in the display window.
If the user does not have access to charge to their Personal Account, then you will need to customize the link in the User Client to change the URL used in the Account Selection Popup. This can be found under the PaperCut Admin user interface via Options → General → Client Software → Change link on balance window. You can see an example below.

When that is changed, the URL used in the Account Selection Popup (shown below) will take them through to the User web interface where they can log in and see all of their Shared Accounts.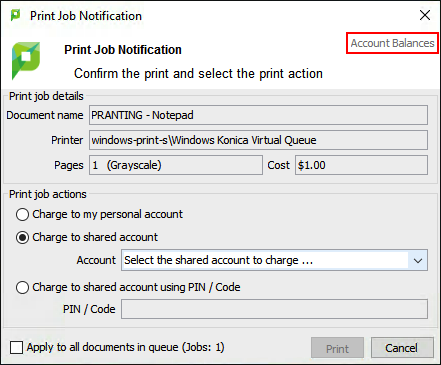 Streamlining the User web interface login process
You can streamline the login process to the User web interface by making use of PaperCut NG and PaperCut MF's Single Sign-On (SSO) functionality to automatically log users in without requiring them to enter their username and password. They've already done it to log in to their computer!
Users then need only click to navigate to the "Shared Accounts" tab of the User web interface in order to see their Shared Account balances. You can further streamline the process by setting the default landing page for users logging into the User web interface. This can be done under Options → General → User Features → Initial page displayed after successful login. Set that to "Shared Accounts", so that the Shared Accounts page will be displayed immediately after login.
---
Categories: How-to Articles , Charging and Billing , User Client
---
Keywords:
Last updated June 3, 2021