0) ? window.innerWidth : screen.width; if(width >= 1300){ largeDevice = true; } else{ largeDevice = false; }">
Disabling Windows Print Notifications or 'Toast' Notifications
Windows can be configured to display a print notification in the notification area near the taskbar each time a job is sent to a printer. When printing is managed by PaperCut, it is usually a good idea to disable Windows print notifications because PaperCut also displays print notifications and multiple notifications can be confusing to users!
The Windows printing notifications can also be misleading because they can indicate that the job has printed when it really hasn't. The Windows printing notification message includes text like this:
 This document was sent to the printer
 Document: <doc-name>
 Printer: <printer-name>
 Time: <time>
 Total Pages: <pages>

You can disable Windows print notifications by following the steps listed in the Microsoft Support article; Enable or disable user notification when printing is complete
If you're also seeing Windows Toast Notifications popping up with the PaperCut notification text, and you don't want to see this, then you can configure the user client to hide the toast notification with the disable-toast-notifications=Y setting in the config.properties configuration file.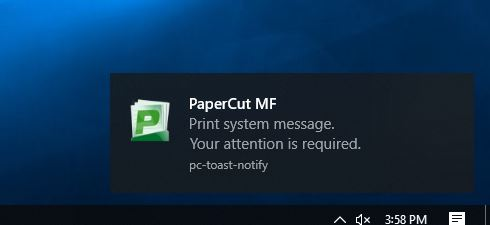 ---
Categories: How-to Articles , Notifications , Print Queues
---
Keywords: windows print notifications
Last updated January 16, 2020