0) ? window.innerWidth : screen.width; if(width >= 1300){ largeDevice = true; } else{ largeDevice = false; }">
Using PaperCut with Nexudus
Purpose of this article
This article is a brief introduction to Nexudus and focuses primarily on preparing PaperCut for setup with the Nexudus Extender.
Note: The Extender integration was developed solely by the Nexudus team. If you have PaperCut working but are having problems with the Extender, please reach out to support@nexudus.com .
What is Nexudus
Nexudus is a cloud based platform built from the ground up for Coworking Spaces. It offers comprehensive tools for easily managing the unique needs of a space, including:
Memberships
Bookings
Onboarding
CRM
Check-in
Mobile Apps
Flexible Website Branding
Reports
What's the Extender?
The Nexudus Extender is an on-premise component that connects a customer's Nexudus space to their PaperCut server.
How do the products work together?
On paper, the integration is fairly simple. The workflow looks something like this:
User Creation: A Member is added in Nexudus's cloud space, the Extender creates an Internal User in Papercut. The Extender is also responsible for deleting users.

Tracking: Once users are added in PaperCut, their print and copy usage can be accounted for

Export: PaperCut exports transactions back to the Extender for balance deduction in Nexudus

Invoicing: Now that those copy and print transactions are logged with Nexudus, a space can invoice their members.
Setup
---
Preparing PaperCut for the Nexudus Extender
From the PaperCut side of the equation, the setup is relatively simple. Basically, a blank slate of PaperCut NG or MF needs to be installed and a few settings need to be configured.
1) Installation
a) Run the PaperCut NG or MF installer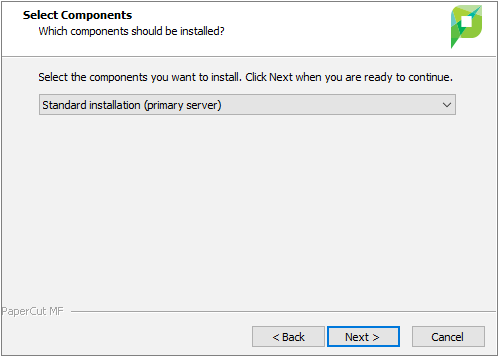 b) Setup admin PW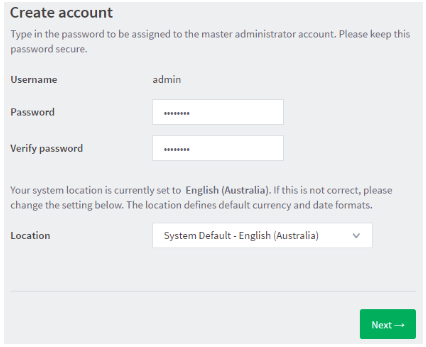 c) Set Default Costs:
Note: This cost must be the same as the cost of the Resource Rate representing 1 standard print in your Nexudus Spaces account.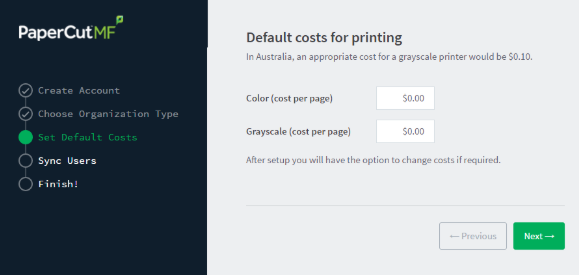 Set Initial user credit to "0"
Enable Deny access when users run out of credit/quota

2) Configuration
a) Setup a Token
This auth token will be used later in the Extender setup as a replacement for the "Admin PW". Think of it as a more efficient PW for quick and secure communication between PaperCut and Nexudus.
Go to Options > Actions (Right side of page) > Config Editor

b) Custom Currency
Go to Options > General > Display Options
Enable Use custom currency sign
Set to "Credits"
Display after number

c) Set Sync Source
Since Nexudus will create Internal Users in PaperCut, no sync source is needed.

d) Enable Internal Users
Go to Options > User/Group Sync
Enable Internal Users

e) Set Printers as Unauthenticated
Go to Printers tab
Select [Template Printer]
Scroll to Advanced Configuration
Enable Unauthenticated printer

f) Add Embedded Devices to PaperCut (PaperCut MF Only)
Talk with your Reseller and/or ASC to get these added.
Setup of the Extender
Once the steps are completed for PaperCut, you can now setup the Nexudus Extender. The instructions for this setup can be found here:
https://support.nexudus.com/hc/en-us/articles/360007478198-Papercut#papercut-0-0
Important Note: During the setup of the Extender, it is recommended you use the Web Services Auth Token from the "Setup a Token" step above instead of using the admin PW.
FAQ
---
If you know of a common issue or question that is not included here, please submit a request to solutions@papercut.com or support@papercut.com
Q What PaperCut products will the Extender work with?
PaperCut NG & PaperCut MF
Q I see the users in Nexudus, why aren't they showing up in PaperCut?
Assuming you setup PaperCut per the instructions above and have installed the Extender:
It's possible your users don't have printing credit in Nexudus
Check if the user is attached to a price plan
Ensure "Pay as you print" is enabled in the Integrations tab of Nexudus
Q Who do I call for Support with this integration?
This depends on whether you are having issues with setup of PaperCut or the Extender:
If you need help with Nexudus Extender please contact support@nexudus.com
If you need help with PaperCut NG please contact support@papercut.com
If you need help with PaperCut MF please reach out to the Reseller and/or Authorized Solutions Center who you bought PaperCut from.
We hope this article has alleviated confusion around the Nexudus Extender and its configuration with PaperCut. Both the PaperCut Channel and Nexudus want to ensure our joint customers have a great experience so please don't hesitate to reach out to the appropriate team if you have any issues.
---
Categories: How-to Articles , Authentication , Integrations
---
Keywords: coworking , nexudus , nexedus,integration,nexudus extender , how-to , howto,nexudus spaces,faq
Last updated August 1, 2022