Printer error alerts and warnings
🔎 Find this feature in the admin interface: Configure > Print Security > During Printing > Printer Errors
Sometimes it can be really nice to be told that what you're about to do isn't going to work. There's nothing more frustrating than to release your print job only to find that the printer is out of toner or there's no paper left. Your step count thanks you for having to run back to your desk and re-print your document, but your meeting deadline doesn't!
This is where the printer error warnings come in. Set up a warning for users, or block them from releasing their print jobs to a printer that has a problem with it. That way you can step down the hallway to use the other printer, without having to re-print all of your print jobs.
Why is this important? As well as the inconvenience of having to re-print your documents, it can be a security risk too. That document that you released to the printer that has no paper could be sitting on the machine's hard disk, waiting for the next person to come along and fill up the machine with paper. Suddenly, as a reward for their good deed in filling up the machine with paper, they're surprised with your super-secret printed documents from 2 hours ago - or they watch helplessly as a long-forgotten job starts needlessly using up the new paper.
Of course, if you are using one of the secure release methods - you're probably standing right next to the machine anyway! Hopefully you've already seen the red flashing light or heard the incessant beeping from it, to indicate that it's got itself into trouble of some sort. However, having the additional alert through the mobile app can be very reassuring, and is also a great feature for accessibility.
PaperCut Pocket and Hive let you set up 3 different levels of notification:
| Level | Behavior |
| --- | --- |
| Off | No warnings or alerts at all. Your Edge Nodes won't check printers for errors. |
| Warn | Show a customized warning message to the user, but let them decide if they want to continue to release their print job or not. |
| Stop | Show the alert to the user and don't let them continue to release the job to the printer that is in error. |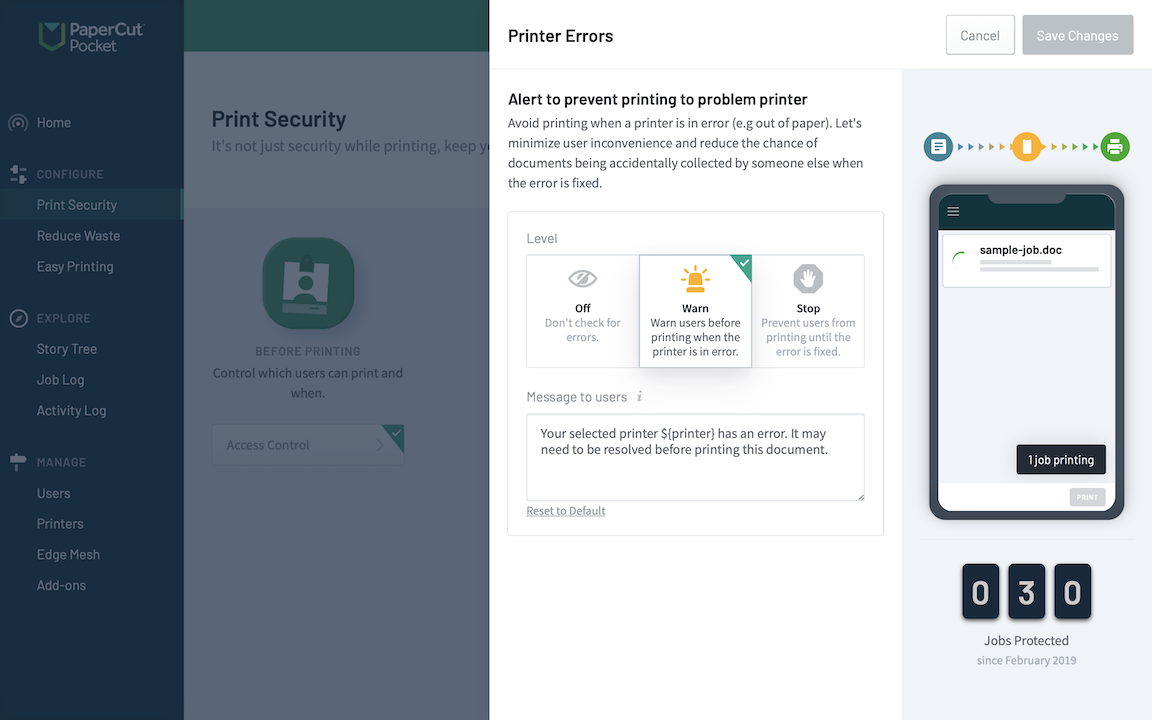 Printer error notifications - frequently asked questions (FAQs)
What type of errors will the app warn me about?
Users will get a warning at the time of release on anything considered a 'standard' printer error.
The standard errors are: out of paper, paper jam, paper problem, no toner, and service requested.
Is there a way of configuring PaperCut Pocket or Hive to ignore certain printer errors like 'out of paper'?
Not yet! It's something that's being looked at for the future!
A printer was in error, but the app didn't warn the user - what's going on?
Double-check to see if the error you are seeing on the actual printer also indicates a red status on your admin interface or the mobile app. If the printer is not showing a red status within PaperCut Pocket or Hive, then the user won't get a warning when releasing the job.