Managing (adding, removing, publishing, unpublishing) printers
🔎 Find this feature in the admin interface: Manage > Printers
The 'printers' tab… an oft-used view for any of PaperCut's print management tools! Check out the info under Trending to get the lowdown on which printers are doing interesting things (lucky them!), and the list below that shows which ones need help, and which ones you want to publish!
Once your printers have been discovered, they are shown in the Printers list. So far so good!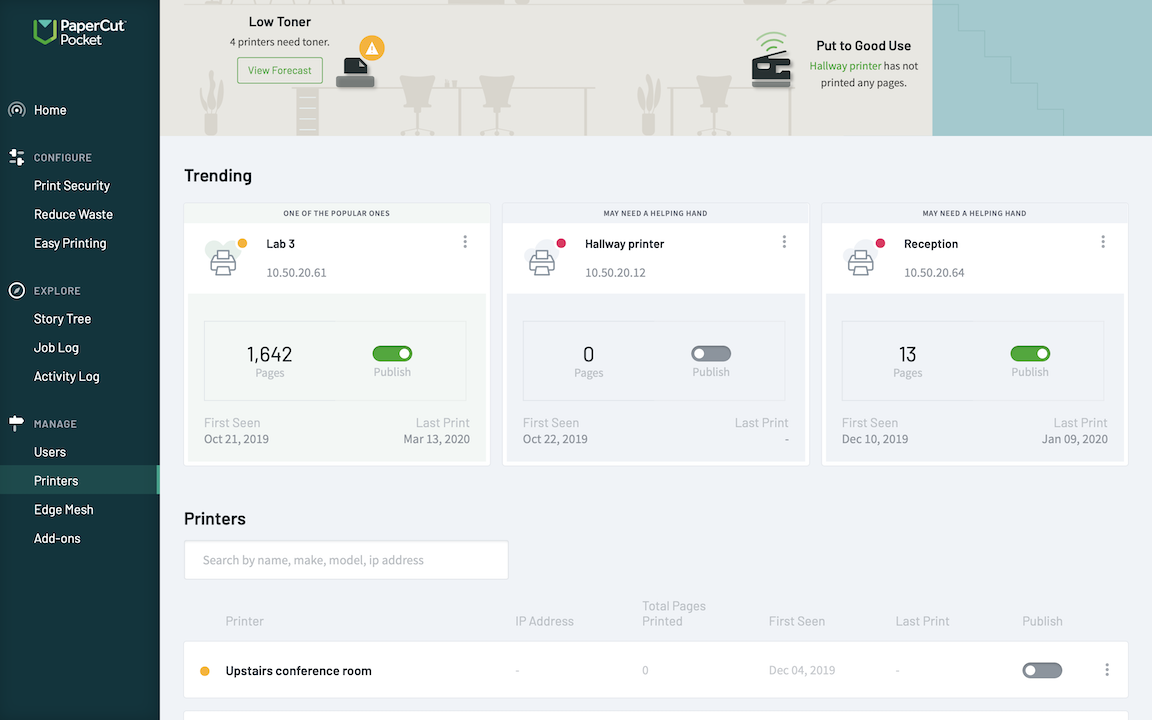 Viewing forecasts
After you've run PaperCut Pocket or Hive for a little while (from 2 to 5 days, depending on how much printing is happening), it begins to get an idea of how much toner you generally use on each printer. Then all you have to do is click the View Forecast button to get a handy snapshot of what toner you might need to purchase in the next 7 days to 1 year, based on your printer's current consumption.
Publishing printers
One of the simplest 'deployment' techniques ever! You just click the toggle button to publish a printer or click it again to unpublish it. No group policies, drivers, permission issues. or fretting about platform types.
So what is this actually doing in the background? Great question. When you publish or unpublish a printer, what you're doing is making the printer available (or not available) for releasing print jobs.
As you'll probably remember from the How it works section, the PaperCut Printer is the only thing that gets installed on a user's machine or mobile device. Everyone prints to that single printer, and then they can release their job at any printer using Secure Print Release.
The easiest way to give an example is to use the List release method. Suppose you have one printer that is special, for example no one should ever print to it except when they're using the PC in the loading bay (the one that generates the custom shipping labels). If that's the case, then you might unpublish the 'Loading Bay Office' printer. That way, when someone in the office prints a document using the List function in the mobile app to select a printer, they won't see the Loading Bay Office printer - only your other printers with 'regular' paper.
If you want to stop people from printing outside office hours, or stop certain people from printing to certain printers at certain times, check out Printer access control which lets you set up any number of rules and printing policies.
Printer details
Click on any of the printers listed under Manage > Printers to see more detailed information, including:
Device status
Hostname and IP address
Model information
Printer statistics
Analytics
Supply levels (toner levels)
Secure release information (QR Code URL, NFC URL, Printer Code)
Printer labels
While in the Printer Details section (click on a printer in the Printers list to get you there) you can also see (and reprint) a specific label for an individual printer. Check out the Secure Print Release section for more information on why printer labels make your life easier!
You can also hop into the Configure > Easy Printing > Administrators > Printer ID labels section to customize the message shown on your labels - handy for including Support contact information or details on who to go to in times of trouble!
Printer apps
If you're using PaperCut Hive, you can also install the Full Embedded App or the Lite Release App on compatible MFDs. To find out which apps are available to install for a printer, just click the printer in the Printers list, and then hop into the Apps tab. You'll also find the installation and configuration instructions there.
Full Embedded App - This app lets you release print jobs by logging into the MFD / copier, as well as using swipe card authentication, and track copying/scanning and more!
Lite Release App - This app lets you release print jobs by logging into the device - handy if you forget your mobile phone, or if you don't have the mobile app installed.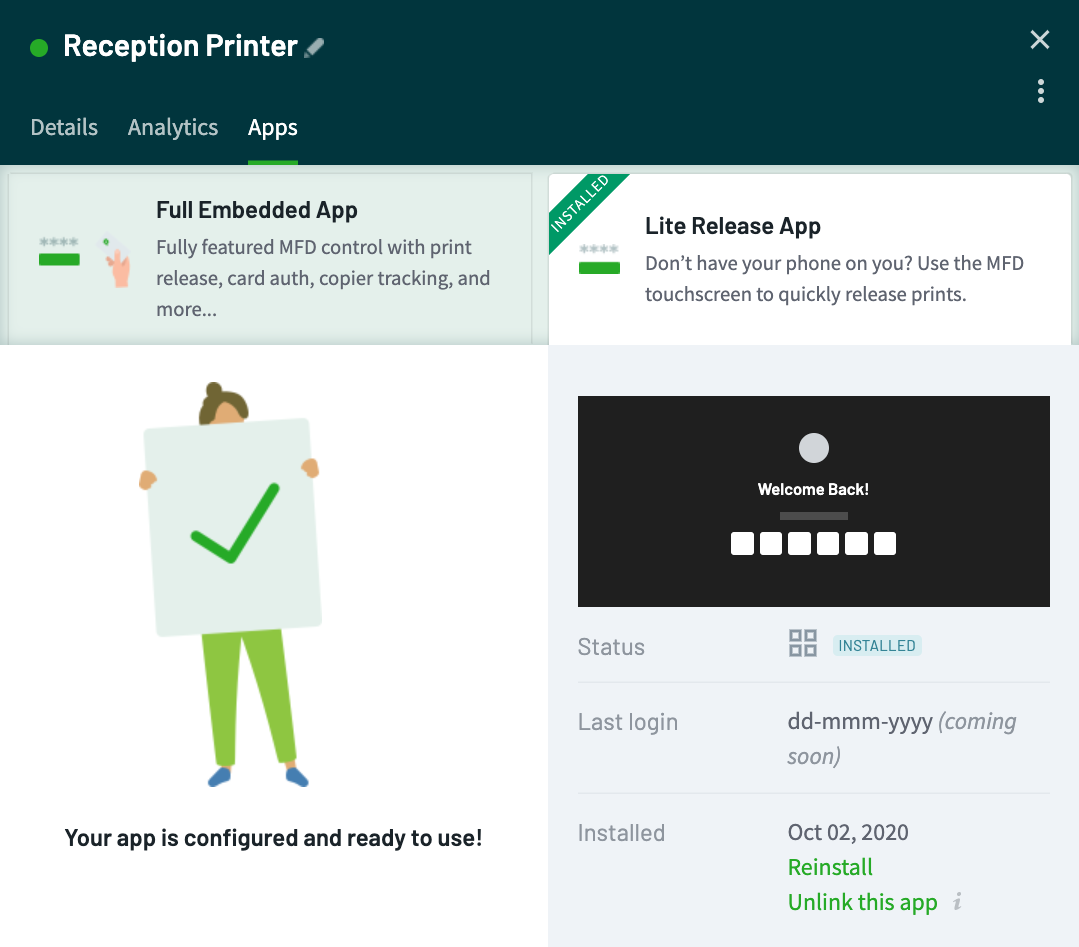 Printer delivery methods
Administrators have the option to adjust for each printer which edge nodes deliver the print job to the printer. By default, we use our PaperCut magic to determine what method should be used based on the printer. Sometimes however, printers may need a bit of hand holding to determine what's best for it. As they say, one size doesn't fit all - well in this case jobs being delivered to printers! To change how print jobs are delivered, head over to the Printers then choose the printer, next go under the Advanced tab, then select Custom. There will be two methods available, the primary method and the secondary method.
Primmary method: Edge nodes use this option first when trying to deliver print jobs.
Secondary method: This is the fall back! If the primary method doesn't work, we'll try this next.
To decide on what you should use, determine if you prefer to use the queue method which involves adding a print queue onto a reliable edge node to deliver jobs, preferable a super node where you know it has access to the printer. If you prefer to go down the path of IPP which doesn't involve installing a driver, we recommend testing this throughly to make sure printing is reliable and your edge nodes can deliver the jobs to your printers.
We are looking to improve this section down the road by adding more formats and ways to help adminstrators to decide what is best to use.
Managing printers - frequently asked questions (FAQs)
How are the printers discovered?
Here's one we prepared earlier :) Have a look through the detailed Printer discovery page for more detail on the discovery process.
What does a 'trending' printer mean?
Popular printers (lots of printing activity), troublesome printers (printers in error), or even brand new printers (printers that have just been added) are all worthy of a bit of special attention. If you're wondering why a specific printer has been trending, check out the explanation at the top of the printer tile - it will normally give you a hint like 'needs attention' or 'one of the popular ones'.
Can I rename a printer?
Yes! It might be that different machines have the same printers configured with different names - so when the Printer discovery process finds them, it may not be the name you were hoping for.
No problem - either use the '⋮' icon at the end of the printer row in the Printers list, or use the pencil icon next to the printer name in the Details tab, to change your printer name to something you'd prefer.
How do I delete a printer?
At the moment it's not possible to fully delete a printer - you can un-publish the printer and it will then not be displayed on any mobile release apps. We are looking to add more options around this, so watch this space!
How do I see which Edge Node a local printer is connected to?
This is a great question - we get asked this quite a bit, and we're looking at a way to give you this information through the admin interface in the future!
If someone deletes their print queue from their workstation, but it's a network printer, can people still print?
Hopefully - yes!! If the network printer supports IPP, the Edge Node will use IPP to send the job to the printer, as a fall-back. So if the local print queue has gone, it'll use IPP and the job will still be released successfully.
Where do I configure low toner alerts for my printers?
Head into the admin interface, and go to Configure > Easy Printing > Administrators > Low Toner Alerts to configure the 'when' and 'who' for your low toner alert notifications.
If a new printer is discovered, is it automatically published?
For the first 24 hours after signing up, all your printers are published automatically since everything is pretty fresh at this point and new printers hiding out there are still being discovered.
After 24 hours of running PaperCut Pocket or Hive, printers are not published by default, to avoid confusion to your users if the system is well and truly 'live' at that point.
Head into the Manage > Printers section to publish or unpublish them!
What driver is used for the PaperCut Pocket or Hive printer?
PaperCut Pocket and Hive use PDF printing. The global driver used does not currently support finishing options like stapling or binding options, but we do plan to add support for native drivers later on. Keep your eyes peeled!
What is the default paper size or page size for people printing?
The default paper size will depend on your computer / mobile device region:
In the US, Letter is the default paper size.
Outside of the US, A4 is the default paper size.