Hey, you've landed on a page that we've updated and made even better! Go see the new section on our website called Discover.
This Discover section provides you with everything you need to know and covers stories and practices on how our customers use our solutions to get the most out of their printing, scanning and copying environments.
All topics are covered in the new section, but we may have written a page or two before our morning coffee, so we've left these pages active just in case :-)
PaperCut's Print Archiving empowers approved administrators to browse and review the content of print activity within their environment. Alongside the powerful tracking and reporting functionality built into PaperCut, this gives system administrators a wide range of auditing functions, such as:
Store an historic record of all printed content.
View past print jobs interactively in the browser.
Fined-grained control over access to archived content.
Download the original spool file for 100% fidelity when reprinting.
Enable or disable archiving on selected printers and users.
Information Security and Audit Policies
Most organizations have data management objectives and specific policies around tracking the flow of sensitive information, use of thumb drives, cloud storage, etc. Print Archiving has been developed with such security and auditing considerations in mind, giving your IT team the tools to:
Comply with externally mandated and legal requirements, such as Sarbanes-Oxley and best practice audit procedures.
Support your organization's needs to protect its own intellectual property and that of your customers.
Monitor inappropriate material and potential illegal activity.
Ensure business resources are being used appropriately to minimize and reduce waste.
Sort and view archived content
Sometimes print job attributes are not sufficient when gathering information about print usage. Print Archiving utilizes image capture technologies via a spool file recorder and presents the contents of printed documents in the job log for a given printer, account or user.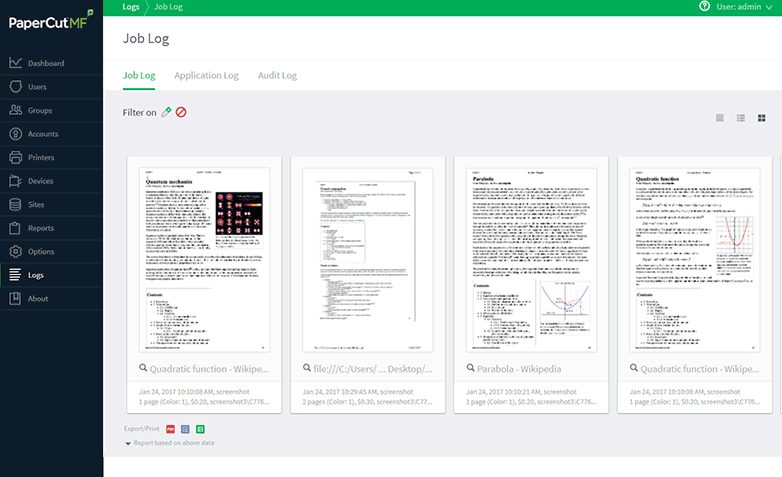 Assisting with business decisions
Print Archiving can be used by your IT infrastructure team to critically assess resourcing and make decisions with confidence. Are photo printing consumables being wasted on memos simply because of a convenient pick-up location? Should the marketing team have a single copier, or one for general printing and one for brochures?
Enterprise-level document retrieval
Printed documents are often considered to be 'lost' the moment they leave the printer tray. Print Archiving allows IT teams to apply concepts to physical printing that will be familiar from e-mail administration. Examples include 'restoring' print jobs, much like retrieving deleted e-mails from an inbox, or tracking the source of information leaks.
Any archived print jobs can be immediately re-printed, and locating them can be based on any combination of attributes such as owner, printer, date/time, server, project/department account, document name or even number of pages.
Usage Management (AKA Naughty Users)
Print Archiving equally applies to education environments; a system administrator can now remotely monitor not only the volume of printed pages, but also the content. Isolated and unsupervised printers are no longer open to rampant abuse, as administrators can now review printed documents on demand.
What else can Print Archiving do for me?
Government agencies with strict data retention no longer need to print in duplicate or triplicate, nor deal with the associated filing.
Architects retrieving printed customer records have no requirement to locate original source files and/or deal with complicated backup restoration mechanisms.
Professional organizations can immediately provide justification of all printing costs to clients querying service invoices.
The re-print of transient documents (such as from an accounting package) no longer involves repeating an entire run to obtain key pages.
And much more.