PaperCut MF for Samsung
Fully featured print management
PaperCut MF provides integration with Samsung XOX-E Multi Function Devices, enabling the tracking, charging and billing of "off the glass" copying, faxing and scanning.
Create a secure document environment, encourage responsible print behavior and make users or departments accountable for their usage with PaperCut MF on Samsung devices.
A rich set of application features
The PaperCut MF solution uses the capabilities of Samsung device to provide walk up copier (MFD) users with the same set of rich features provided by PaperCut's print control software. These include:
Monitoring and control of photocopying, scanning, faxing and on-device printing from device storage and USB drives
Enabling quotas, charging, allocation and logging of output
Allocation of all job types to accounts/departments/cost-centers/projects
Optional proximity/swipe card authentication on the device via supported USB readers
Releasing print jobs from a hold/release queue (secure printing)
Group-based access and control to the device, including color copying
End user authentication including integration with enterprise single sign-on environments such as Active Directory, Open Directory, eDirectory, LDAP and others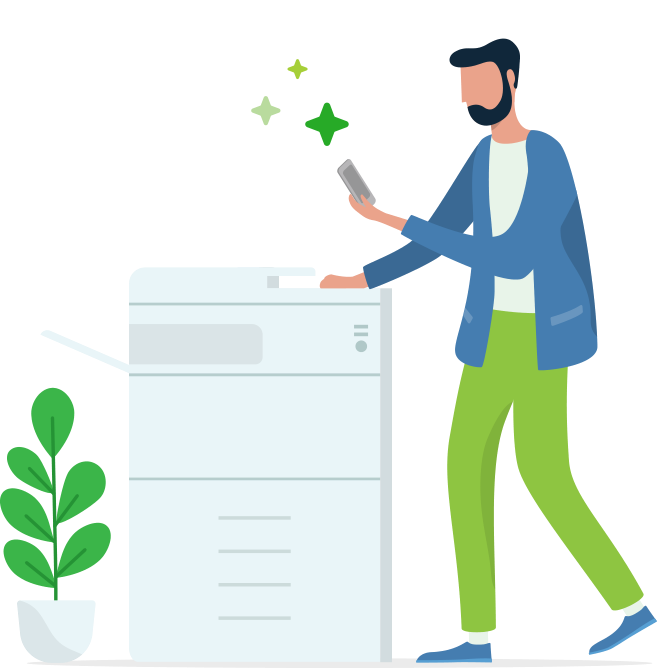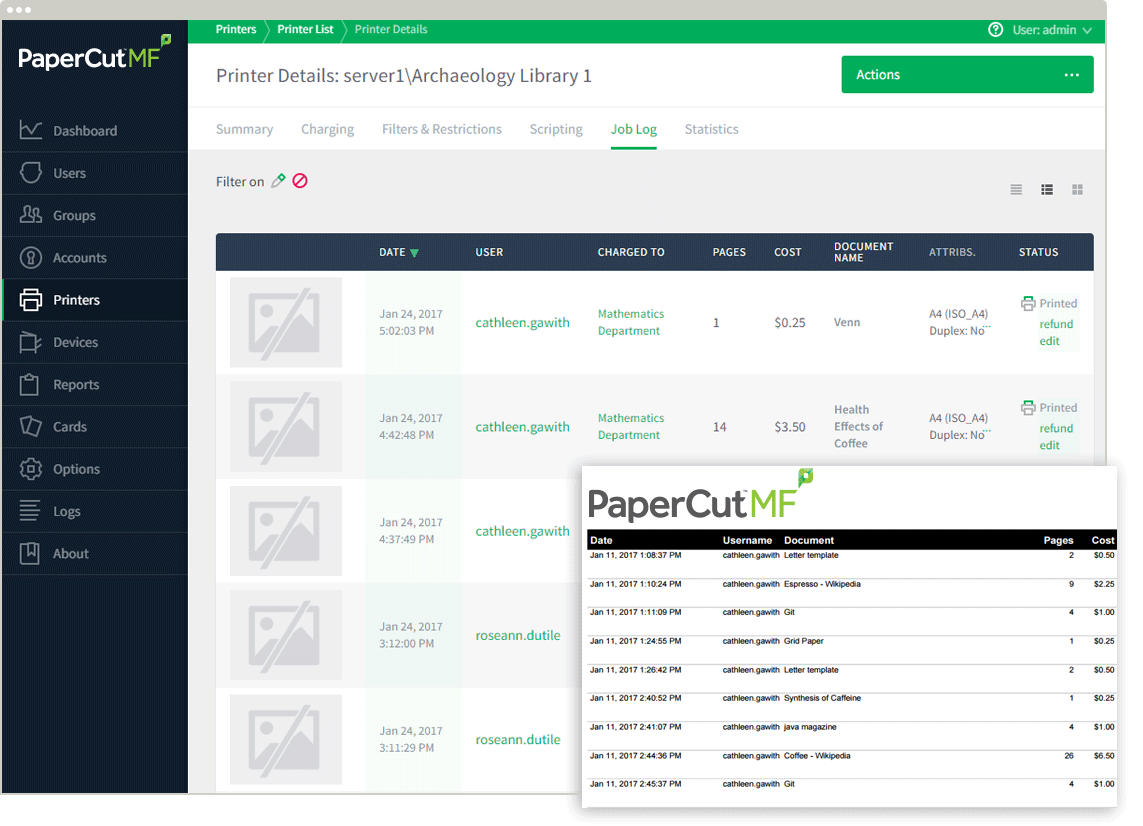 Consolidated reporting and management
Consolidated management and reporting in either summary or detailed formats are readily available at the click of a button for all copies and prints across your entire fleet:
By device (printers & copiers)
By user
By shared account (client, department, faculty)
By location
By date and time / period
By environmental impact
Consistency
The Samsung MFD solution is developed by the PaperCut Software development team. This means that the copier interface is consistent with the other PaperCut user interface; users only have to learn one system and one set of terminology.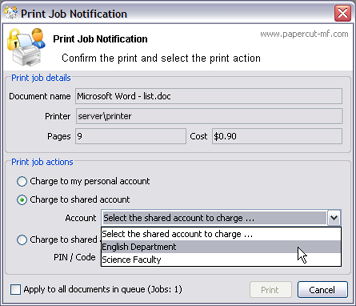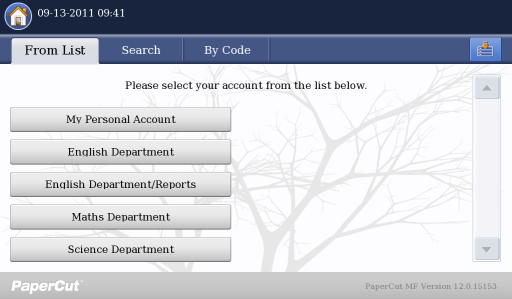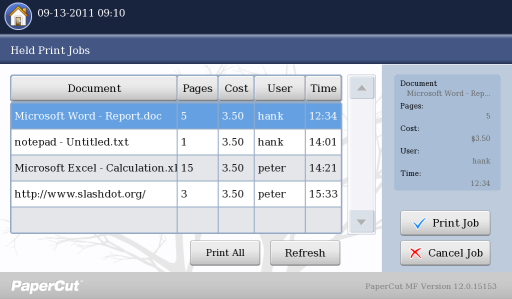 Integration
PaperCut MF is a single solution where print and copier control are all managed in the one system. Users have a single account and administrators have the same level of reporting and administration for all services.
Integrated Authentication
PaperCut MF uses your existing single sign-on infrastructure allowing users to log in with the same username and password used elsewhere on the network. No need to remember and maintain multiple logins!
Integrate with existing single sign-on environments such as:

Microsoft Active Directory
Apple Open Directory
Novell eDirectory
Other LDAP, NIS or POSIX environments

Optionally authenticate using convenient ID numbers and optional PINs for extra security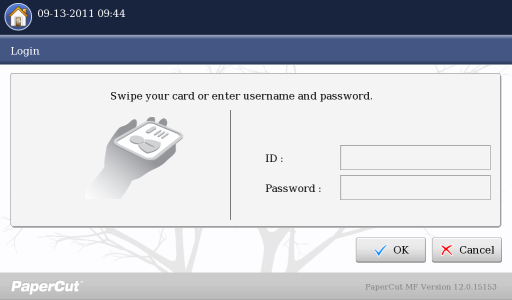 Seamless user experience
Provide users with the same account selection options they use for printing via the popup
If shared account access is granted, users have the option to select accounts from a list or using a PIN
Control access to accounts using Active Directory groups
Find-me printing integration
Also known as "Pull Printing", Find Me printing provides users in environments with several identical multi-function devices to print to a single virtual global queue. They can then walk up and log on to a device nearby available device and have their print job pulled from the global queue and printed on the spot.
Track faxing and scanning
Track scanning to e-mail or to a file
Track sending faxes
Simple per-page cost model or 2-tiered cost model for volume discounts
All usage reported in the PaperCut logs
Filter job logs to display just copy, fax or scan jobs
Track and control copying
Charge different types of copying at different rates
All usage reported in the PaperCut logs
Optionally limit amount of copying users can perform
Find your Samsung MFD model
C2680FX
CLX-8385NX
CLX-8640ND
CLX-8650ND
CLX-9201NA
CLX-9251NA
CLX-9301NA
CLX-9250ND
CLX-9350ND
CLX-9252ND
CLX-9352ND
SCX-5835NX
SCX-6545NX
SCX-6555NX
SCX-8030ND
SCX-8040ND
SCX-8128NX
SCX-8230NA
SCX-8240NA
K4250RX
K4300LX
K4350LX
K7400LX
K7500GX
K7600GX
M4370LX
M5370LX
M4080FX
M4580FX
M4583FX
X4220RX
X4250LX
X4300LX
X7400LX
X7500GX
X7600GX
We're not quite perfect... yet.
We try to make sure that all information on this page is current and correct, but since we have so many manufacturer friends, it's sometimes hard to get it 100% right. If you're unsure about a devices compatibility, by all means please get in touch and we will do our best to get you an answer!