PaperCut MF for RISO
Device access control, copy tracking and print job release developed by RISO compatible with PaperCut MF.
Print management for RISO ComColor devices
RISO Kagaku Corporation, Tokyo, Japan (an approved Integrated Technology partner for PaperCut Software) has developed firmware for the ComColor Series of high-speed devices that integrates with PaperCut MF.
Create a secure document environment, encourage responsible print behavior and make users or departments accountable for their usage with PaperCut MF on RISO ComColor devices.
User Authentication at the device via Username / Password and Card Authentication (Optional USB card reader required).
An easy user interface across RISO multifunction printers.
Account selection and Print Release at the touchscreen.
Dedicated RISO script for large print job redirection.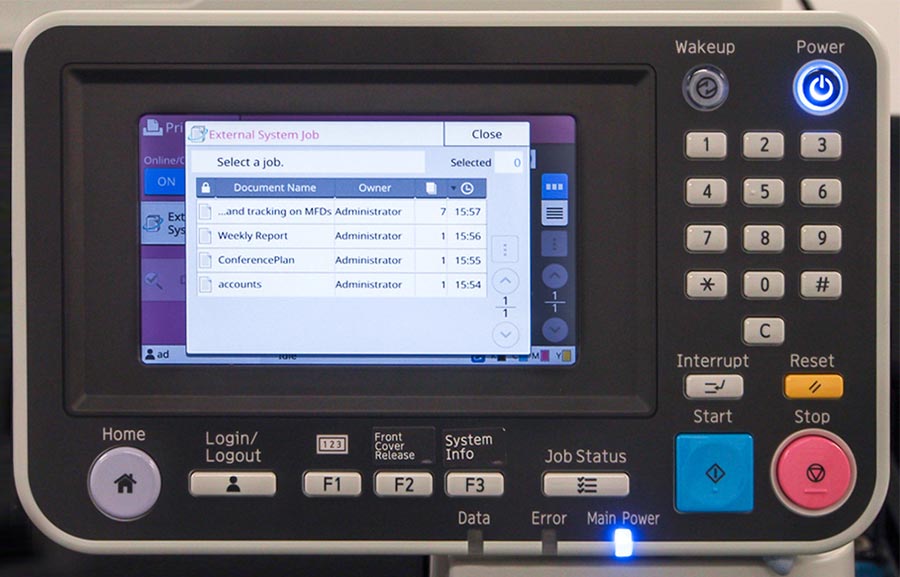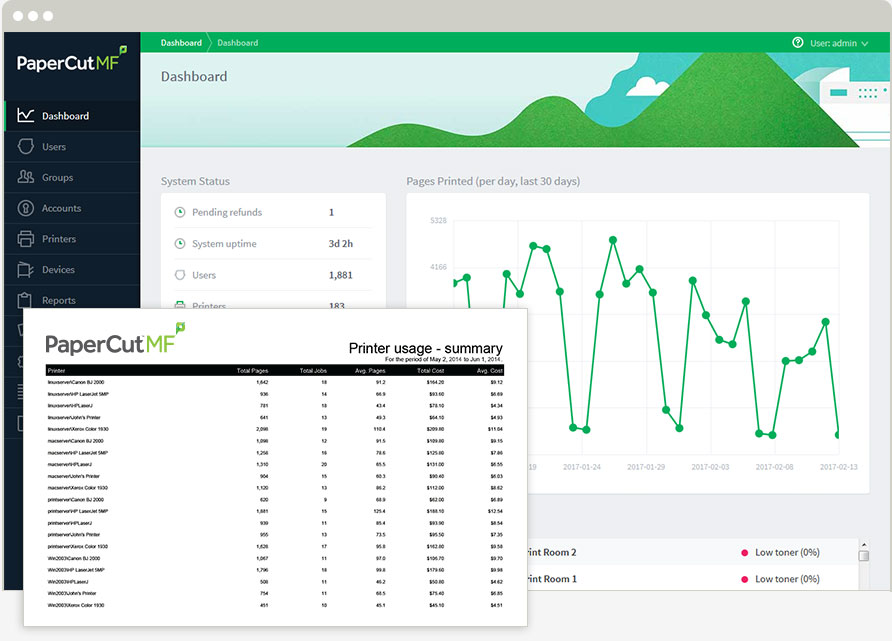 Print management by SysAdmins for SysAdmins
PaperCut MF's server software is easy to setup on a choice of operating systems (Windows, Linux, Mac and Novell) and all management is conducted from a single admin console.
Automatically detect queues on your server for easy setup
Easily import and sync users and groups from your directory
Define user access rights, page costs and quotas
Report on all print activity
What customers say about PaperCut MF and RISO
With over 1 million print jobs managed at Southend High School we think they know us well.
"Without RISO in the school and the PaperCut solution, it would be nearly impossible to manage the print solution effectively… The information that you get out of PaperCut to help manage your school is perfect."
Your RISO ComColor Device should be updated with the latest Firmware. If your device has older firmware running on it, you should contact your RISO supplier for an update.
PaperCut MF with a RISO Connector licence is available from your PaperCut or your RISO supplier.
To find a RISO supplier, please contact one of the PaperCut Authorized Solution Centers (ASCs) who distribute PaperCut in your region.
To ensure you receive the best quality support regarding your RISO PaperCut integration, please contact your PaperCut MF supplier and / or local RISO technical team.
ComColor GL 9730
ComColor GL 7430
ORPHIS GL 9730PREMIUM
ORPHIS GL 9730
ORPHIS GL 9730C
ORPHIS GL 9731
ORPHIS GL 7430
ORPHIS GL 7430C
闪彩印王 GL 9730
闪彩印王 GL 7430
ORPHIS FT 5430
ORPHIS FT 5230
ORPHIS FT 5230A
ORPHIS FT 2430
ORPHIS FT 1430
ORPHIS FT 5231
ComColor FT 5430
ComColor FT 5230
ComColor FT 5000
ComColor FT 2430
ComColor FT 1430
ComColor FT 5231
闪彩印王 FT 5430
闪彩印王 FT 5230
闪彩印王 FT 2430
闪彩印王 FT 1430
ComColor GD 9630
ComColor GD 9631
ComColor GD 7330
ORPHIS GD 9630
ORPHIS GD 9630C
ORPHIS GD 9631
ORPHIS GD 7730
ORPHIS GD 7730C
闪彩印王 GD 9630
闪彩印王 GD 7730
ComColor FW 5230
ComColor FW 5231
ComColor FW 5000
ComColor FW 2230
ComColor FW 2130
ORPHIS FW 5230
ORPHIS FW 5230 II
ORPHIS FW 5230A
ORPHIS FW 5230A II
ORPHIS FW 5231
ORPHIS FW 5231 II
ORPHIS FW 2230
ORPHIS FW 1230
闪彩印王 FW 5230
闪彩印王 FW 5231
闪彩印王 FW 2230
闪彩印王 FW 1230
ComColor 9150
ComColor 9110
ComColor 7150
ComColor 7110
ComColor 3150
ComColor 3110
ComColor 2150
ORPHIS EX 9050
ORPHIS EX 9000
ORPHIS EX 7250
ORPHIS EX 7250A
ORPHIS EX 7200
ORPHIS EX 7200L
闪彩印王 9150
闪彩印王 7150
闪彩印王 2150
闪彩印王 2120
We're not quite perfect... yet.
We try to make sure that all information on this page is current and correct, but since we have so many manufacturer friends, it's sometimes hard to get it 100% right. If you're unsure about a devices compatibility, by all means please get in touch and we will do our best to get you an answer!