We sell PaperCut MF through authorized partners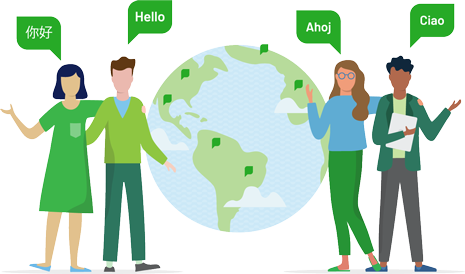 THE POWER OF A PARTNER NETWORK
Available through our authorized partners
Many of our customers have complex environments and require local expertise.
We supply and support PaperCut MF through a group of trusted and authorized partners. They work with resellers located in your area and can speak your language to provide you with peace of mind, knowing that you have local support (if required).
Let's get you going with PaperCut MF
Get in touch and we'll help you find the right Partner
For the best possible customer experience, PaperCut has partnered with trusted Authorized Partners in each region. They will help guide you in the selection and configuration of PaperCut MF.
Or, select your region to find a Partner:
How do I purchase PaperCut MF?
To ensure the seamless installation of PaperCut MF and integration with your Multifunction devices, we offer PaperCut MF through our network of Authorized Solution Centers and their authorized resellers. In many cases, the company that supplies you with your copiers and MFDs will also be able to supply and support your PaperCut MF solution. If you find this isn't the case (or not an option for you) drop us a line and we'll point you in the direction of an awesome organization to support you.
Why can't I purchase PaperCut MF directly online?
It's a question we get asked a lot. And the answer lies in the embedded functionality on each of the Multifunction Devices (MFDs). Because of the extra complexity and the integration between the software and the device firmware, we've found it needs a little more care and attention.
So we've engaged a worldwide network of Authorized Solutions Centers and Resellers whose sole responsibility is to ensure your implementation goes well. These PaperCut experts will help conceive and configure your solution during the pre-installation phase. They'll install and set up your PaperCut instance and get your devices humming. Onsite training localized ongoing support is also available from most resellers.
What do I get when I purchase?
After your order is placed, our speedy licensing team will work with your reseller to turn around the order and send back a license (supplied as a file). Depending on how much coffee our team has had that day, the reseller should receive your license within 24 hours.
Do you allow refunds or cancellations?
If by any chance you've purchased and the PaperCut product doesn't live up to your expectations and our support team haven't been able to resolve your printing issues, please contact your reseller. They will get in touch with us and we'll do everything we can to make it right. If you still want to cancel, no problem. We may deduct a small administrative fee depending on how long you've held the license. See our refund policy for details.
Is the price negotiable?
Well, you wouldn't be a savvy shopper if you didn't ask the question, right? We spend a lot of time putting fair and reasonable pricing together for our software. And we jam an awful lot of functionality in there too. Most of our customers recoup their costs in months, if not weeks - depending on their printing volume. So we keep the price consistent and avoid the haggling. Now if you have special circumstances, please contact us. We do have initiatives to help organizations in developing countries or non-profits. Our goal is to ensure that everyone can benefit from PaperCut.
Why is PaperCut MF's price not listed online
Unlike our PaperCut NG product- where typically a single component license is all that is needed - PaperCut MF consists of additional software and hardware variations depending on your print environment. The licensing model gets a little more involved and a lot more customized for your organization. (We've put together thousands of solutions that integrate dozens of hardware and software products - and we have no control over pricing for any 3rd party elements.)
So a one-size-fits-all pricing table doesn't make too much sense to us.
But we do make sure that our resellers are providing you with the highest value for money, and we maintain a global Recommended Retail Price (RRP) list. To calculate the exact price for your PaperCut MF solution, we recommend getting a custom quote from one or more resellers. And of course you can contact us directly for advice.
I've contacted a reseller and the price quoted seems expensive when compared to simple PaperCut NG. Why?
Adding hardware, professional services and more into the mix makes things quite a bit more expensive. Having said that, time and time again our customers have said that the costs of PaperCut MF are a fraction of similar featured products. And of course, by adding track and control for all printing, copying, scanning and faxing, you can quickly get substantial savings or cost recovery programs in place.
We encourage you to compare the capabilities of PaperCut MF with other similar solutions. And if you have any questions, we're here to answer them.
Is PaperCut MF Maintenance & Support mandatory?
Due to the added cost and complexity to offer and supply PaperCut MF with either hardware or embedded we've found it necessary to include the first year's Maintenance & Support with each PaperCut MF license. This ensures your peace of mind that your installation will be well looked after - even if something happens outside our direct control. (e.g. Sometimes the firmware level requirement in your MFD changes in the first year).
With that year subscription of M&S, you get every version upgrade included in the year, and phone, email, and chat support. No question is too small! As part of an active M&S, you also get access to subscription based features such as Scan to Cloud Storage.
Maintenance & Support (M&S) is mandatory for the first year and strongly advised for subsequent years. The less-short answer: If you opt to discontinue Maintenance & Support after the first year (or any subsequent year for that matter), you won't have access to any further upgrades. Similarly, compatibility with future driver or operating system updates cannot be guaranteed. Also, active M&S is required for any additions to an existing PaperCut MF license. And if you're using add-on services such as Scan to Cloud Storage and OCR, M&S is required to activate these services. So, while M&S's not compulsory, it's pretty important and highly recommended!
In some cases, resellers and Authorized Solution Centers (ASC's) may offer additional value-added support or professional services. Determination of whether you should take up these services is yours, however we can advise as needed on the value our ASCs bring.
I'm already using PaperCut NG. How do I upgrade? What will the cost change be?
There's no need to purchase a whole new license. We keep the process of upgrading to PaperCut MF as simple as possible. All of your settings and configurations will be transferred, and conversion of the base license will take typically 30 minutes or so. Any additional embedded license connectors will be rolled into your new PaperCut MF license.
For anyone who is currently running PaperCut NG, you're given a substantial credit toward the new solution. Be sure to mention your existing license to your accredited PaperCut reseller and they'll take care of you.
What is the difference between an ASC and Reseller?
An Authorized Solution Center (ASC) is our most qualified reseller level. These experts are best thought of as local PaperCut specialists. We carefully select ASCs based on a set of criteria that carefully match PaperCut's own business approach:
Vendor Independent - our ASCs don't sell MFDs, and so remain focused on your solution
Experienced - Our ASCs have been in the copier control industry for many years
Skilled in both software and hardware, and focused on providing the right solution for you
Technically proficient
Great people who are easy to get along with!
A reseller is typically a company "in the trade" where PaperCut MF forms an integral part of their solutions offerings. Typically they are a printer or copier vendor-aligned organization such as copier/printer supplier, reseller, or MPS provider. Resellers usually have in depth knowledge of the local region, and will work with your business to either supply a limited PaperCut MF option (e.g. embedded solutions on their device) or partner with a PaperCut ASC to deliver a complete solution under one roof.
How do I contact a reseller?
It's best to contact PaperCut directly to find the most suitable Authorized Partner located in your country. A list of Authorized Partners can also be found on our website. The Authorized Partner will work with you to determine the right reseller for you. When working with a reseller, be sure to have all of your information at hand:
Are you a current PaperCut NG user? (Look for your license number in the About tab of your admin screen.)
What type of organization are you? (e.g. education, professional services, non-profit, government or corporate)
How many users will access the service?
What are the makes and models of MFDs/copiers do you have?
How will users access/authenticate at the devices? (e.g. card type, account code or login)
What server and user environments do you operate? (Windows, Novell, Mac, Linux)
What are the main objectives (e.g. charge students or patrons for use, account for staff billing, minimize waste or implement "Find-Me Printing")
What happens if I change copier/MFD/printer brands?
The answer varies depending on the type of device and interface.
Want to change your printers?
PaperCut automatically works with the vast majority of printers in the market. Changing your printers is as simple as setting up new drivers on your servers. The software will do the rest! There is no additional licensing.
Switching up your MFDs or copiers?
Embedded software designed for one brand will not work on another. We'd love to have a universal solution, but you'll need to install the embedded software specific to each new MFD. Embedded solutions are licensed by make/brand and have license connector fees associated with them. However we do have a change-over program that allows the reseller that sold you the original embedded software to trade-in against a different embedded software at a reduced price, thereby protecting your investment. Before making the switch we recommend talking with your PaperCut reseller or ASC. They can advise on how the other embedded solution may differ in terms of end-user functions and experience, and what costs and processes are involved.
Getting new Copier Control Hardware Terminals?
The majority of cases copier control terminals will need some simple reconfiguring to connect to a different copier type. This configuration many involve some setting changes and often a new cable or connection. Your PaperCut ASC who installed your system can advise you.
My company has two different sites. How does licensing work for me?
Licensing works the same way for one site or many locations. Your license is structured for the total number of print devices in your organization. (Note: There are many ways to implement a multi-site solution, but you will only need one license.)
Can I use my license over more than two sites?
Yes you can. We're happy to have a single license used across multiple sites within the same organization (i.e. a true organization-wide license). Like above, your license simply needs to cover the sum of the devices at all locations.
Is there a limit on the number of servers?
No. Licensing for PaperCut MF is based only on the number of print devices you have in your organization. It's a true organization-wide license with no limit on the number of servers, workstations, or printers. If high network availability is a concern for you, take a look at PaperCut's Site Server option. You can design your solution to provide resilient print capability in your organization.
Can I use my license with other operating systems?
Absolutely! Your PaperCut license may be used on any operating system. Multiple servers is not a problem, and each server or workstation may run any of the supported operating systems.
Do you offer special pricing for non-profit organizations?
We sure do. It's the same as our cost-effective Education pricing.
Eligibility
If you're a registered charity/non-profit organization (NPO), you're eligible for our non-profit pricing.
You're most likely a registered NPO if:
you have a Charitable Registration Number (you're likely to have it listed on your website); or 501c3.
you're in your country's Charity Register Database.
Depending on your country, you might be registered in another way – so be sure to read our tips and links below.
Still unsure? Get in touch, and we'll be happy to help.
What is the SMB Bundle?
SMB Bundle is a product PaperCut created specificaly for commercial organizations with 5 or less embedded and 100 or less users.
Does the SMB bundle have different functionality?
No, PaperCut's SMB Bundle is a licensing option which includes 100 users with up to 5 embedded licenses.
Why isn't Professional licensing available with the SMB Bundle?
The SMB bundle is specifically designed for commercial licenses that don't require the advance client - you can still add the advanced client to a commercial license if not all users require this functionality.
Can I add to the SMB Bundle?
Yes - you can add to the SMB Bundle like any other license, as long as you stay within the 5 embedded license and under 100 user threshold.
How do I buy the SMB Bundle?
Ask your reseller or ASC.
What if my question isn't answered here?
If you've got a sticky situation that needs some extra attention, let's figure it out together. (Probably over a coffee or two.) Please send an email or get in touch.
Want to get going?
Of course you do!
One of our customer care team will get in touch to work out the best way to get PaperCut MF into your organisation.