PaperCut MF for Fujifilm Business Innovation
Seamless integration with Fujifilm Business Innovation multifunction devices for output management and cost recovery
Print management for Fujifilm Business Innovation Multifunction Printers (MFPs)
Take full control and manage your printing, copying, scanning and faxing with PaperCut MF on Fujifilm Business Innovation printers and multifunction devices.
The PaperCut integration for Fujifilm Business Innovation includes:
Secure documents with Find-Me printing, user authentication and Integrated Scanning
Provide users with simple BYOD printing from any device and operating system
Supported by your Fujifilm Business Innovation Reseller and a worldwide network of experts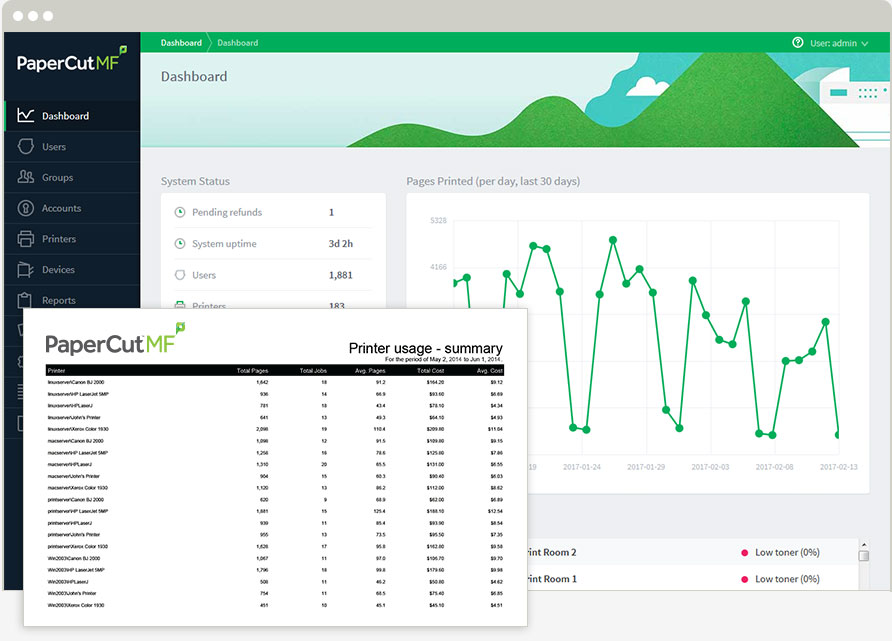 Play it by your rules
Need to reduce cost and waste in your business? No matter what your network size, it's simple with print policies and rules-based printing to define what is printed, how it is printed and where it is printed.
Report usage and costs by page, user, cost center/department, device and function and track environmental savings and benefits.
Automatically detect queues on your server for easy setup
Identify inefficiency and implement cost allocation
Easily import and sync users and groups from your directory
Define user access rights, page costs and quotas
Report on all print activity
Protect sensitive information
Leverage your existing sign-on infrastructure and put users in charge of their own documents with Find-Me printing. Set up printer job authentication for Fujifilm Business Innovation logins using Microsoft Active Directory, LDAP, or other authentication sources and enable Secure Print Release via username and password, ID numbers and PINs, proximity or swipe card.
Find your Fujifilm MFD model
Apeos
Please ensure that the latest firmware has been installed.
Model number
ApeosPro C650
ApeosPro C750
ApeosPro C850
Revoria Press E1100
Revoria Press E1110
Revoria Press E1125
Revoria Press E1136
Apeos 1860
Apeos 2560
Apeos 3060
Apeos 3560
Apeos 3570
Apeos 4570
Apeos 5570
Apeos 6340
Apeos C2060
Apeos C2360
Apeos C2560
Apeos C3060
Apeos C3070
Apeos C3570
Apeos C4570
Apeos C5240
Apeos C5570
Apeos C6570
Apeos C7070
Apeos C6580
Apeos C7580
Apeos C8180
We're not quite perfect... yet.
We try to make sure that all information on this page is current and correct, but since we have so many manufacturer friends, it's sometimes hard to get it 100% right. If you're unsure about a devices compatibility, by all means please get in touch and we will do our best to get you an answer!