PaperCut MF for Sindoh
Fully featured print management
Take full control and manage your printing, copying, scanning, and faxing with PaperCut MF on Sindoh printers and multifunction devices (MFDs).
Secure documents with Find-Me printing, user authentication, and Integrated Scanning.
Provide users with BYOD printing from any device and operating system.
Supported by your Sindoh Reseller and a worldwide network of experts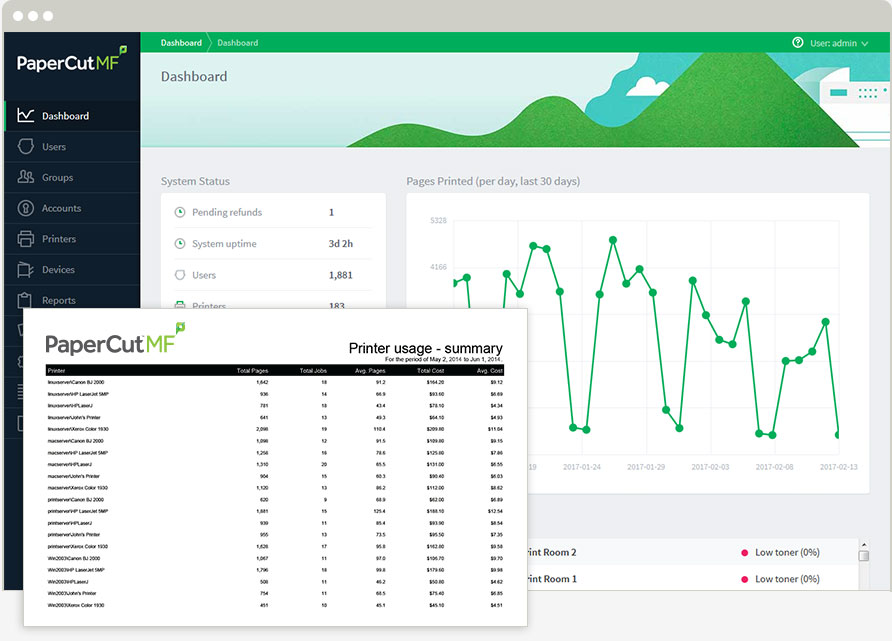 Play it by your rules
Need to reduce cost and waste in your business? No matter what your network size, it's simple - with print policies and rules-based printing - to define what is printed, how it's printed, and where it's printed.
Report usage and costs by page, user, cost center/department, device, and function and track environmental savings and benefits.
Automatically detect queues on your server for easy setup
Identify inefficiency and implement cost allocation
Easily import and sync users and groups from your directory
Define user access rights, page costs, and quotas
Report on all print activity
Integrated Scanning on Sindoh devices
PaperCut MF for Sindoh has both integrated printing and scanning capability. The all-in-one intuitive user interface provides a consistent and seamless experience allowing users to:
Securely scan documents to email and specified network folders
Control account, bill or charge every copy, print, scan, and fax with ease
Select multiple print jobs in the print queue to print or delete, or easily 'Print All' with quick-access buttons for common actions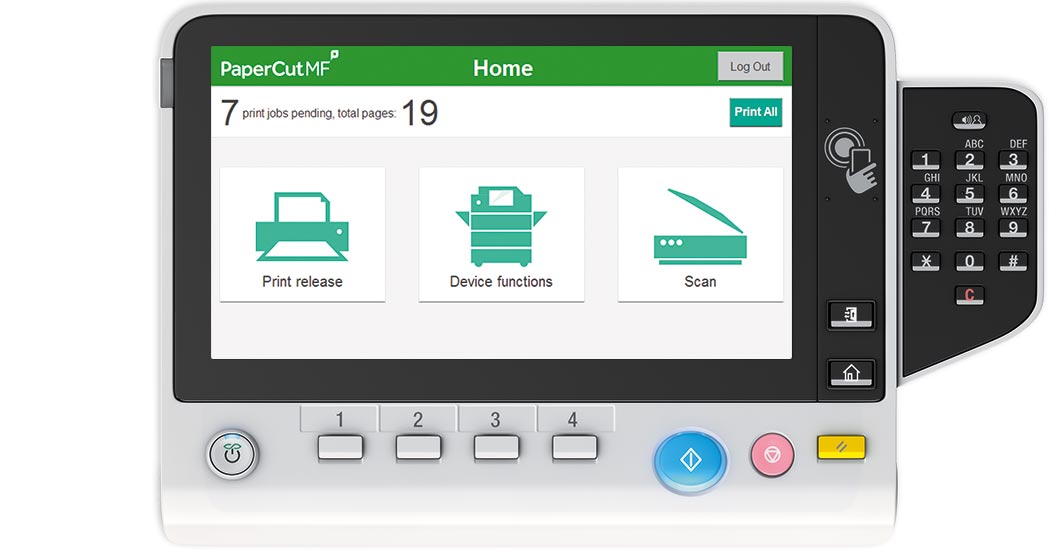 Find your Sindoh MFD model
Some notes to consider:
Integration with PaperCut MF has been developed by Sindoh in partnership with PaperCut. Please contact your local Sindoh partner for the solution software and documentation
Sindoh A611
Sindoh D310
Sindoh D311
Sindoh N410
Sindoh N411
Sindoh N510
Sindoh N511
Sindoh N512
Sindoh N610
Sindoh N611
Sindoh N612
Sindoh N613
We're not quite perfect... yet.
We try to make sure that all information on this page is current and correct, but since we have so many manufacturer friends, it's sometimes hard to get it 100% right. If you're unsure about a devices compatibility, by all means please get in touch and we will do our best to get you an answer!