All online, all in the cloud — any small business can jump into sustainable, secure, and easy printing
PaperCut Pocket is the first product using our new cloud platform and is brewing in our percolator/beta program. If you're a techie, early adopter, or have a liking for guinea pigs, we would love you to join the program. Check out the PaperCut Pocket percolator page.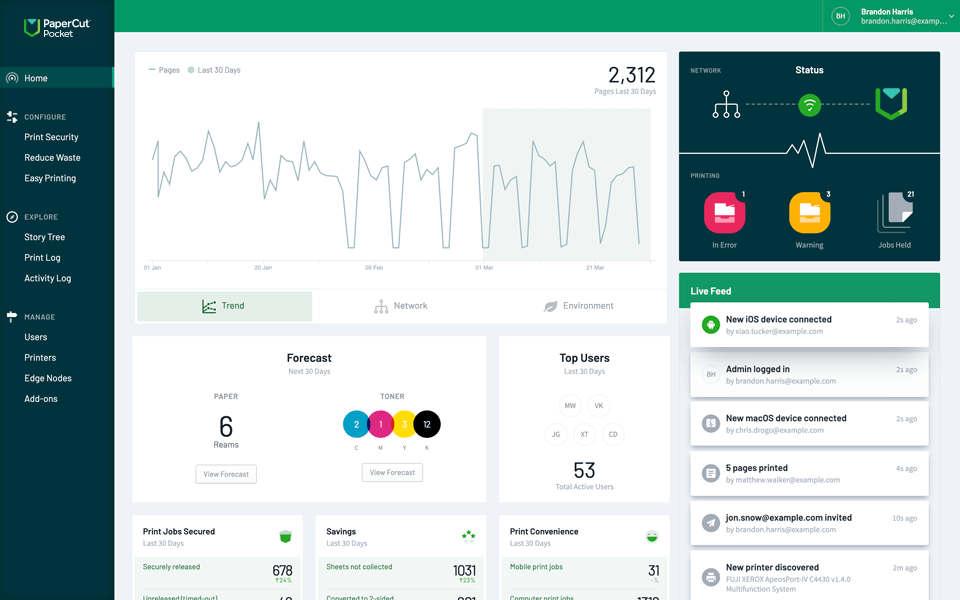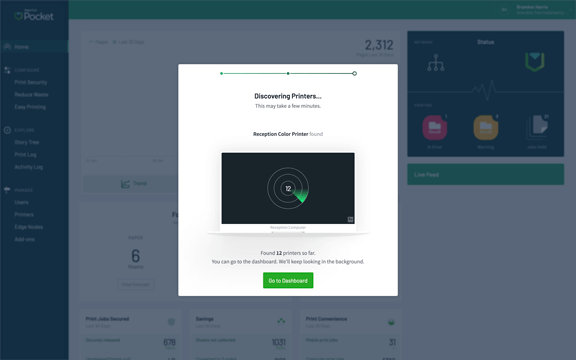 EASY PRINTING
Connect people with printers in minutes
No more pain configuring servers or setting up print queues and printer drivers. PaperCut Pocket does it all behind the scenes so you can get users printing ASAP on pretty much anything — all in record time, online, and with zero fuss.
Print from any device
Enable driver-free printing on Chromebooks, Android, macOS, iOS, and Windows devices in any combination.
Onboard anyone fast
Get people printing with easy invites — all you need is their email addresses.
And it's easy for you too...
Do you manage the network? Stay on top of printing with toner forecasts, insights, reminders, and more.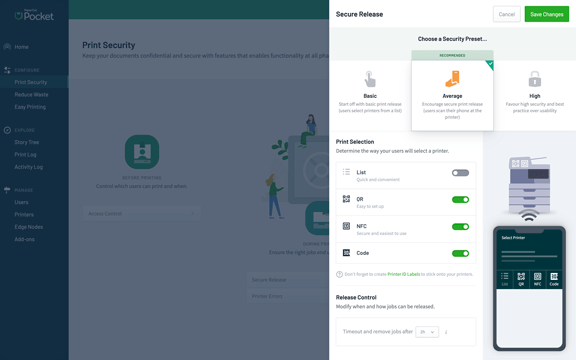 SECURE PRINTING
Protect documents before, during, and after printing
Have you ever printed the payroll and forgot to pick it up from the printer? You'll never have this problem with PaperCut Pocket. Use the power of your mobile phone for secure print release.
Before: Access control
Choose who prints, when, and where to keep activity above board and under budget.
During: Secure release
Securely collect your documents at the device by using your phone to scan a QR code or NFC.
After: Watermarking
Bring back document ownership. Promote responsible document handling by applying a username watermark or a digital signature.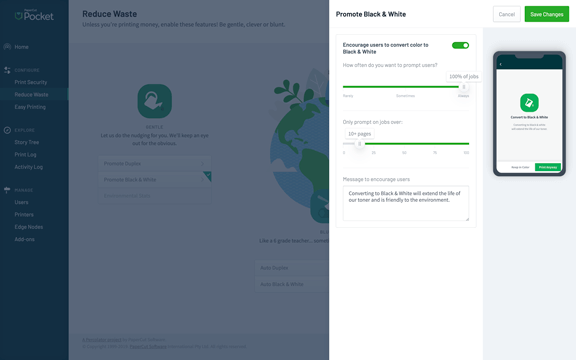 RESPONSIBLE PRINTING
Shrink your footprint and your bills
Giving back to the earth and your printing budget, PaperCut Pocket boasts eco-friendly policies perfect for small businesses — so you can use less paper, save on toner, and make sustainable habits the status quo.
Responsible reminders
Give users a friendly nudge to print 2-sided or black & white with timely in-app prompts.
Zero uncollected print jobs
Use Secure Print Release to stop the recycling bin from overflowing. Did you know that up to 12% of print jobs are uncollected?
Print job safety net
Oops, did you mean to print 9,999 pages? Turn on the safety net to catch the most common printing mistakes.
Let's dive deep...
A picture's worth a thousand words.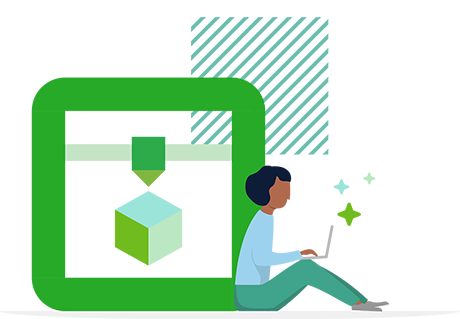 Mesh network
Engineered with some of the latest technologies, such as IoT, edge computing, and a zero-trust self-healing mesh network. The on-prem mesh keeps your printing reliable and fast, and your documents local and secure. Oh! And it also means you don't need any special hardware or servers on-site :-)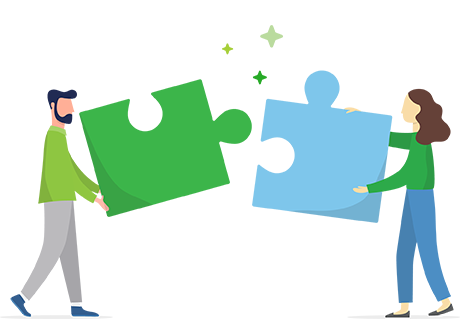 Do more with Add-ons
PaperCut Pocket is not just print management software, it's also a platform for integrating with other services that support your organization.
Support
Our support is so good it should be a feature — even with its geeky interface :-) Our team is full of sysadmins and a network of local PaperCut experts. With this and our knowledge base, we're geared to help.
Stump our support
Flexible pricing
Pay as you go, and only for users that actually print.
PaperCut Pocket FAQs
All the things you want to know about PaperCut Pocket
What size of organization is PaperCut Pocket suitable for?
PaperCut Pocket is suitable for small businesses with up to 250 users and 10 MFDs or printers. We haven't built a product but rather a Print Management Cloud Platform that scales to thousands of users. PaperCut Pocket is our first product released on our cloud platform. It's specifically designed to be simple enough so that any small business can set it up and benefit from it. PaperCut Pocket is real print management, just like the 'big businesses' use.
Can I print from Chromebook, Android, or iOS?
We support users printing on Mac, Windows, iOS, Android, and Chrome OS. Yes, even Chromebooks. Users and visitors just need to follow the simple steps in their email to download an App on their device. In no time they can use their device for printing.
How suitable is PaperCut Pocket for a Google Cloud Print alternative?
PaperCut Pocket has a set of real print management features which includes: secure print release by using the PaperCut Pocket mobile phone app; access control rules for who can access which printers and when; rules for Black & White or Duplex printing; and mobile pop-up messages to reduce waste by reminding people to print double sided or Black & White. If you are looking just for print enablement and printing over the internet our free Google Cloud Print alternative is a suitable solution for you, check out PaperCut Mobility Print.
Which type of printers do you support?
One of PaperCut's strengths over the last 20 years has been to support every printer and operating system. We've stayed true to this vision in this product. PaperCut Pocket works with every device and any printer or MFD.
Can users print from their phone?
Yes, we support printing from iPhone or Android mobile devices. Users just need to follow the simple steps in their email to download the mobile App. Make sure users know they need to be connected to the office WiFi network.
What about my visitors?
PaperCut Pocket's personalized email invitations help you to onboard anyone in minutes. Visitors can be invited, too, by simply typing their email address. They can self set up with step-by-step instructions in their welcome email, or they can just walk to any printer and scan the unique printer QR code.
How technical do I need to be to use PaperCut Pocket?
PaperCut Pocket is very intuitive and easy to use. It's super easy to set up and leverage without technical complexity, so anyone can use it from IT SysAdmins to office managers or receptionists.
Do I have access to upgrades?
This is a cloud service and as long as your subscription is active you will be running the latest version. There is no need to perform upgrades.
It's in beta... tell me about it?
To find out more about the beta program check out our percolator page.
Always Innovating
We've been releasing more and more cloud features in the last few years: Scan to Cloud Storage, cloud OCR, and PaperCut Views to name a few.
Just between us, the development of these features hasn't been random. It's been part of our strategy that's bringing more and more power to the cloud, retooling team skills, and making even more awesome products just like PaperCut Pocket.
Here's a timeline of how we got here and the roadmap for what's happening next:
EARLY 2016
How the product was born
Our first cloud product released. PaperCut Views is tracking printing for more than 50,000 organizations.
MID 2019
Maturing
Even more cloud features added to PaperCut MF - OCR, Scan to Cloud, etc.
DEC 2019
PaperCut Pocket beta released and accepting guinea pigs.
2020
Brewing
Fixing bugs and adding those features our lazy engineers haven't got around to doing yet. Check out the percolator.
COMING SOON
Forward-thinking
Maturing features to make printing easy for cloud-centric businesses.
Well done! You've got this far
Now let's go deep into the details...
What you will need
Your end users will need mobile phones (Android or iOS)
Desktop systems running Mac, ChromeOS, Windows
Organizations no bigger than 250 users and 20 printers (during beta)
Printer - any modern brand
Co-operative mindset and a sense of humor to enjoy jokes with technical people
Good English language skills, a passion for coffee
Join the conversation in the comments section below. Recommendations, complaints, questions – we want it all!
Looking for a Google Cloud Print alternative? Download for free, PaperCut Mobility Print, to enable printing from any BYO device (Chromebooks, Android, iPads, iPhones, Macs, and Windows) and print from anywhere over the internet.