Hey, you've landed on a page that we've updated and made even better! Go see the new section on our website called Discover.
This Discover section provides you with everything you need to know and covers stories and practices on how our customers use our solutions to get the most out of their printing, scanning and copying environments.
All topics are covered in the new section, but we may have written a page or two before our morning coffee, so we've left these pages active just in case :-)
Web Based Administration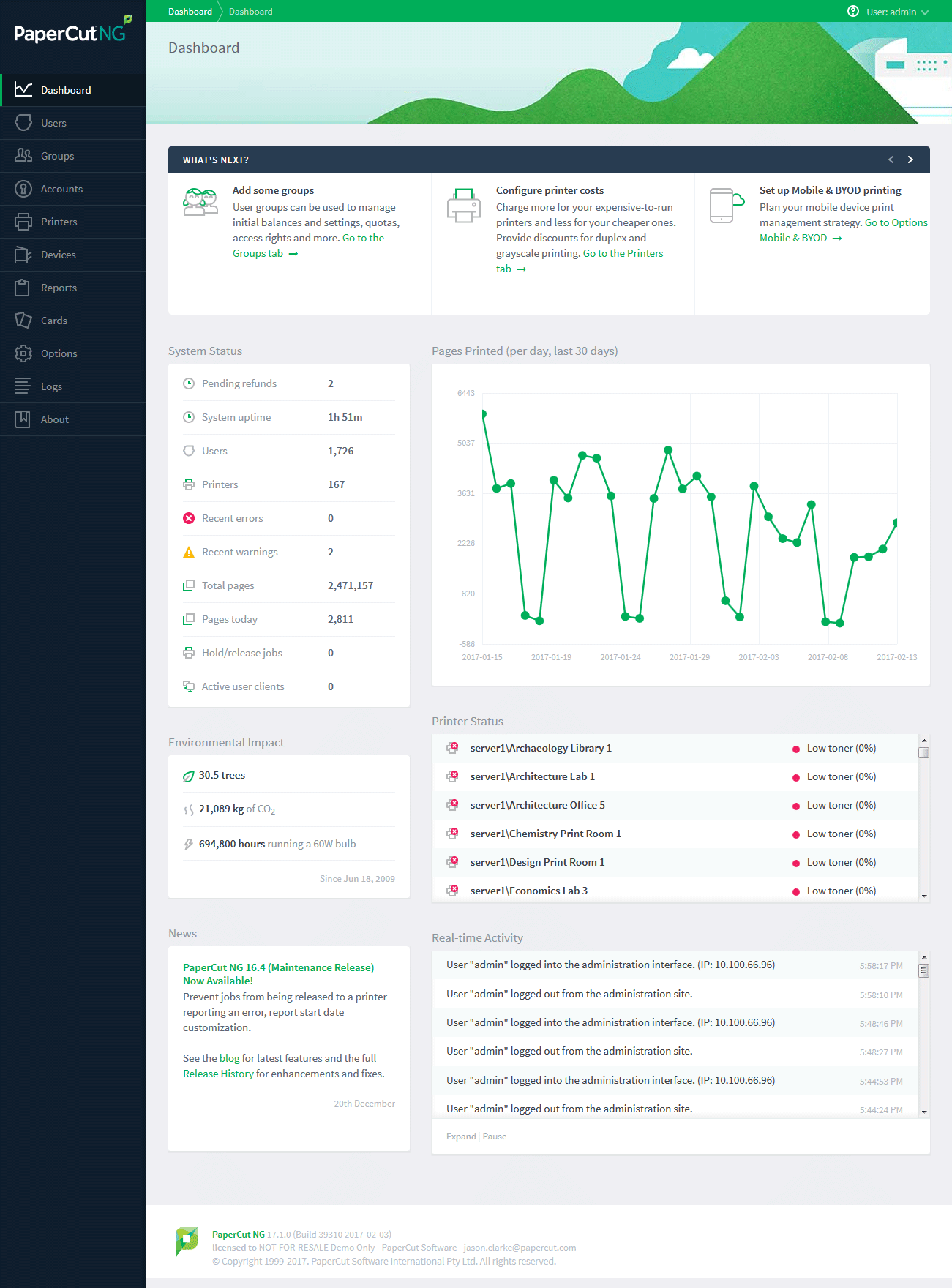 Displays an overview of all system activity and the current status of all your devices and users.
Automatically synchronizes with your user directory
Simple web based administration, accessible from anywhere on your network
---
Advanced Charging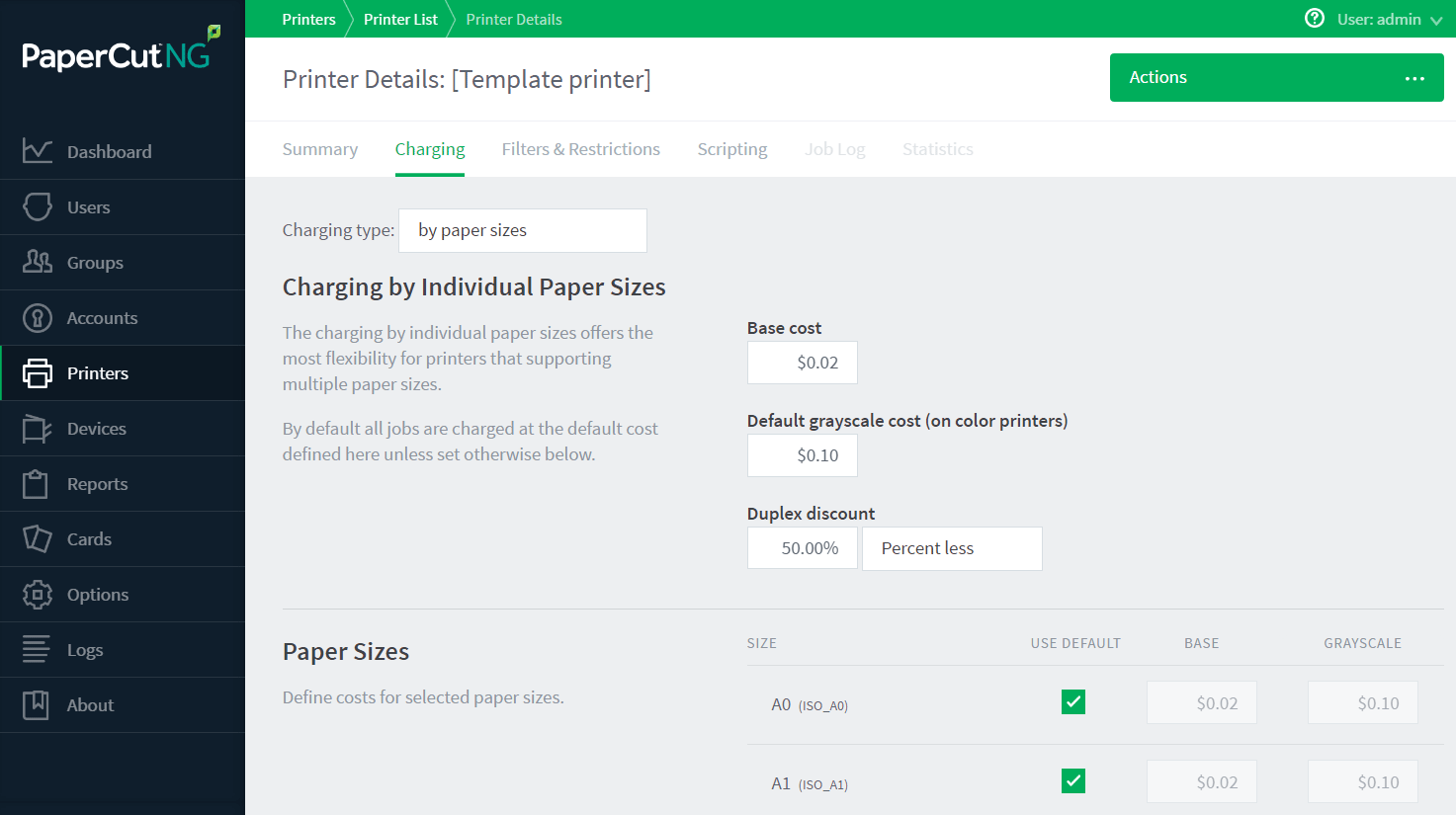 Define and track printing costs using simple or complex charging models
Implement enforced print quotas or simply silently manage the cost of printing
---
Reporting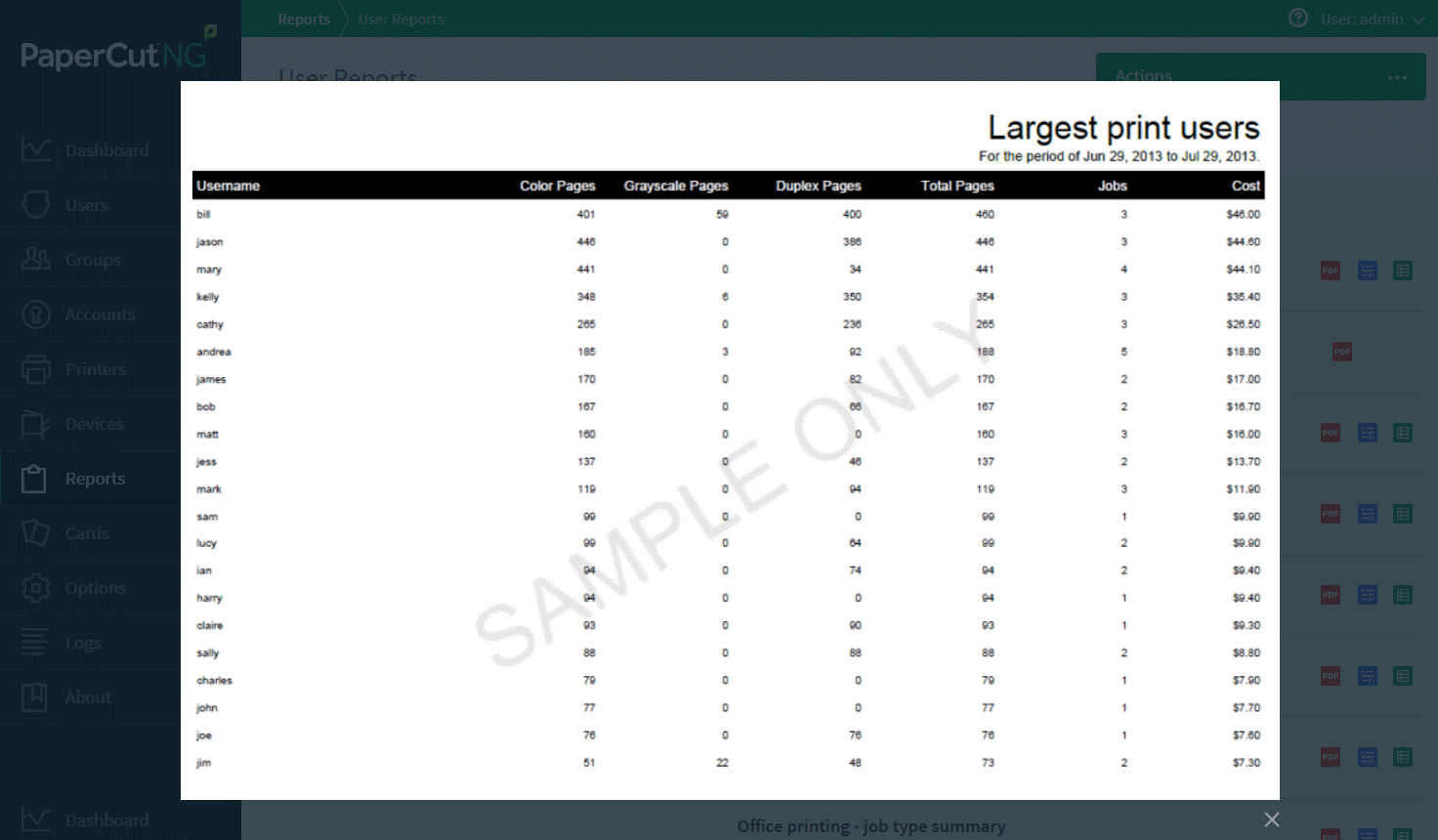 50+ one-click reports
Ad hoc reports and scheduled email reports
---
Distributed implementations
single-site, multi-server implementations,
multi-site, single-server implementations,
multi-site, multi-print server implementations,
multi-site, multi-application server implementations,
---
Google Cloud Print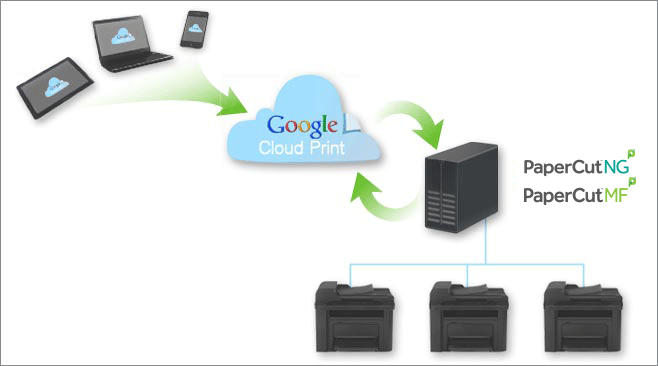 Centralize management of Google Cloud Print activity from Android, Chromebooks, Google Apps on iOS and other mobile devices.
Streamline deployment of Google Cloud Print to your network infrastructure.
---
Optional Client Software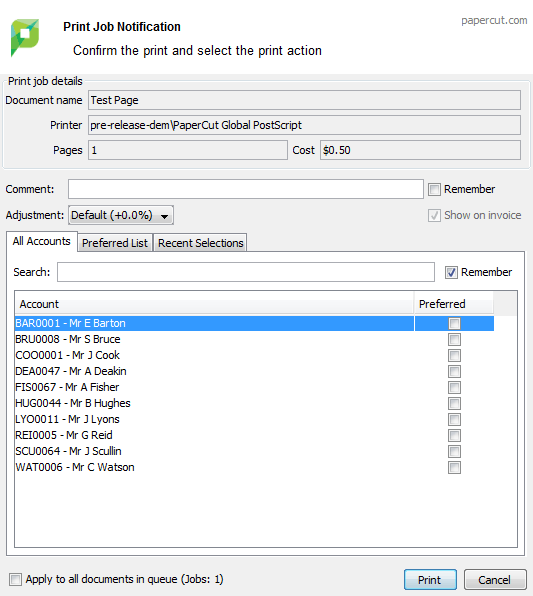 Displays real-time account balance
Optional popup windows for account/department selection and client billing
Pop-up screens for user interaction (e.g. account selection)
Optional, and easily deployed with zero-install strategy
---
End User Web Tools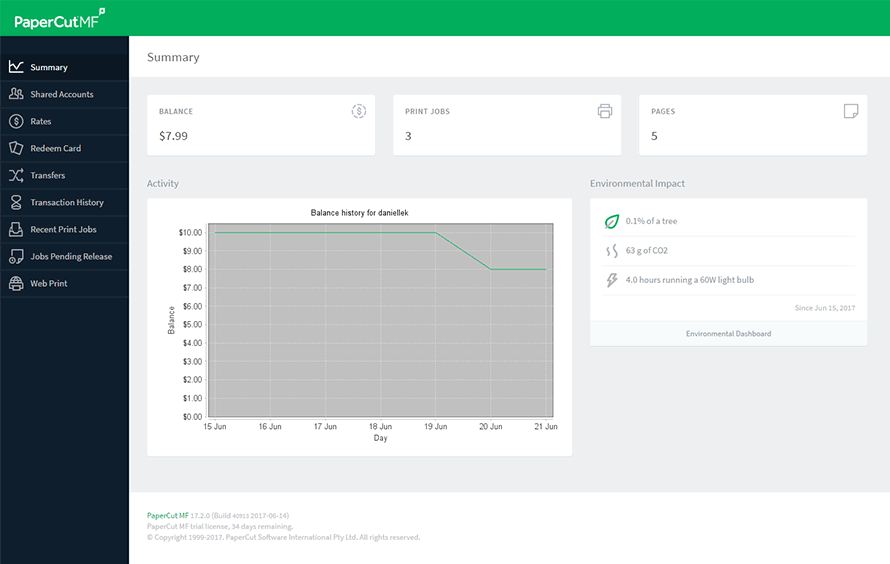 Empower end users with optional web tools:
View activity in real-time
Transfer quota to other users (for say group project printing)
Add cash to accounts via online payment gateways (e.g. credit card)
Online refund management system
Easily customize with your organization's brand and color.
---
Cross Platform
All platforms equally supported, both servers and workstations.
Synchronized releases for all platforms.
---
Web Print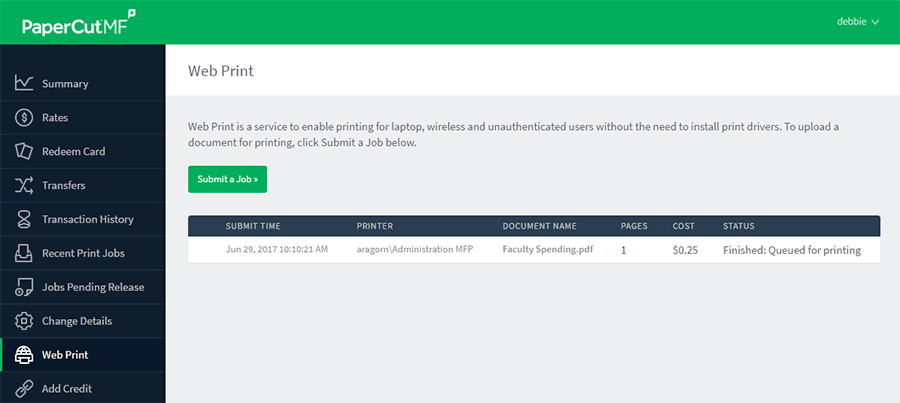 Driverless printing solution for user owned laptops
Users select printers and upload their document via a web browser
Supports PDF, XPS, Word, Excel, PowerPoint etc.
---
Translation
In use in over 100 countries and counting.
---
Advanced Scripting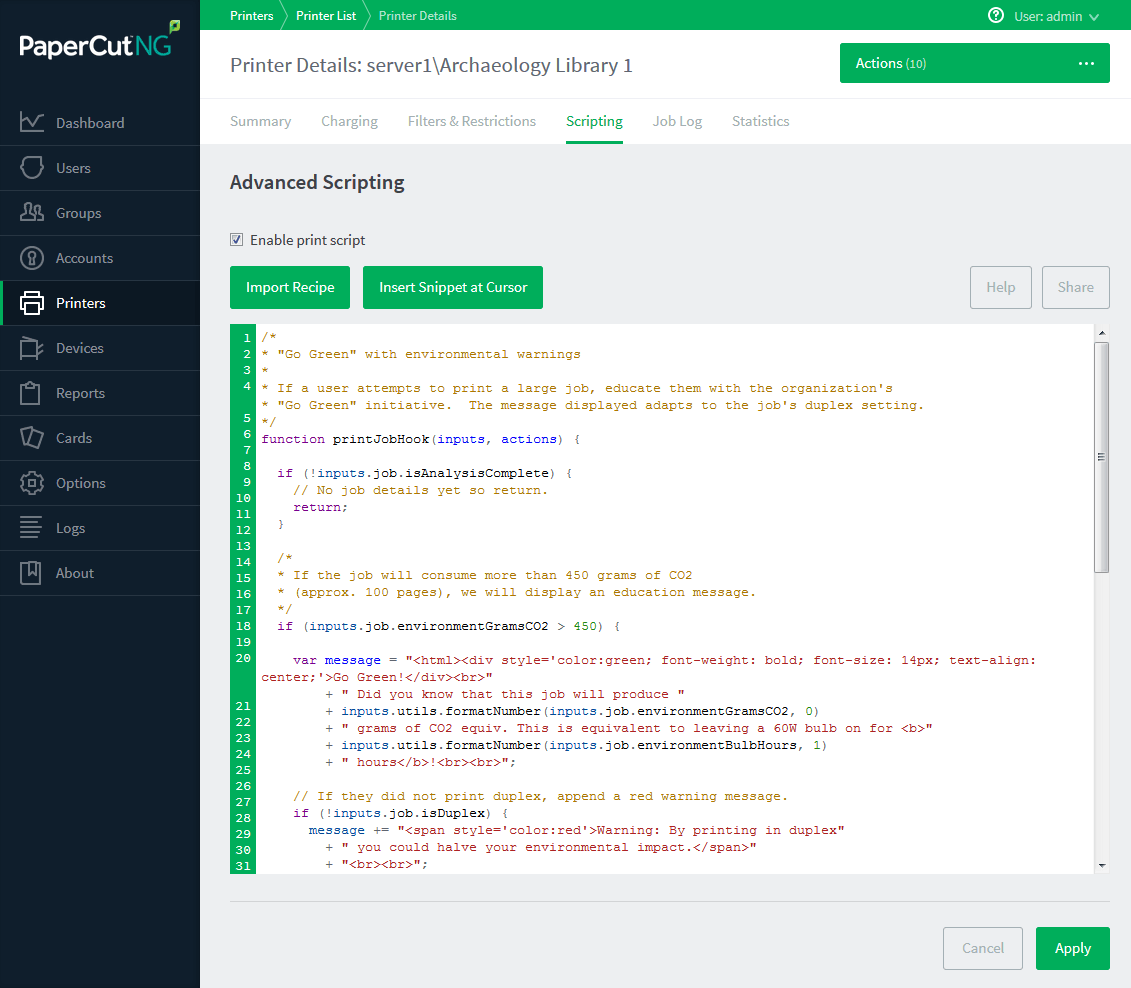 Improve your print workflow with advanced scripts, e.g. print routing, redirection and more.
Print management with end-user interaction: Ask the user via a popup "Did you really mean to print this email in color?"
---
Cool Widgets
Change user behavior by drawing attention to usage in a fun way.
Integrate into intranet sites using AJAX web widgets.
---
User Payments
Pre-paid top-up cards (voucher system) - a no fuss, zero cost solution for all.
Integration with many leading on-line payment services.
---
Print Release Stations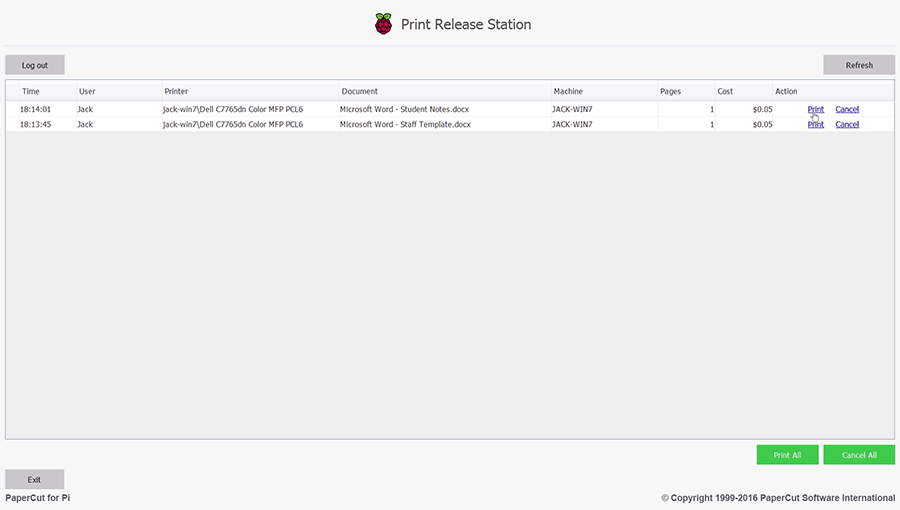 Optional release station software.
Implement secure print release and/or find me printing.
---
What You Can't See
An active and supportive user base (see testimonials)
A friendly, approachable development team
Transparent development process including feature voting
---
Experience it yourself
Experience PaperCut first hand. Check out the live demo or download our free 40 day trial.
Head over to the Live Demo
---
Organizations of all shapes and sizes rely on PaperCut
"By implementing scripts for color saving and assigning print jobs to central accounts we reached £50k in savings in just thirteen months! Papercut just keeps getting better with every release."

"With well designed interfaces and an excellent support service, we have implemented PaperCut University-wide and have been tracking student printing and saving on costs since 2008."

"We were looking for a cost-effective product that would cut our printing and consumables costs... and here it is! PaperCut does a great job and the easy installation and configurations makes it even more attractive."

"We need to make intelligent decisions about our print management as well implement a solution for accurate recharging and to raise awareness of the financial and environmental cost of printing. PaperCut ticked every box and then some and slotted perfectly into our network environment."

"PaperCut is a huge time-saver - with easy access straight from the desktop, it maintains all of our print management accounting for us and provides excellent print security."