Cloud print management with MFP embedded software, brewed with IoT and Edge Mesh
Look under the hood.
The on-prem mesh keeps your printing reliable and fast, and your documents local and secure. Oh! And it also means you don't need any special hardware or servers on-site :-).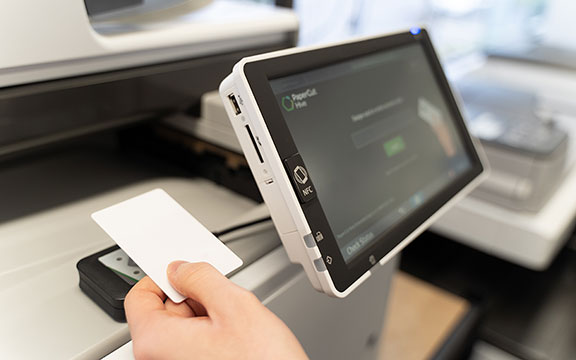 EASY PRINTING
Convenient printing for everyone
Somehow, printing got complicated, for both users and SysAdmins: BYOD and smartphones, multiple operating systems, mixed printer brands... well PaperCut Hive, with its serverless printing, makes printing easy again. Users simply print from any device to a single print queue and securely release their print job using their mobile phone or the MFP/MFD's touchscreen.
Print from any device to any printer in seconds
Print quickly from Chromebooks, Android, macOS, iOS, and Windows devices to any printer brand, without setting up printer drivers.
Convenient print release options
Print to one queue and pick up at any MFP/MFD using the simple 'tap and release' workflow powered by Find-Me printing.
Simple and quick onboarding for users and guests
Get people printing with simultaneous group invites - just sync with Office 365 (Microsoft 365) and soon in the pipeline, Google Workspace (former G Suite).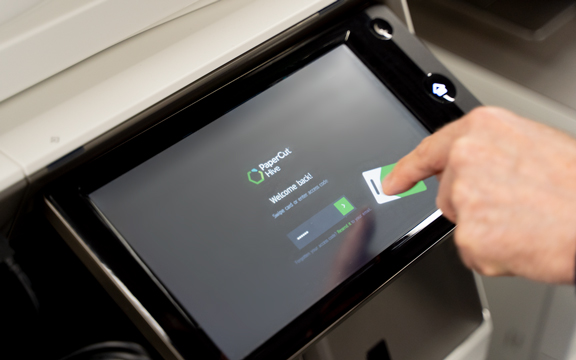 SECURE PRINTING
Keeping data secure for peace-of-mind printing
Have you ever forgotten to pick up the payroll from the printer? PaperCut Hive has security features built in to keep your documents private and on-site, helping to protect your data before, during, and after printing.
Before: Access control
Keep your printing activity above board and under budget with authentication at the MFD. Choose when and where users can print, copy, and scan.
During: Secure release
Securely collect jobs at the MFP/MFD using a phone, ID card or the MFD touchscreen. Innovative Edge Mesh and IoT tech keeps your documents in the local network.
After: Watermarking
Bring back document ownership. Promote responsible document handling by applying a username watermark or a digital signature.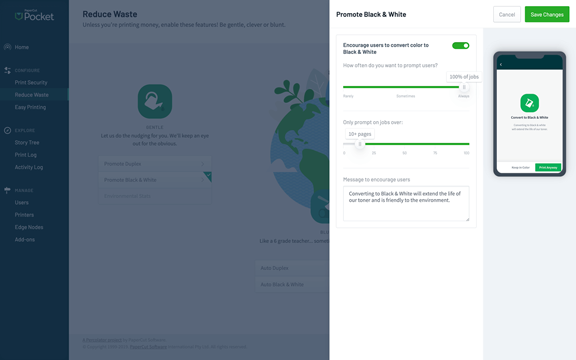 SUSTAINABLE PRINTING
Shrink your environmental footprint and your bills
Giving back to the earth and your printing budget, PaperCut Hive boasts eco-friendly policies perfect for businesses wanting to reduce their environmental impact — so you can reduce paper waste, save on toner/ink, and make sustainable habits the status quo.
Responsible reminders
Give users a friendly nudge to print 2-sided or black & white with timely in-touchscreen prompts.
Zero uncollected print jobs
Up to 12% of print jobs are uncollected. Track users' printing to identify opportunities to reduce waste. Secure Print Release stops overflowing recycling bins.
Print job safety net
Oops, did you mean to print 9,999 pages? Turn on the safety net to catch the most common printing mistakes.
PRINT COMPATIBILITY
Built for all brands and print platforms
Right out of the box we support serverless printing everywhere (we haven't found a printer yet that we can't support). We also developed cloud-based MFP/MFD embedded software for most brands with more being added all the time.
Printing on every brand
PaperCut Hive cloud print management software works with every brand, from Brother, Canon, Epson, HP, Konica Minolta, Kyocera, Lexmark, Ricoh, Sharp, Toshiba, Xerox, you get the point…
Touchscreen embedded software
Our PaperCut Hive touchscreen software enables secure print release for most MFP/MFD brands and we're adding more constantly.
Copy, scan and fax tracking
Full device visibility is not just tracking printing - track copy and scan as well! Visibility is the first step in empowering and building accountability.
World-class partner network for the best possible customer experience
Our team is full of SysAdmins, PaperCut gurus, and a partner network of local PaperCut experts who strive for the great customer experience and are passionate about sustainability. With this, our Help Center, and our Knowledge base, we're geared to help.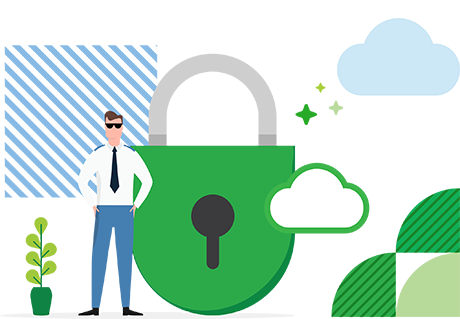 Secure, touch-free printing
We've re-invented how printing works with always verify, self healing mesh networks that take on hive-like characteristics. Using tech such as edge computing and IoT, Papercut Hive is secure, reliable, and provides a touchless printing environment... perfect for today's office environments with printers and MFP/MFDs.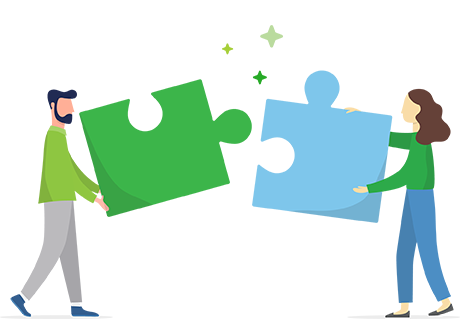 Do more with Add-ons
A highly advanced print management solution, PaperCut Hive is based on an innovative cloud-native platform that provides easy integrations with other services available that already support your organization. Together with our partner network we'll be building and bringing to live more Add-ons to support small business needs.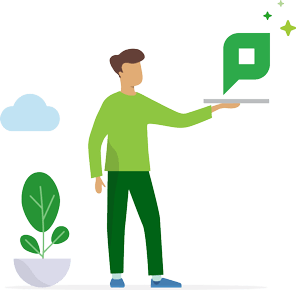 How to access PaperCut Hive
For the best possible customer experience, we sell PaperCut Hive through our certified network of partners who guide you in the selection and set up of PaperCut Hive.
Let us help put you in touch with the right partner in your local region.
HOW TO BUY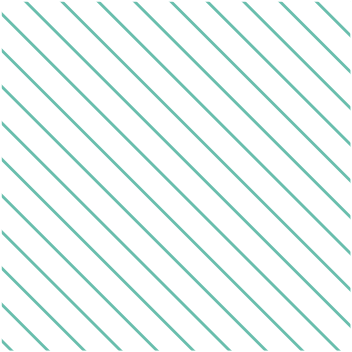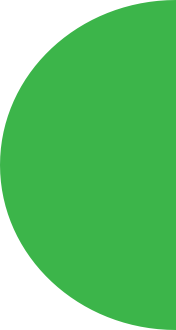 PaperCut Hive FAQs
All the things you want to know about PaperCut Hive.
Is PaperCut Hive easy to set up?
Yes it's easy to set up. With the help of our global partner network you can be set up in no time on most modern printers and MFDs. PaperCut Hive is based on the same design principles as PaperCut Pocket. We are super proud with the intuitive admin interface that allows you to quickly enable features that make printing secure, easy and sustainable.
Will PaperCut Hive work with my brand of MFP/MFD/printer?
One of PaperCut's strengths over the last 20 years has been to support every printer and operating system.
We've stayed true to this vision in this product. Over the first few months PaperCut Hive has been tested on printer models from pretty much every manufacturer, every brand and we're yet to find a brand we cannot support.
MFP/MFD touchscreen embedded software supports on-device secure print release and is available for leading printer brands; and we're adding more brands as you are reading this. Our goal is to support the same set of brands and modes of printers/MFPs/MFDs as supported by our flagship product PaperCut MF.
I'm a potential customer. How can I get Papercut Hive?
PaperCut Hive just like PaperCut MF is sold and supported by our global network of certified resellers and partners. Please reach out to us, let us know your story and let's talk about the best way to get PaperCut Hive in your hands.
Can I use PaperCut Hive in my school, high school, or university?
PaperCut Hive is used successfully around the world in lower to middle schools where only the teachers and staff print. We know that there are some areas in education that require features that PaperCut Hive doesn't currently support and we'll be introducing those features over time. Stay tuned for more announcements.
If you require specific advanced features in PaperCut Hive to cater for your Higher Education environment, let us know. In the meantime, all features are available in our flagship product, PaperCut MF, which was specifically designed for all levels of education. Education has special requirements and the initial phase of PaperCut Hive is not tailored for education. Check out
I'm a large enterprise. Is PaperCut Hive suitable for me to use?
We've designed PaperCut Hive to be enterprise scalable, with security and reliability at its core. An example of this is using the latest IoT technology such as Edge Mesh. For example, this is similar to what you see in modern lighting and security systems as they continue to work locally even if they lose connectivity to the cloud.
PaperCut Hive is suitable to scale up to any size in a wide range of industries and applications. As long as the PaperCut Hive feature set meets your print management requirements, it will certainly work for any number of devices. Should your environment require advanced features not currently available in PaperCut Hive, please speak to us about our flagship product, PaperCut MF, which can be self-hosted on premise or in the cloud.
Can I easily enable visitors/contractors to print with PaperCut Hive?
Computer says yes! It's super easy. The SysAdmin just sends the visitor an email invite so they can self-onboard. Or they can request access themselves by simply scanning the QR code at the MFD's label.
Is PaperCut Hive like PaperCut MF?
In some ways yes and in some ways no. PaperCut Hive, like PaperCut MF, integrates directly with the MFD or printer firmware. It provides advanced features (such as secure print release on the device) and usage tracking (such as print, copy, and scanning tracking). It is also a product that's serviced and supported by our global and partner network.
PaperCut Hive is designed to be only available as a fully-hosted product, while PaperCut MF includes the option to self-host.PaperCut MF is our flagship product and is packed full of features, many of which will make their way into PaperCut Hive gradually over time. Organizations needing the full power of print management should consider PaperCut MF.
Is PaperCut Hive like PaperCut Pocket?
Both products are our first products out of our new cloud-native platform. They share a lot of infrastructure but they are different in terms of features and functionality.
PaperCut Pocket is designed to be for self-set up and aimed at customers for DIY installation. PaperCut Hive integrates directly with MFDs and printers via embedded touch screen technology at the firmware level and contains much more advanced technology and many more features.
We have a global partner network that distributes PaperCut Hive and they have the skills and experience to support you to get the most out of the more advanced technology.
In addition to advanced MFD technology, PaperCut Hive includes a number of advanced Add-ons that empower customers in particular industries. Check out the product information on this page to learn more.
Can I use PaperCut Hive to control MFP/MFD access and track copy, fax, and scan?
Yes, that's one of the main differences between PaperCut Pocket and PaperCut Hive. We already have this functionality for most major print vendor brands and we're quickly rounding that out to have the same level of coverage PaperCut is known for.
We've been working with our global partner network and print manufacturers to ensure the PaperCut Hive MFD embedded software is cloud-ready and supported globally.
Can users print from their phones or tablets?
Yes, PaperCut Hive supports printing from iPhone/iOS or Android mobile devices/smartphones. This is a standard feature that is included by default. Users just need to follow the simple steps in their invitation email to download the PaperCut Hive mobile app. Additionally, they can also use the mobile app that provides a touch-free (contactless) print release experience at the MFP/MFD.
Does PaperCut Hive support swipe proximity cards for user authentication at the MFP/MFD?
Yes, we support most major card technologies out of the box including proximity cards like MIFARE, HID and NFC technologies. Or if you are into retro tech we can even dust off the good old barcode reader.
Your end-users can also self-associate their cards directly on the MFD without any admin interaction required.
Do I need a print server or a cloud account with Azure, AWS or Google Cloud Platform (GCP)?
No, PaperCut Hive is a true public cloud print management solution and it's fully-hosted for you. It's also a server-free product so there is no requirement for you to maintain a print server or have your own cloud account. Think of PaperCut Hive as your outsourced print infrastructure.
Always Innovating
PaperCut Hive is our latest and greatest cloud-native print management solution.
It's been part of our strategy not just to develop a cloud product, but a platform that would form the basis of our future printing solutions. Our goal was to rethink printing and challenge ourselves. We built cloud products from scratch, with world-leading security from the ground up, designed to scale to the biggest organizations in the world.
PaperCut Hive is the second product out of our cloud platform. As the premium product on our cloud platform, PaperCut Hive is the product that's getting most of our attention so we are adding more and more features all the time.
EARLY 2016
How the product was born
Our free cloud product released. PaperCut Views is tracking printing for more than 50,000 organizations.
MID 2019
Maturing
Even more cloud features added to PaperCut MF - OCR, Scan to Cloud, etc.
DEC 2019
Evolving cloud
Putting the first product of our multi-tenant cloud platform into the pockets of early beta testers.
JULY 2020
Beta released
Unleashed PaperCut Hive into the hands and onto the MFDs of our users.
MARCH 2021
3... 2...1...Take off!
PaperCut Hive released into the wild to solve your print management problems easier and faster by leveraging the cloud.
WHAT'S NEXT
What about education, enterprise and....?
Adding more and more cool features to PaperCut Hive.