PaperCut MF for Dell
Dell Embedded Software for PaperCut MF
PaperCut MF provides integration with Dell MFDs, to enable the tracking, charging or billing of network printing and "off the glass" copying, faxing and scanning.
Create a secure document environment, encourage responsible print behavior and make users or departments accountable for their usage with PaperCut MF on Dell devices.
A rich set of application features
The PaperCut MF embedded solution uses the Dell MFD built-in touchscreen to provide a rich set of application features including:
Tracking of all copies, prints, scans and faxes.
End user authentication, including integration with single sign-on to industry leading environments.
Optional magnetic and proximity (contactless) card swipe authentication via "off the shelf" USB based card readers
Group-based access and control to all supported MFDs / multi-function printers.
Charging and accounting by quotas, debit accounts and shared accounts which may represent a department, company, matter, project or other user group or cost center.
Secure Print release of confidential materials.
Support for "find me" printing, utilizing PaperCut MF's core web print, mobile print and mobile print release features.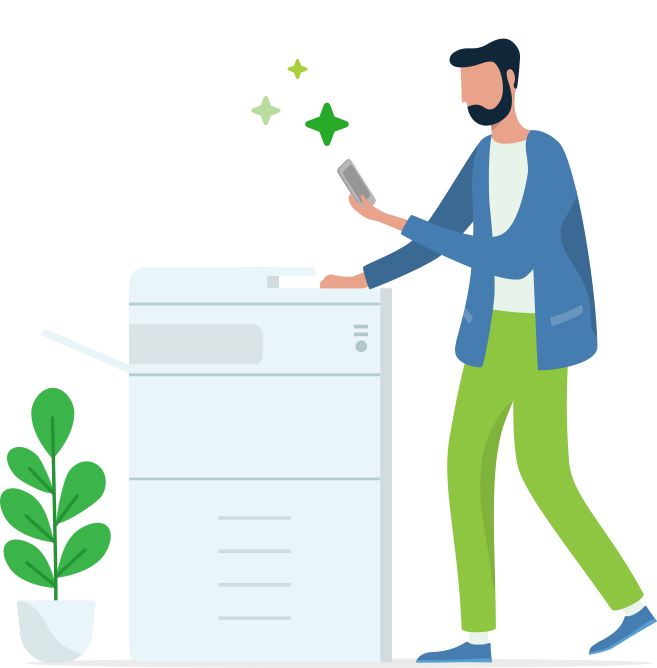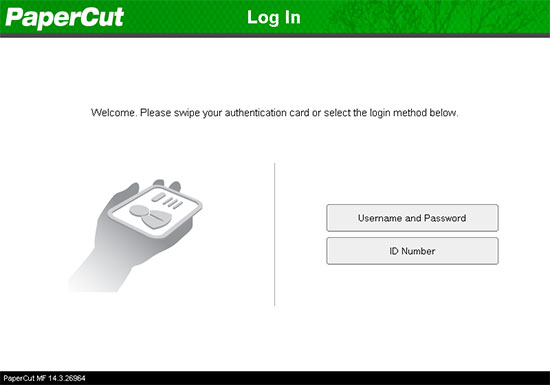 Authentication
PaperCut MF provides centralized management of all users, copiers and printers via a simple web based Administration console, where all copying and network printing can be managed together from a centrally adminstered location.
Leverage your existing single sign-on infrastructure by allowing users to log in with the same username and password used elsewhere on the network. No need to remember and maintain multiple logins!
Integrate with:
Microsoft Active Directory
Apple Open Directory
Novell eDirectory
Other LDAP, NIS or POSIX environments
Additionally:
Optionally authenticate using swipe or proximity cards
Display instructions and your organization's own custom logo on the login screen.
Device access
Protect and limit access to your valuable Dell MFDs from unauthorized staff and visitors or restrict functions - e.g. color copying to selected members of your organization. Group memberships in your user directory can serve as a basis for access control.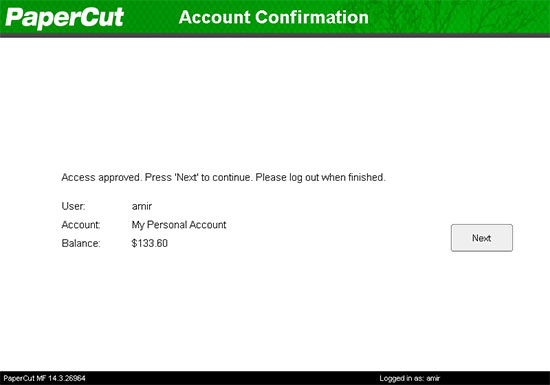 Real-time Tracking
PaperCut MF tracks copying page-by-page and reports usage for up to the minute reporting. Page and job attributes including color/grayscale, page sizes, duplex logged by user, device and date/time are standard features.
Using PaperCut MF to identify, track and log all activity enables accurate, consolidated reporting of costs and usage across your whole copier and printer fleet. When copying and printing, users can be controlled and managed under a predetermined set of rules, such as:
a user allocated quota or budget,
forced selection of shared account e.g. job, client / matter IDs
a pay per use policy, where funds are debited based on pages printed or job cost.
The device will deny copying in excess of quota or account balance.
Track and Control Scanning and Faxing
Track scanning to e-mail
Track sending faxes
All usage reported in the PaperCut logs
Optionally limit amount of scanning/faxing users can perform
Filter job logs to display just copy, scan/fax jobs
Shared Accounts
Each job may be allocated to a shared account that can represent a department, project, client / matter or cost center.
Administrators can configure each user's interface and account availability depending on their role.
Access to shared accounts is easily administered and can leverage Active Directory/LDAP groups.
Real-time account and user level reporting is a core feature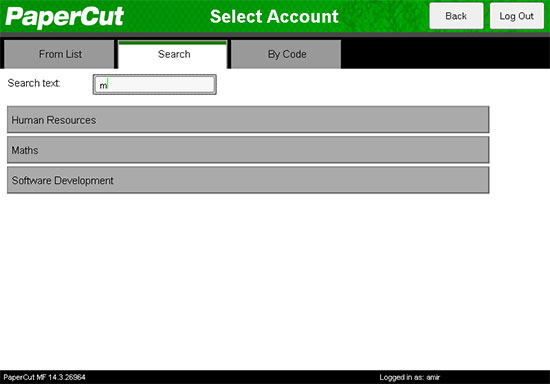 If enabled, shared accounts can be accessed using a number of convenient on-screen methods:
Selection from list
Quick entry via code/PIN
Client billing options - comments & invoice
For more information about shared account see the Account Based Tracking in detail section in the PaperCut MF manual.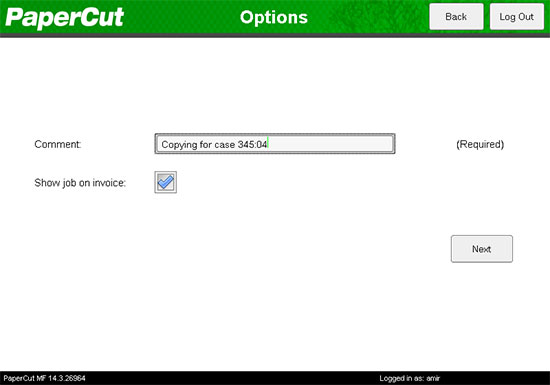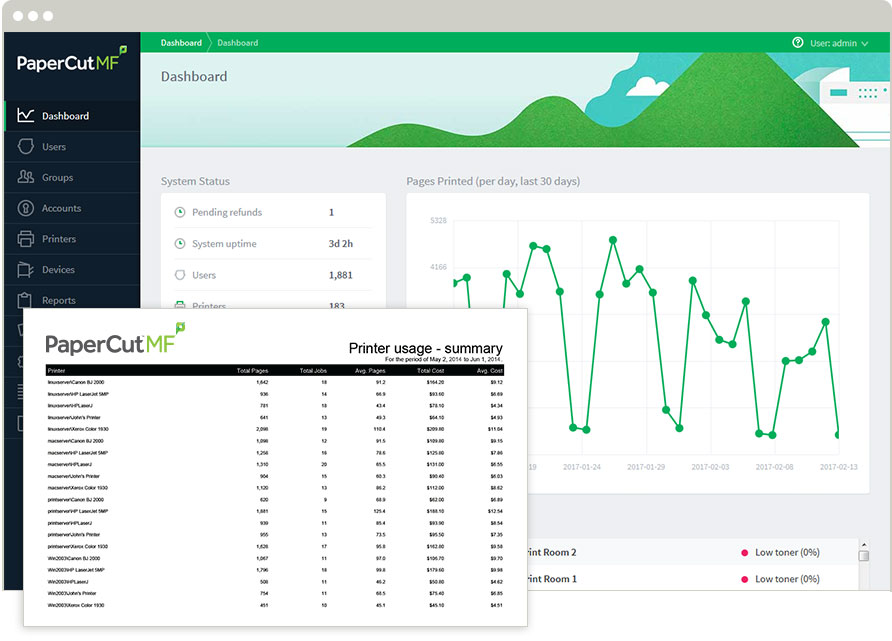 Consolidated Reporting and Management
PaperCut offers more than 50 standard reports covering all typically required copy, print and user detail. All reports can be scheduled to be delivered automatically by email. Highlights include reporting usage and costs by:
Device (printers & copiers)
User
Shared account (client, department, faculty)
Location
Date and time range
Environmental impact
For more information about reporting see the Reporting tour section.
Secure Print Release and Find-Me Printing
PaperCut offers secure print release as a core feature. The Dell MFDs with PaperCut MF embedded provides print release directly from the touch screen.
Release methods include:
Automatic release on log in
Release from list
This feature ensures that only the owner is able to securely release and retrieve their job at the MFD.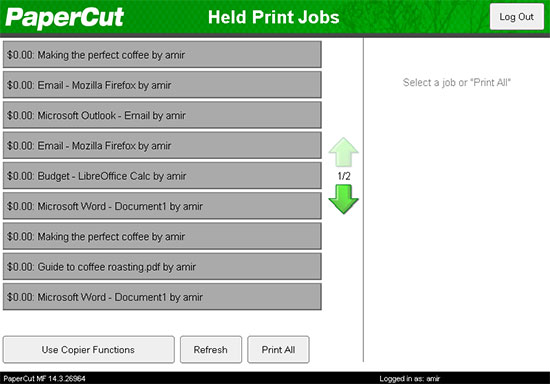 "Find Me" printing is also known as "Pull Printing". This feature provides users with the ability to press "print" and then retrieve their job at any supported printer on the network.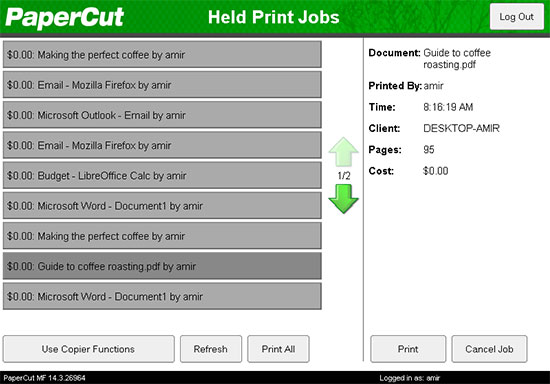 Dell Color Smart Printers
Model number
S5830dn
Platform: Dell Color Smart Printers
S5840cdn
Platform: Dell Color Smart Printers
Dell Color Multifunction Printers
Model number
C5765dn
Platform: Dell Color Multifunction Printers
C7765dn
Platform: Dell Color Multifunction Printers
Dell Mono Multifunction Printers
Model number
B3465dnf
Platform: Dell Mono Multifunction Printers
B5465dnf
Platform: Dell Mono Multifunction Printers
We're not quite perfect... yet.
We try to make sure that all information on this page is current and correct, but since we have so many manufacturer friends, it's sometimes hard to get it 100% right. If you're unsure about a devices compatibility, by all means please get in touch and we will do our best to get you an answer!