Hey, you've landed on a page that we've updated and made even better! Go see the new section on our website called Discover.
This Discover section provides you with everything you need to know and covers stories and practices on how our customers use our solutions to get the most out of their printing, scanning and copying environments.
All topics are covered in the new section, but we may have written a page or two before our morning coffee, so we've left these pages active just in case :-)
VCC hardware terminals provide MFD integration to enable tracking, charging or billing of "off the glass" copying.
VCC terminals are devices that plug into an MFD via an access port and then interface with PaperCut MF via your ethernet network. VCC terminals are a hardware neutral solution and work with most multi-functional copier and printer makes and models both young and old.
integrated authentication
Authenticate using a card or an ID number
Optional PIN for extra security
No need for separate accounts - use existing PaperCut accounts imported from your network directory
find-me printing integration
Also known as "Pull Printing", Find Me printing provides users in environments with several identical multi-function devices to print to a single virtual global queue. They can then walk up and log on to a device nearby available device and have their print job pulled from the global queue and printed on the spot.
real-time tracking
Users are provided with realtime feedback of account balance and cost as the job proceeds
Charge different types of copying at different rates
All usage reported live in the PaperCut logs
seamless user experience
Provide users with the same account selection options they use for printing via the popup
If shared account access is granted, users have the option to select accounts from a list or using a PIN
Control access to accounts using Active Directory groups
Apply all control settings within PaperCut MF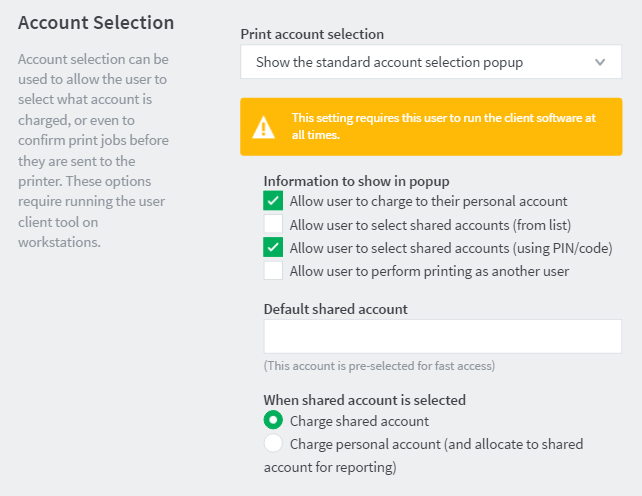 The same functionality with the VCC
as supported by PaperCut MF user client copy and print tools
consolidated reporting and management
Consolidated management and reporting in either summary or detailed formats are readily available at the click of a button for all copies and prints across your entire fleet:
By device (printers & copiers)
By user
By shared account (client, department, faculty)
By location
By date and time / period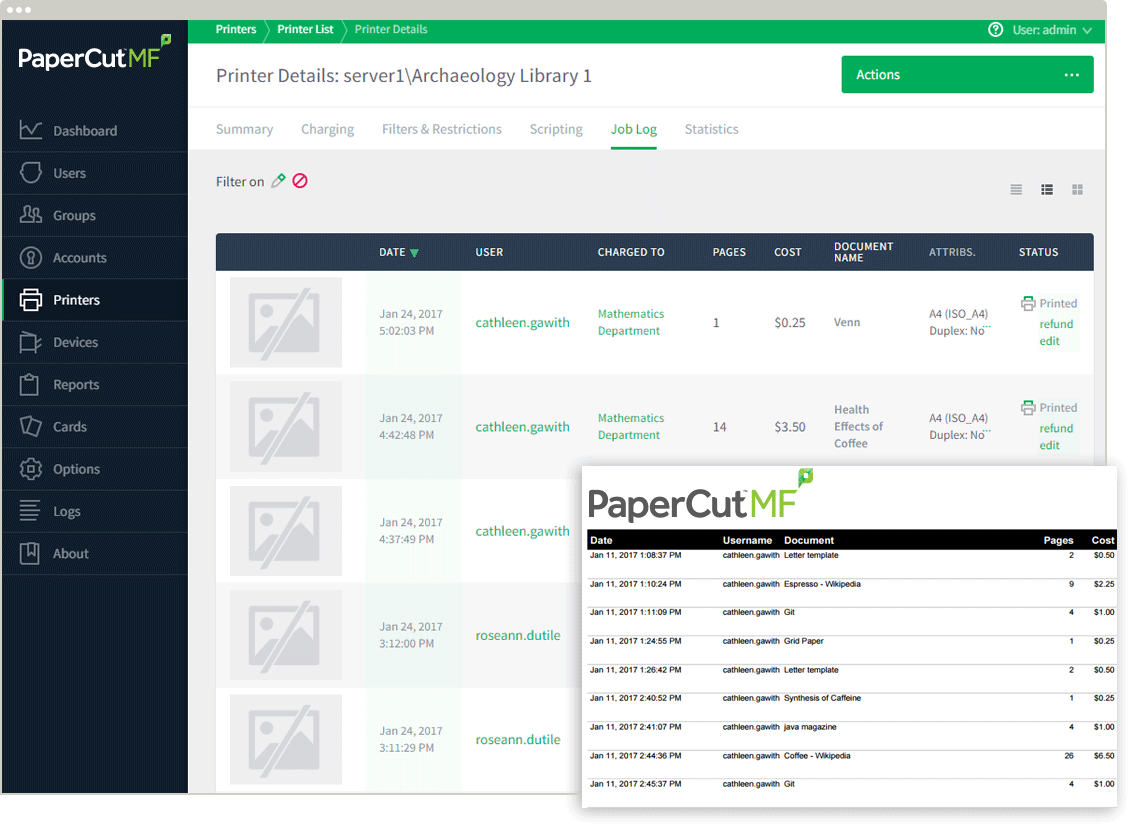 For more information about reporting see the Reporting tour tour section.