Hey, you've landed on a page that we've updated and made even better! Go see the new section on our website called Discover.
This Discover section provides you with everything you need to know and covers stories and practices on how our customers use our solutions to get the most out of their printing, scanning and copying environments.
All topics are covered in the new section, but we may have written a page or two before our morning coffee, so we've left these pages active just in case :-)
Top-up cards are the most popular payment method and has been specifically designed for the school, college or university. The system is simple, fully contained and very cost effective. The process works as follows:
The network administrator prints a set of customized cards. Each card lists a value, a "valid until" date, and a unique ID.
When a user requires additional credit, they purchase a top-up/pre-paid card. In a school environment, cards can be sold at the library, cafeteria/canteen, or even in the candy vending machine.
The user logs in to the systems web interface and enters the card's number.
The user's account is automatically credited with the value listed on the card. The card then becomes inactive.
PaperCut Software has worked closely with a number of organizations to design the top-up/pre-paid card system. Over the years we have evaluated a number of payment technologies in conjunction with our education customers. These have included vending machines, smart cards, micro-payment systems, and manual processing. The top-up/pre-paid card system has been by far the most successful and cost effective, and is a great alternative or complement to the payment gateway. Top-up / pre-paid cards are also the de facto standard in other areas such as the mobile phone sector (used to handle pre-paid accounts) and iTunes Music Cards. Users, particularly students, will be familiar with the process.
PaperCut provides the software, a card creation wizard, and a security framework to implement a top-up/pre-paid card payment system. Now for a quick tour...
---
Creating Cards: The Card Wizard
Use to create your own top-up/pre-paid cards
The card wizard is a separate component installed with PaperCut
Wizard style interface guides you through the process of creating and using cards
Integrates with Microsoft Word
---
Creating Cards: Defining a Batch ID
Each batch of cards is given a unique batch ID
Batch ID's can be used to track card sale location
Use batch numbers to quickly track and cancel lost batches
---
Creating Cards: Card Details
Allocate a value, and set an expiry date
Expiry dates ensure cards have a time limited life
Create batches of different sizes ranging from 5 cards to 10,000
---
Creating Cards: Design Your Own Cards
Use Microsoft Word to design a custom look
Integrates in with Microsoft Word's mail-merge feature
Include your own logo, usage instructions, and other details
---
Creating Cards: Generate & Print
The card wizard automatically creates a Word document ready for printing
Cards default to a common "Business Card" size
Need a professional look? Print to PDF and email to your local printing shop for professional printing onto cards.
---
Using Cards: Entering a Number
Users log in to PaperCut's web interface and enter the card number under the card section
All activity is logged
Integrate the PaperCut web tools interface into your organization's intranet site

---
Using Cards: Track
Import new batch of card numbers
View the status of all cards
See which cards are allocated and to whom they are assigned
Review the time and date of card use
Delete or expire cards by number, date or batch ID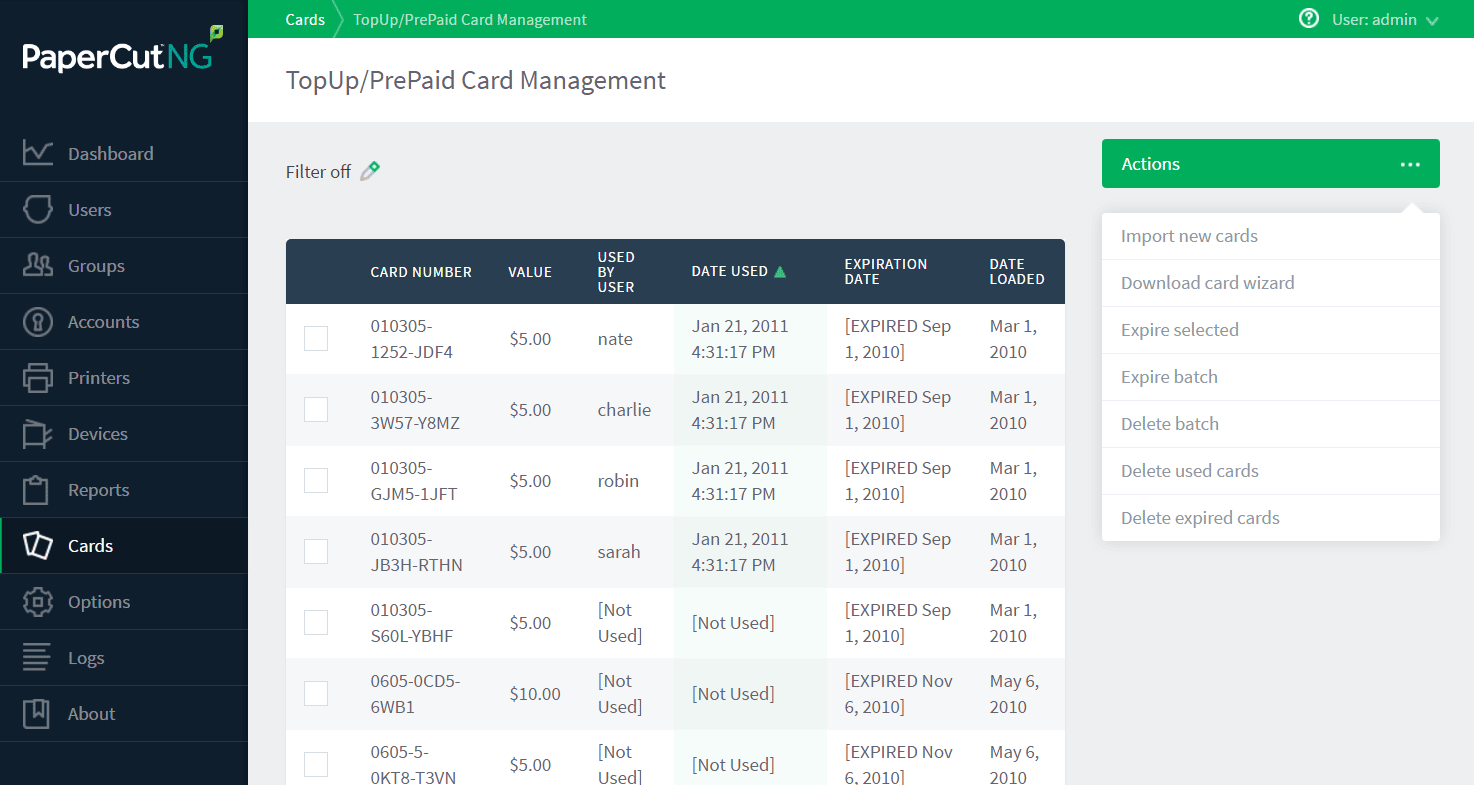 ---
What You Can't See
Fraudulent card use attempts are detected, trapped and logged
Highly Secure - guessing numbers is practically impossible*
* With 1,000 cards in circulation, the chance of guessing a number is 1-in-10,000,000,000,000, or in non-mathematical terms, it would take over 300,000 years to guess a number if a person enters one number every second!
For other options to recharge user balances in PaperCut see the Recharging Balance tour section.